PETER MILLIGAN

SEND THIS TO A FRIEND!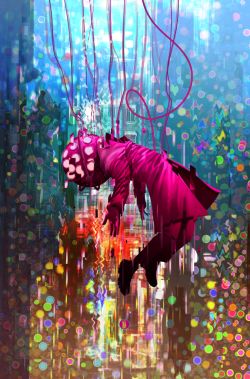 DF Interview: Peter Milligan unravels a murder mystery like none other in 'Out of Body'
By Byron Brewer
When Dan Collins wakes to finds his life hanging by a thread, he must use his astral projection to discover who tried to kill him. Who is the beautiful mystic who tries to help him? Why does August Fryne want Dan's soul -- and what does it have to do with a demon who seems to be Dorian Gray? A weird, occult detective thriller about life, death – and whatever lies in between.
From award-winning comic book writer Peter Milligan (X-Force, X-Statix) and artistic sensation Inaki Miranda (We Live, Harley Quinn) comes an awesome new dimension in horror and mystery: Out of Body! I sat down with old friend Peter Milligan to peer a bit deeper into this astral thriller.
Byron Brewer: Peter, if you will take this the right way, you have a rep for the slightly oddball/insane comic series. What is the inspiration behind the coming Out of Body?
Peter Milligan: One, a boyhood infatuation with astral projection. Two, I started putting together Out of Body around the time of the first lockdown in the UK when I was struck by how suddenly limited everyone's lives were—yet at the same time due to the wonders of modern technology not entirely limited. Unlike the townsfolk of Albert Camus' The Plague, we were cut off but not cut off. When we meet the hero of Out of Body, he is experiencing the ultimate kind of lockdown: a lockdown inside his own body.
BB: Who is Dan Collins? Introduce your protagonist to the readers please… and also find out how he slept so long. Since we sprang forward, my body clock is all over the place!
Peter Milligan: Dan Collins is an unconventional psychologist. Unconventional in that he uses psychedelics in his treatments. One might think that this prepares Dan for the certain trippy or hallucinogenic experiences that are about to engulf him—but it doesn't really. Truth is, when Dan wakes to find himself in hospital, on a life-support system he is about to go on a mind-shattering journey of weirdness and self-discovery.
BB: And I'm wondering: What DOES August Fryne want with Dan's soul? Can you give us a non-spoilery low-down on Mr. Fryne?
Peter Milligan: It's hard to reveal much without being exceptionally spoilery. August Fryne is a sorcerer and one-time teacher of a psychic called Abi who'll become very important to Dan in this story. It's not spoilesque to say that August's desire for Dan's soul has something to do with his unrequited feelings for Abi and has something to do with a creature who just might be a demonic iteration of an infamous character from the pages of literature.
BB: Tell readers the main storyline for this series.
Peter Milligan: This is a murder mystery. But the victim isn't QUITE dead and it's the victim himself who's trying to discover who the would-be killer was. Dan believes that if he can find out who tried to kill him, he just might wake from his nightmarish locked-in state. But he'd better do it quick before his life-support system is turned off.
BB: Never read a Milligan series without an epic subtext. This one leads me to think about the recent pandemic lockdowns. Is there something particular you are shining a light on with this book?
Peter Milligan: I've already spoken about the lockdown subtext, but there's more: This is an almost-murder story, a kind of supernatural detective story. But buried in that is the story of a man discovering how he was really viewed by the world, what people really thought of him, and discovering just how wrong he was about just about everyone and everything. Most of us have had a fantasy about being present – in a living sense – at our own funeral. To see who shows up, what they're saying about us, and what they're NOT saying about us. Dan almost gets to do just that.
BB: Talk about Inaki Miranda and what the artist brings to this table.
Peter Milligan: This is the first time I've worked with Inaki and it's a real pleasure. Though it might seem pretty easy to produce convincing hallucinogenic art, it's actually difficult (obviously my old sparring partner Brendan McCarthy is a master at this). But Inaki's art is brimming with trippiness, perfect for this story. He can also capture the characters' emotions which is just as important.
BB: Peter, what other projects, inside or outside comics, are you working on that you can tell readers about?
Peter Milligan: It's always hard to reveal too much too early, most publishers want to control how news of new series are revealed…but I can say that I have a special one-off with AfterShock that's going to be out soon, drawn by Piotr Kowalski. Hoping to do something else with AfterShock and get that underway soon too. I'm working on a series that I'm very excited about called Human Remains for Vault Comics: my first work with these guys. Happy Hour is almost done over at Ahoy Comics. I'm also working on a few new things with AWA which I know are going to be great. Last but very much not least, Mike Allred and I have been working away at Marvel on X-CELLENT, a brand new team in a brand new book, in what you might call the X-Statix ghetto of the X-World. Due to covid, the publishing date has been a bit flexible but hope we have some dates soon.
Dynamic Forces would like to thank Peter Milligan for taking time out of his busy schedule to answer our questions. Out of Body #1 from AfterShock Comics is slated to be on sale June 2nd!
For more news and up-to-date announcements, join us here at Dynamic Forces, www.dynamicforces.com/htmlfiles/, "LIKE" us on Facebook, www.facebook.com/dynamicforcesinc, and follow us on Twitter, www.twitter.com/dynamicforces.
ALL NEW MIRACLEMAN ANNUAL #1 JEFF SMITH VARIANT CGC GRADED!
ALL NEW MIRACLEMAN ANNUAL #1 JOE QUESADA VARIANT CGC GRADED!
ALL NEW MIRACLEMAN ANNUAL #1 SIGNED BY MIKE ALLRED!
---
NEW! 1. 06/10/2021 - CHRIS CONDON
3. 06/04/2021 - PHILLIP RUSSERTT