TED NAIFEH

SEND THIS TO A FRIEND!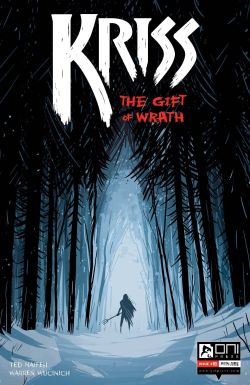 DF Interview: Ted Naifeh helps readers get their goth on with 'Kriss'
By Byron Brewer
For fans of The Graveyard Book and Through the Woods comes a different kind of young adult fantasy, in which a teen boy's search for his destiny leads him into darkness.
Lean, ghostly pale, and permanently grim-faced, Kriss has always been an outsider in his small village. Not even his adoptive parents love him. Only Anja, the blacksmith's daughter, brings kindness and friendship into the life of the sullen teenager. But Kriss is haunted by dim memories of his true father, Erikk Iron Tooth, the king of Darkovia.
When Anja's mother is killed by a wild sabercat from the far north, the young girl's world is shattered, and Kriss determines to avenge her. Armed with only a pitchfork, the skinny teen sets out to kill the beast, only to learn that it's actually a dark spirit from Darkovia, come to bring him his destiny. The spirit grants Kriss the power to vanquish the mightiest foes, and commands him to reclaim his father's kingdom. But his gift of power comes with a price — uncontrollable rage. And leaving the village would mean leaving Anja, the only person who's always been there for him. Kriss must choose between his destiny and Anja, who needs his friendship more than ever. But his growing power, and the fiery anger that comes with it, threatens to make the choice for him, and burn everything he holds dear.
May 1st featured the surprise digital release of Kriss #1, a new dark gothic tale by Ted Naifeh (Courtney Crumrin, Princess Ugg) and Warren Wucinich (Invader ZIM), with a new digital issue out each month, leading up to the trade release in September from Oni Press. DF wanted to find out more, so we sat down with scribe Ted Naifeh.
Dynamic Forces: Ted, Kriss #1 took us by surprise. I understand the book will continue releasing digitally leading up to the trade in September. How has this affected, if at all, the manner in which you are telling your story?
Ted Naifeh: It was written as a four-chapter series. Back in days of yore, I would have released it as issues. This is a structure I'm used to, and the roll-out on Comixology helps build momentum before the trade release just like issues once did. But this way, I don't get stuck with stacks of issue 4 that I couldn't sell in time for the trade. It's also going back the way I wrote Courtney v1, as four distinct stories rather than just chunks of a longer narrative. I hope that provides an easier intro to the character.
DF: Is this your first attempt at a MALE protagonist? (LOL! I know everyone asks you that, but let's answer anyway.) And if so, why now?
Ted Naifeh: Back when I wrote Courtney, there weren't many female characters, and the ones that existed were often written for the male gaze, if that makes sense. Many were written as a fantasy for men, or as a critique by men. Rare was the female character just written to be a character, not female first, sexuality first, flaws first, or worse, perfection first. Which meant there were a lot of stories out there not being told.

Happily, the field is now more populated by women of staggering talent and drive, successfully filling in that gap in the market. So I had to ask myself what stories still aren't being told? And more importantly, what stories are truly mine to tell? I never thought of myself as speaking for women or women's experiences. That's not my business. I just thought, "Here's a story or two I've not seen before." On the other hand, maybe I should speak for the male experience, and find new, untrodden ground there. Kriss came about through that.
DF: What can you tell us about this dark, gothic world you and artist Warren Wucinich are creating? I know issue #1 is already out digitally, but describe a bit of your world building.
Ted Naifeh: I started with the idea of a black metal fairy tale, so everything has a nordic, dark-fantasy feel. I proposed that idea to Warren and he just went to town on it, designing characters, costumes, scenery, and of course, a masterful color pallette.
The backdrop of this story is a conquered land and a conquering empire. So we tried to evoke something akin to Rome vs. the barbarian tribes. Kriss's rural village is right in the middle between this advanced empire and the more primitive northern kingdoms. So the sophistication of the south and the barbarism of the north are equally strange to them.
Kriss comes from the northernmost kingdom, so he sticks out. But when, say, the carnival comes to town, full of exotic people, acts, foods, and tales from across the empire, they're outcasts too. Meanwhile, Kriss is haunted by dim memories of his people in the north. And they get distorted into otherworldly beings in his mind.
DF: Tell us more about Kriss, his life, and some of the challenges he has already faced as we read issue #1.
Ted Naifeh: Basically, Kriss is a fantasy version of the outcast kid in the 'burbs. He's full of anger and alienation in a place that both engendered that alienation and has no room for it. He's a war orphan, taken as a toddler from a conquered northern kingdom and dropped in a village in the middle of nowhere. He'd eventually be conscripted into the empire's army, to feed their endless appetite for conquest. The farmers that took him in just wanted a farmhand, so he hasn't known much love, except for one other village kid who grew up with him. That's Anja, his only friend.
DF: Who is Anja, and what does the death of her mother have to do with Kriss?
Ted Naifeh: So Anja's mother gets eaten by a wild sabercat that's strayed from its northern habitat. Technically, the whole story starts because Kriss doesn't know how to comfort Anja in her grief, so he goes on a revenge mission instead. And that mission, to hunt and kill the sabercat, starts him on his own hero's journey.

I've already read one one review saying, "This is great, but what about Anja?" And it's a good question. I don't know if this will ultimately come across, but I kinda want the whole story to come down to, "You coulda just, ya know, been there for your friend. And then none of this crazy nonsense would have ever happened." But I'm getting ahead of myself.
DF: Can you give readers any clues as to an ultimate big-bad as the series goes forth?
Ted Naifeh: I don't want to give too much away. There will be lots of big-bads in this series, such as the empire and its conquest-obsessed emperor, who you will learn about in Chapter 3 (titled "The Only Game That Matters"). But of course, that's all down the road. Right now, I'm telling the beginning of a hero's journey tale, and the way the beginning is told will show not just how that journey will go, but who Kriss will ultimately confront at the end. (Hint: It may not be who you think it is.)
DF: Talk about your collaboration with Warren.
Ted Naifeh: This whole project came about because I wanted to collaborate on a book with Warren. However, I started off with a much lighter, sillier project, because I wanted to give him a break from the moodiness of Courtney Crumrin and gleeful toxicity of Zim. But this project kind of nagged at me from the shadows until I couldn't think of any other. I wasn't sure it would work, but as I wrote it, I realized it's exactly the story I needed to write.
And Warren just nailed the style and flavor of it. His approach is both grim and innocent, expressing very adult feelings through a childhood lens. And that's what coming of age is all about. So it was a perfect fit.
DF: Ted, what other projects you are working on can you tell readers about?
Ted Naifeh: I have a few new projects in the works, but nothing I can announce yet. I'll keep you posted.
Dynamic Forces would like to thank Ted Naifeh for taking time out of his busy schedule to answer our questions. With a surprise #1 already out, digital release of Kriss #2 from Oni Press comes June 5th!
---
NEW! 1. 05/24/2023 - DOUG WAGNER
3. 02/10/2022 - SIMON SPURRIER