MIKE BARON

SEND THIS TO A FRIEND!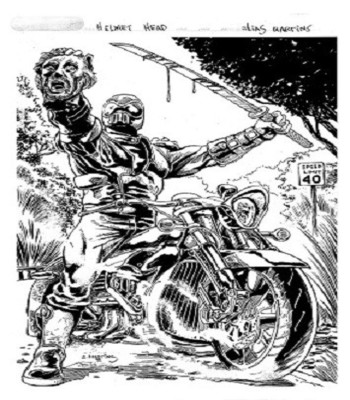 DF Interview: He's monstrous, murderous and motorized! Mike Baron brings Helmet Head to new graphic novel
By Byron Brewer
Helmet Head is a graphic novel about Nazi biker zombies adapted by Mike Baron from his novel. "That's all you need to know," he told me.
But I wanted more on the GN coming from Atomic Horizon by Baron and artist Elias Martins. So Dynamic Forces sat down with the author and this is what he else he told us.
Dynamic Forces: Mike, where did you get the inspiration for your novel, Helmet Head?
Mike Baron: Ian Fischer (a.k.a. "Rude Dude") and I were kicking around story ideas, looking for a new horror staple. I saw an ad in one of the biker mags, a tall man all in black leather with a full-face black helmet, and that gave me the spark. The rest is a mélange of my pop culture influences, motorcycles and samurai.
DF: How did it come about that you are adapting your novel into GN form for Atomic Horizon?
Mike Baron: I've been corresponding with Lawrence White for years and at some point he mentioned he wanted to start his own publishing company. "What are you going to publish," I asked. He said, "Do you have any ideas?"
DF: Hah! That's different. … Can you tell us the basic storyline behind the GN?
Mike Baron [in dramatic narrative voice]: Helmet Head. He was just a rumor to the rough and dangerous "one-percenters"—a monstrous motorcyclist dressed all in black who rode the back roads of Little Egypt cutting off the heads of other bikers with a samurai sword. But on one terrible stormy night, Deputy Pete Fagan discovers that Helmet Head is all too real—and consumed with a fury that won't be satisfied until his demonic sword drinks its fill.
DF: Tell us about your protagonists.
Mike Baron: Pete was adopted by a rabbi. He never fit in, never felt he belonged. He went into law enforcement but burned his bridges having an affair with the captain's wife. The only law enforcement job he could find was in the southern tip of Illinois. The Road Dogs are a group of outlaw bikers led by the hulking Mad Dog, who served in Nam with Doc and Curtis, the two oldest members.
DF: Who is Helmet Head as a character, to you, the writer?
Mike Baron: He is a tortured individual and a genius. You'd be crazy too if your grandfather was a concentration camp commandant.
DF: Do you foresee Helmet Head perhaps becoming a series of graphic novels, as opposed to a one-and-done?
Mike Baron: It is stand-alone.
DF: Mike, what else is under development from the Baron keyboard that you can tell us about?
Mike Baron: Wordfire Press will publish my big fat horror novel, Banshees, about a satanic rock band that returns from the dead. Nexus is up and running at http://www.steverude.com/collections/comic-strip-newspaper. I'm doing a werewolf detective story for First with Shane Oakley called Howl, and I'm adapting my novel Biker into a graphic novel with Comicmix. I have three more Josh (Biker) Pratt novels in the pipeline. Liberty Island will publish them all.
Dynamic Forces would like to thank Mike Baron for taking time out of his busy schedule to answer our questions. Stay tuned to Dynamic Forces to learn more about the Helmet Head graphic novel!
For more news and up-to-date announcements, join us here at Dynamic Forces, www.dynamicforces.com/htmlfiles/, "LIKE" us on Facebook, www.facebook.com/dynamicforcesinc, and follow us on Twitter, www.twitter.com/dynamicforces
---
NEW! 1. 11/25/2020 - STEVE SKROCE
4. 11/16/2020 - RYAN O'SULLIVAN
5. 11/16/2020 - RYAN O'SULLIVAN