RICH DOUEK

SEND THIS TO A FRIEND!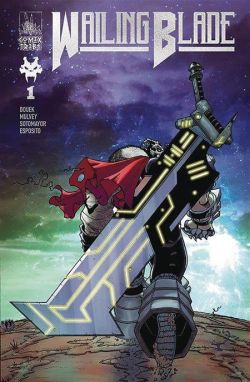 DF Interview: Rich Douek brings bloody dark fantasy sci-fi in 'Wailing Blade'
By Byron Brewer
The Headtaker, feared executioner and wielder of the legendary Wailing Blade, kills every man who meets his gaze. And, right now, he's looking at Tychon, an upstart bandit prince fighting to save his father from the chopping block.
Wailing Blade is high-adrenaline fantasy adventure, in the dark future of mankind, from the mad minds of Rich Douek (Gutter Magic, TMNT) and Joe Mulvey (SCAM). DF wanted the skinny on this brutal new miniseries, so we sought out and chatted with scribe Rich Douek.
Dynamic Forces: Rich, tell readers about the concept behind Wailing Blade. Is this a tale you have wanted to write for awhile?
Rich Douek: I've had Wailing Blade in my head for a while, yeah. The first seeds of the setting and world came to me when I heard that classic science fiction author, Jack Vance, had passed away, and decided to reread his Dying Earth books. I wanted to write a story that was a bit of a tribute to that world, and I started developing it from there.
DF: Relate a little, if you will, the adventures this comic book has had attaining fruition, including its time on Kickstarter.
Rich Douek: It's been a long road. I had an artist on board back in 2015 or so, but he was unable to keep working on it, so it went on the shelf for a while. But it was a blessing in disguise, since if that artist had continued, I wouldn't be working with Joe on it!
Once Joe and I had our initial pages done, we started pitching it around. ComixTribe is a great company, and we've been looking to work together on something for a while. We decided to put it on Kickstarter so people could get access to some of the cool extras and exclusives we had planned, as well as to make it available to people who may not have convenient access to a comic store.
DF: Can you tell us a little about the world you and artist Joe Mulvey have built for this miniseries?
Rich Douek: Wailing Blade takes place in the far, far future. Mankind has been to the stars and built an empire there -- which collapsed long ago. Earth is now in the middle of a new dark age, where feudal warlords wielding the last remnants of technology dominate the populace -- and the biggest warlord of them all is the Tyrant of Minturn, who has carved out a huge empire for himself.
DF: What is the main storyline unfolding in Wailing Blade?
Rich Douek: Not everyone plays by the Tyrant's rules, and a group of bandits called the Windcleavers are dedicated to living a life of freedom. They raid caravans for supplies, and technology, and it's on one of these raids that Auros, their king, gets captured and sentenced to die at the hands of the Headtaker. It's up to his son, Tychon, to save him from execution.
DF: Tell us more about Headtaker (love it!) and Tychon. Give readers just a little bit about the characters and their lives.
Rich Douek: The Headtaker is a legendary executioner, in part because he wields the Wailing Blade, an artifact from mankind's starfaring past. Every year he sets out for the different towns of the empire, dispensing the Tyrant's justice in each one. His name is synonymous with death, and he's a symbol of the Tyrant's power over the land.
Tychon is a bandit prince: young, brash, and a little spoiled. He's a great fighter and his people believe in him but he's overconfident, and that's what leads to his father being captured.
DF: What other characters may be important to the book as it begins? Tychon's father, others?
Rich Douek: Tychon's father, Auros, is important as that's who he's trying to save. Also, Tychon has two close friends in Scylla and Viro who he relies on for advice and support, and to stand by his side in every battle.
On the Headtaker's side, we have Cletus, who is the Headtaker's attendant. He makes sure the executions go smoothly, reads out the charges, and generally plans out their journeys. He's also a conniving, greedy toad, and someone you'd definitely want to keep your eye on if you are dealing with him.
DF: What does Joe bring to this awesome table?
Rich Douek: Joe brings some of the most dynamic and energetic art I've ever seen. I'm not lying when I say this book is packed with action, from cover to cover. He also brings an amazing sense of design to the book – everything from the blade, to the buildings, to the flowers, bugs, and trees was designed by Joe to have a unique feel to it.
And his contributions are only made stronger with the work of Chris Sotomayor and Taylor Esposito, whose colors and letters really work with Joe's lines to make the book gorgeous.
DF: Rich, what else is coming forth soon from the ol' Douek noodle?
Rich Douek: Well, I recently announced Road of Bones, a horror comic miniseries I'm doing with Alex Cormack and Justin Birch over at IDW. I'm really excited for that series as well. It's something different from me as far as my writing goes, and I think it's really going to surprise people. Gutter Magic, my first series, will be back later this year with Source Point Press, another publisher I've been eager to work with. Beyond that, I do have some other things in the pipeline, but nothing I can talk about just yet.
Dynamic Forces would like to thank Rich Douek for taking time out of his busy schedule to answer our questions. Wailing Blade #1 from ComixTribe hits stores May 29th!
For more news and up-to-date announcements, join us here at Dynamic Forces, www.dynamicforces.com/htmlfiles/, "LIKE" us on Facebook, www.facebook.com/dynamicforcesinc, and follow us on Twitter, www.twitter.com/dynamicforces.
---
NEW! 1. 01/21/2021 - RORY MCCONVILLE
5. 01/07/2021 - DARICK ROBERTSON