JOE CASEY

SEND THIS TO A FRIEND!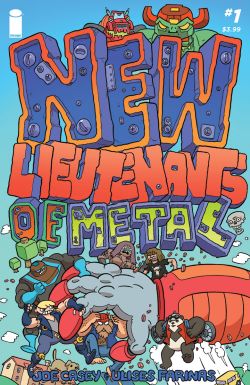 DF Interview: Joe Casey brings kick-ass, head-banging heroes in New Lieutenants of Metal
By Byron Brewer
Meet the New Lieutenants of Metal, a precision strike force ready to face any threat, and the most kick-ass, head-banging heroes ever assembled! Beset on all sides by a roster of vicious foes, the New Lieutenants of Metal are guaranteed to deliver you unto greater comic book glory.
From Image Comics by way of writer Joe Casey and artist Ulises Farinas comes New Lieutenants of Metal! To find out more about this series, DF talked with scribe Joe Casey.
Dynamic Forces: Joe, New Lieutenants of Metal looks (from the cover, at least) and sounds like one fun comic book romp! What can you tell us about the genesis of this series' concept? Is it something you've been contemplating for awhile?
Joe Casey: This book is just one of those things where a weird idea pops into my head and -- market conditions be damned -- I decide to actually make it a reality. I'd say I came up with the whole thing about five years ago. Sometimes these things take a while to be born. At first, it was just about the concept and the characters, but as it developed, it also became about a specific style of action comic book that I wanted to explore, specifically that mainstream, MTV-inspired superhero comic circa 1991.
DF: Can you introduce readers to your protagonists? Tell us a little about each?
Joe Casey: Well, I can tell you their names: The Mighty Krieg! Vandenborg Riot! Manowarrior! Steppenwulf! And, of course, Spike! Beyond that, I'm not sure how much I can say. If the names don't grab you… don't give you a sense of the kind of book this is… if they don't make you take your lighters out and hold 'em high… then I'm not sure I can help you. This concept, this comic book, is an acquired taste, no doubt about it.
DF: Any other supporting characters we need to know about?
Joe Casey: Y'know, I don't think anyone who appears in NLOM is any kind of "supporting" character. As far as I'm concerned, they're all stars.
DF: What can you tell us (non-spoilery, of course) about the "roster of vicious foes"? Who are some of our big-bads here?
Joe Casey: As you might expect from a book titled New Lieutenants of Metal, the villains are purposefully built to be their opposite numbers, in both intent and in ethos. So we've got the Beeb and his Boy Band Nation. We've got the Grunge. We've got a pair of sentient "Monster Trucks" that want to eat the city. All kinds of good stuff.
DF: Tell us about your collaboration with Ulises Farinas. What does the artist bring to this table?
Joe Casey: Well, if you've seen some of the art already, then you know that Ulises has a style that's all his own. And, ultimately, I thought it would be interesting to match that style with this subject matter. It's definitely two worlds colliding. It would've been too much of a cliché to depict this story in that typical, hyper-dynamic, cross-hatched-to-hell 90's style. But to take some of those storytelling values and infuse them with Ulises' style and energy… I thought that would be a cool way to go.
DF: Joe, I know you stay busy non-stop. What else, inside comics and out, might you be working on?
Joe Casey: At the moment, toiling away in TV animation is the main gig. What can I say? It's a living and I'm happy to be making one. But that doesn't mean there aren't more comic books coming your way. There's another genre series on tap for later this year and something insanely weird that'll hit early next year. Both from Image Comics, of course. I think the industry is in an interesting, precarious and often confusing place right now… which, for me, is exactly the time to push out new and interesting ideas and see what happens.
Dynamic Forces would like to thank Joe Casey for taking time out of his busy schedule to answer our questions. New Lieutenants of Metal #1 from Image Comics hits stores July 4th!
For more news and up-to-date announcements, join us here at Dynamic Forces, www.dynamicforces.com/htmlfiles/, "LIKE" us on Facebook, www.facebook.com/dynamicforcesinc, and follow us on Twitter, www.twitter.com/dynamicforces.
THE DEATH-DEFYING 'DEVIL #1 - SIGNED BY JOE CASEY
THE DEATH-DEFYING 'DEVIL #1 - HIGH END FOIL (ROSS COVER)
THE DEATH DEFYING 'DEVIL TRADE PAPERBACK
CAPTAIN VICTORY AND THE GALACTIC RANGERS TRADE PAPERBACK
CAPTAIN VICTORY AND THE GALACTIC RANGERS #1
PROJECT SUPERPOWERS MEET THE BAD GUYS TPB
PROJECT SUPERPOWERS: MEET THE BAD GUYS #1 (OF 4)
---
NEW! 1. 11/25/2020 - STEVE SKROCE
4. 11/16/2020 - RYAN O'SULLIVAN
5. 11/16/2020 - RYAN O'SULLIVAN