JOHN LAYMAN

SEND THIS TO A FRIEND!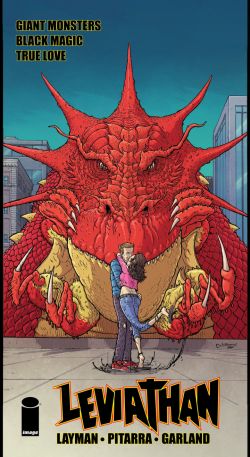 DF Interview: John Layman unleashes monstrous fury (and fun) of biblical proportions in Leviathan
By Byron Brewer
Eisner-award winning writer John Layman (Charlie's Angels, Chew) is back, teaming up with New York Times bestselling artist Nick Pitarra (The Manhattan Projects) and colorist Mike Garland for an all-new series, Leviathan!
In the book, a group of millennials try to do a black magic ritual for laughs and end up summoning a demonic giant monster determined to kill them all.
Hunting for facts more than demonic giant monsters, DF caught up with scribe John Layman to get the rest of the 411 – all for you.
Dynamic Forces: John, your new series, Leviathan, sounds like one big, FUN monster book? Am I wrong?
John Layman: It is definitely fun, and non-stop hyper-adrenalinized gonzo action. NON. STOP.
DF: What more can you tell readers? Give us the elevator pitch for Leviathan (and without repeating the solicitation verbatim; I've already done that! laughs).
John Layman: The elevator pitch is a bunch of party-goers conduct a dark-magic summoning ritual, and end up summoning an enormous Kaiju from hell, determined to kill every last one. But that's just the beginning, as it opens up all sorts of craziness, including dinosaurs, radioactive dinosaurs, giant mechs—and more enormous demons from hell.
DF: I hear hints about this book that you might be engaging in a popular sport: millennial-bashing?
John Layman: It's "young twenty-somethings" that set off the action that propels the story, but the book is not anti-millennial per se. I've got nothing against millennials. But I'm not crazy about idiots performing Satanic summoning ceremonies in the middle of drunken parties.
DF: Can you introduce us to some of your protagonists, man or monster?
John Layman: Leviathan is the story of Ryan DeLuca, a lovelorn Regular Joe who's out on a beer run for his party while one of the creepy party guests convinced everybody else to do a ceremony that ends up summoning a monster intent to kill everyone who participated in the ceremony… this includes Vivian Monroe, Ryan's true love, and the gal he's planning on proposing to.
DF: Is there some kind of underlying tribute to Godzilla here?
John Layman: Without a doubt. I LOVE Godzilla, and I love giant monsters. I even had the honor of writing a Godzilla mini for IDW a while back, Godzilla: Gangsters & Goliaths. The twist here is the monster in question, the biblical Leviathan, comes via black magic, not radiation or weird science like the typical giant monster story.
DF: Leviathan is being colored by Mike Garland, who has worked with artist Nick Pitarra before on Manhattan Projects. John, talk about this vat of artistic richness you have fallen into with this collaboration.
John Layman: This series was written specifically for Nick Pitarra, and nobody else but Nick could draw it, because the book is nonstop madness and crazy action, and nobody does it better than Nick. Mike's a mad genius too, able to take Nick's maniac scrawls and make them even better.
DF: And, er uh … I was right! We SHOULD be afraid of Ouija boards!
John Layman: Hell yes! (The operative word being "hell.")
DF: John, what other projects current or near-future can you tell readers about?
John Layman: I'm doing Charlie's Angels with Joe Eisma and Celeste Woods for Dynamite, and have two other things in the hopper that I can't talk about right now. I expect one of them will get announced near SDCC this year.
Dynamic Forces would like to thank John Layman for taking time out of his busy schedule to answer our questions. Leviathan #1 from Image Comics hits stores in August!
For more news and up-to-date announcements, join us here at Dynamic Forces, www.dynamicforces.com/htmlfiles/, "LIKE" us on Facebook, www.facebook.com/dynamicforcesinc, and follow us on Twitter, www.twitter.com/dynamicforces.
DETECTIVE COMICS #19 FIRST PRINTING MAD RETAILER INCENTIVE COVER SIGNED BY JOHN LAYMAN!
DETECTIVE COMICS #19 FIRST PRINTING STANDARD COVER SIGNED BY JOHN LAYMAN!
RED SONJA/CLAW #1 JIM LEE/ALEX ROSS COMPLETE COVER SIGNED PAIR - SIGNED BY WRITER JOHN LAYMAN AND ANDY SMITH!
XENA: WARRIOR PRINCESS VOLUME 1 OMNIBUS TRADE PAPERBACK
THE TWILIGHT ZONE: SHADOW & SUBSTANCE TRADE PAPERBACK
RED SONJA/CLAW: DEVIL'S HANDS TRADE PAPERBACK
---
NEW! 1. 05/24/2023 - DOUG WAGNER
3. 02/10/2022 - SIMON SPURRIER