DECLAN SHALVEY

SEND THIS TO A FRIEND!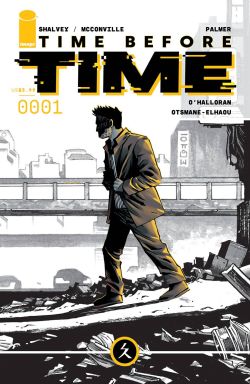 DF Interview: Declan Shalvey launches a high stakes time travel sci-fi series with 'Time Before Time'
By Byron Brewer
The year is 2140, and to escape a world with no future, many turn to the Syndicate, a criminal organization who, for the right price, will smuggle you back in time to a better life. After working for the Syndicate for years, Tatsuo and Oscar decide to steal one of their boss' time machines – but soon find that the one thing you can't run from is your past.
Time Before Time is a brand-new ongoing series where writer/artist Declan Shalvey (Bog Bodies) joins forces with the Write It In Blood team of Rory McConville and Joe Palmer. Looper meets Saga in the extra-sized debut issue. Wanting to do a deep dive into this new mag, DF went directly to Declan Shalvey.
Dynamic Forces: Declan, you were kind of a mentor/overseer on Write It In Blood and now you get to reunite with the team of Rory McConville and Joe Palmer on a brand new ongoing, Time Before Time. Talk about this reunion and time spent on Blood with a payoff for the coming comic.
Declan Shalvey: You say mentor... I prefer the term… hero. Ha, just kidding. Yeah, I knew Rory over the years and liked his work. I was happy to see him put Write It In Blood together, so I offered to help with whatever advice I could give, read the scripts, I think I suggested Chris as colorist, etc. and volunteered to do the cover and assemble/design the book. I thought it was a great book, but I was aware Rory and Joe would be unknowns to American audiences, so I wanted to help out as much as I could.
Rory and I had been knocking the idea for Time Before Time back and forth, and by the time we were ready to move forward, Joe was wrapping up on Write It In Blood. We thought that him and Chris were such a great team, it'd be a shame to just let go of them. The guys all had a good working rhythm, and that can be really hard to establish every time a new team is assembled, so it made a lot of sense to just keep that train going, just change onto a new set of tracks. Joe is also clearly a fantastic designer and we thought a more high concept sci-fi story would be to his liking, so we asked if he'd be interested. Thankfully, he was!
DF: What can readers expect when they pick up Time Before Time? Can you in a mighty non-spoiler manner give us a kind of extended pitch for the intro arc of this book?
Declan Shalvey: Time Before Time is a crime-infused sci-fi story primarily taking place in the year 2140, but obviously, hops into other years too. We're introduced to Tatsu and Oscar, two members of the Syndicate, a criminal organization of that time. They're both tired and want out of the life, so they come up with a plan to get out clean. There are other characters that get in the way of course, which sets off a chain reaction that has consequences for many over the span of various years.
DF: Tell readers about the Syndicate and its importance in the world of 2140.
Declan Shalvey: 2140 is not a good time. Things are pretty grim, pollution, poisoned air, corrupt institutions, etc., and the horizon is looking worse. With a desperate population, many are looking for a way out, and the only way out is backwards. The Syndicate offers this service: a way to travel back in time, to live your life out in better days. For the right price, they'll smuggle you into the past and set you up in a new life where you have to live off the grid. The 2140 crew is run by the Syndicate's son, a despicable slimeball called Helgi. He has too much to prove and does not handle failure well.
DF: Tell us more about Tatsuo and Oscar. Can you give us a little insight into their characters and relationship with each other?
Declan Shalvey: Both have been in the Syndicate for a few years. Our main character Tatsuo is looking for more out of life. He can be a little naiive, but his partner Oscar is a lot more practical. They know their current gig isn't a long term one, so together they come up with a way to escape the life, but it means crossing Helgi. Once they're out, they'll need to stay out and will depend on each other to survive.
DF: I love to read time travel stories but have always found them extremely tough to write. How does the time travel method work in Time Before Time for our protagonists… at least in this first arc?
Declan Shalvey: Yeah, it can be tricky! Mainly, we tried to make sure that there's a set logic. Time travel is more a dramatic device we can play with, we don't want to be giving anyone headaches. I don't want to give away too much, but effectively, people are smuggled through 'pods' that are operated by Syndicate members. They're a limited resource, a lot more valuable than any one Syndicate member so you need to look after your pod or you can't get back home to 2140. If you get stuck there, they'll come after you, but not to save you. For those who are smuggled back, there is no way to go back, and have to live an unremarkable life in their new environment.
DF: How is the collaboration working with the plotting and scripting with Rory and yourself? Can you tell us a bit about the process?
Declan Shalvey: Mainly we talk it all over on Skype. Rory's from Ireland too (if Cork really counts) but lives over in London, so it's a lot of online back-and-forth. We originally just talk things over, bouncing ideas off each other in DMs until we get to the point where we have something we both like. Rory does more of the hard labor, writing-wise as I tend to be working on various tasks (writing, drawing pages, covers, etc.) so it's more productive for him to outline what we discuss. I'll give notes on the outline, then take a scene from an issue and write that myself while he writes the other scenes. He'll take mine and work it into the whole script, and I'll give notes on that. Then we run it by our editor, Heather Antos, and get her feedback. It's a bit of back and forth, but it means Rory can keep moving the bulk of it while I still get to write actual pages, freeing me up to working on the covers and everything else, and refine it with him once it's all done.
DF: The art of Joe Palmer was certainly impressive in Write It In Blood. Talk a little about his art on this new mag. Will you be doing any art on the book?
Declan Shalvey: No, I don't want to elbow in on Joe's work. All the interior art will be his, he's done such a great job in building this new, distinct world (multiple worlds in fact, with all the different time periods) and I don't want to break from that. I will, however, be drawing covers for all the issues.
And I loved what Joe did on Write In In Blood. He does some excellent character acting, they don't just stand in a location, they're always carry their emotions, and Joe really pushes that in places that are really interesting. His sense of pacing is great too, it's very naturalistic. All his character designs are so distinctive and well realized. If he could do that on a grounded story, I knew if he had a broader canvas to work from he'd totally step up to the plate. There's some shots where he really pushes some angles and forms to the point of near abstraction and I love seeing an artist do that. I think the genre of this particular book is encouraging him to take more chances and that's always exciting. At the end of the day, though, Joe really knows how to tell a story. From a slightly more practical point of view, he's dependable as hell too, and dependable artists are like gold-dust. Get's pages in exactly when he says he will, so he's a dream to work with. I'm gonna enjoy this until he sees sense and bails on us.
Also, with all the more epic locations and futuristic settings, that's given Chris O'Halloran the space to make more creative decisions and he's really delivered on that front.
DF: Declan, what other projects current or near-future in which you are involved can you tell us about?
Declan Shalvey: I have a couple of big projects in the works, unfortunately nothing I can talk about just yet. I did just have a one-shot released at Marvel; Immortal Hulk: Flatline #1 which has gotten an amazing reception. I have been wanting to write and draw more in the future, and this experience has definitely made that urge a lot stronger. More to come, I can say that much.
Dynamic Forces would like to thank Declan Shalvey for taking time out of his busy schedule to answer our questions. Time Before Time #1 from Image Comics is slated to be on sale May 12th!
For more news and up-to-date announcements, join us here at Dynamic Forces, www.dynamicforces.com/htmlfiles/, "LIKE" us on Facebook, www.facebook.com/dynamicforcesinc, and follow us on Twitter, www.twitter.com/dynamicforces.
BLACKCROSS #2 (OF 6) RARE DECLAN SHALVEY "VIRGIN ART" EDITION
JAMES BOND: CASE FILES VOL. 1 HARDCOVER
WOLVERINE: BLACK, WHITE & BLOOD #1 CGC GRADED!
DIE!NAMITE #1 - PEACH MOMOKO RED SONJA "FIERY RED LINE ART" VIRGIN COVER
---
NEW! 1. 06/10/2021 - CHRIS CONDON
3. 06/04/2021 - PHILLIP RUSSERTT