PAT SHAND

SEND THIS TO A FRIEND!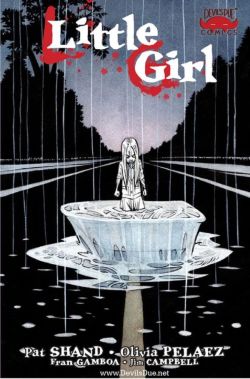 DF Interview: Pat Shand brings a horror story from the ghost's point of view in Little Girl
By Byron Brewer
When a cursed stuffed animal is given to an unknowing victim, the spirit of Abby May, a vengeful little dead girl, lashes out blindly at the living. However, as Abby's blood lust leads her back to those responsible for her death, she begins to piece together the truth about how she died and how she lived.
From Pat Shand and Olivia Pelaez comes Little Girl, a horror story with empathy, from the ghost's point of view! DF sat down with writer Pat Shand to get more info on this unusual genre take.
Dynamic Forces: Pat, how does it feel to be one of the first comics out of the gate in Devil's Due Comics' new creator-owned books, with your horror comic Little Girl?
Pat Shand: It's an honor, for sure. Josh and everyone at Devil's Due makes great comics, and I've wanted to pair with them for a good while. I love publishers where creators can really do their thing, and these are the folks that put out Mercy Sparx, Plume, Mr. Rhee, Squarriors – all creator-owned powerhouses. Beyond that, I know that Josh is big on letting creators steer the ship on their projects, which is a big reason why it was a no brainer to do Little Girl with Devil's Due Comics.
DF: Give me the elevator pitch for Little Girl.
Pat Shand: Little Girl is a horror story with empathy, which flips the traditional focus of ghost stories. In our comic, the vengeful spirit is the main character rather than a nameless malevolent force antagonizing the heroes.
DF: Tell us what you can about Abby May (or, more correctly, her spirit).
Pat Shand: Little Girl follows Abby May, a bloodthirsty ghost who appears as a little girl, as she begins to unravel the truth behind her death. I don't want to dive too deeply into who she is, because that's a big part of her journey, but when we find her, her spirit has latched onto a stuffed penguin, and she finds it very difficult to distinguish between the people who actually deserve to die at her hands and those who mistakenly step into her warpath.
DF: It's truly rare that we see things from a monster's point of view, in this case Abby's ghost. Almost the converse of the regular handling of the horror genre. What caused you to take this approach?
Pat Shand: I mean, let's be real – the ghosts are usually the most interesting parts of these stories anyway, so why not let her tell her own tale?
DF: You don't hear about many horror stories with empathy. As a matter of fact, Frankenstein is the only one that pops immediately to mind. Was there something from other media or in your personal life that inspired Little Girl?
Pat Shand: I've always found stories about dead little kids particularly frightening. I wrote about this in the back-matter of the first issue, but the short answer is that I think there is a reason why we find ghosts uniquely terrifying if they appear as children. There is a lot that divides us as people, and few things that unite all of us… and that one big unifier is death. I wanted to explore why some of the most terrifying horror pits children as the bringers of death, and what that means about the psychology of our culture.
But really, I wanted to look at my own fear, dissect it, and write from a place of compassion. All of the most intriguing villains are the ones that, when you look closer, you understand where they're coming from. I've never seen that done with a vengeful spirit, and I began thinking about that, thinking about why that story has never been told… and out of that, Abby May was born.
DF: What other characters are important to know for the readers to enjoy Little Girl? Can you introduce some of them to us with a little description?
Pat Shand: Here's what I'll say. Each issue introduces Abby May to a new situation, and she meets people that slowly help her piece together a plan of action. She meets a married couple that wants so badly to connect, but find themselves growing further apart as they hide infidelity from each other. She meets a pastor whose congregation has left him, causing him to fall into a dangerous cycle of depression. As she meets all of these people, she gets closer and closer to her ultimate target: the people who she believes killed her.
The one character I will mention by name is Buster, Abby May's dog and her only clear connection to who she was when she was alive. As much as this is a horror story about how death hangs over all of us, it's also very much about a little girl and her dog.
DF: Talk a little about the beautiful moody art of Olivia Pelaez.
Pat Shand: Olivia is a stellar artist, who excels in both scene of intense horror and moments of grace. The way she builds mood is masterful – she plays the readers' emotions like an instrument, but keeps it all very understated. Her work is as subtle as it is deep, and – most importantly – her characters feel real. Abby May is real when Olivia draws her, which I've found both moving and horrifying.
With Fran Gamboa on colors and Jim Campbell on letters, it's one hell of an art team. I couldn't be more proud of and thrilled with the work they've done.
DF: Pat, what else are you up to?
Pat Shand: This year, I'm focusing mostly on creator-owned work. I have Breathless, a horror comic about a cryptozoologist who discovers the cure for asthma in the body of a monster, launching from Black Mask Studios back in March. I'm working on two other books for them as well. I also run Space Between Entertainment, my own small publisher where I put out graphic novels funded through Kickstarter. The flagship title is Destiny, NY which is an ongoing romance series about a world where magic is a real and accepted part of everyday life. We're doing one volume per year, and we're currently in the middle of production on Volume Two.
The main focus at the moment, though, is a graphic novel I co-wrote with my wife, Amy Shand, called Prison Witch – a story about the magic happening behind bars at a women's prison.
Dynamic Forces would like to thank Pat Shand for taking time out of his busy schedule to answer our questions. Little Girl #1 from Devil's Due Comics comes out July 11th!
For more news and up-to-date announcements, join us here at Dynamic Forces, www.dynamicforces.com/htmlfiles/, "LIKE" us on Facebook, www.facebook.com/dynamicforcesinc, and follow us on Twitter, www.twitter.com/dynamicforces.
---
NEW! 1. 11/25/2020 - STEVE SKROCE
4. 11/16/2020 - RYAN O'SULLIVAN
5. 11/16/2020 - RYAN O'SULLIVAN