WARREN SIMONS

SEND THIS TO A FRIEND!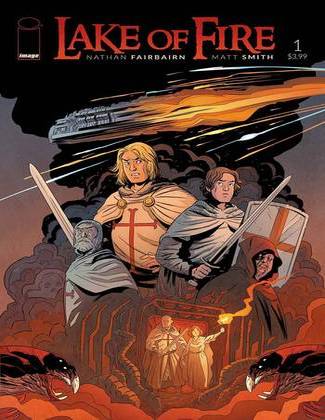 DF Interview: Valiant EIC Warren Simons talks 'The Summer of 4001 A.D.'
By Byron Brewer
In May, Valiant Entertainment's "Summer of 4001 A.D." begins – a blockbuster new slate of series and one-shots expanding out of the year's most ambitious crossover event. Encompassing the core "4001 A.D." event, Valiant's acclaimed Rai series returns, and we also will see four all-new one-shots revealing the future incarnations of the Valiant Universe's most iconic heroes.
Want to know more? We did, so DF News sat down with Valiant Editor-in-Chief Warren Simons.
Dynamic Forces: Warren, Valiant has really been turning up the crossover gas these days with "Book of Death" and "Harbinger Wars". But the upcoming "4001 A.D." event looks the most ambitious! Tell us a little of how it came about.
Warren Simons: The events of "4001 A.D." developed organically from the beautiful, visually extraordinary exploration of the future that Matt Kindt and Clayton Crain begin over in Rai. As we were discussing story ideas, and saw how broad and sweeping the ideas were, the narrative just grew and grew with multiple concepts. A story like this is far too big for one book, and easily warranted a much broader tapestry.
That said, our goal with "4001 A.D." -- as with all of our events -- is to make it completely accessible and new-reader friendly. I know Matt thinks that since "4001 A.D." goes so far into the future, this is a great entry point for new readers.
DF: The entire event starts in May, beginning with Free Comic Book Day, right?
Warren Simons: Almost. 4001 A.D. #1 actually comes out the Wednesday before Free Comic Book Day 2016, which is on a Saturday, May 7th. But, we have the Valiant: 4001 A.D. FCBD Special coming out this Free Comic Book Day, which is an all-new prelude story to the main 4001 A.D. series, written by Matt Kindt and drawn by Clayton Henry. It's by no means required reading for 4001 A.D., but it does offer a fantastic story that gives even more shape to the world that Matt built.
DF: How does Matt Kindt and Clayton Crain's story open up? Where do we find all of the characters?
Warren Simons: The story opens up with Rai and a small band of freedom fighters declaring war against Father—the despotic ruler of New Japan. Rai, The Eternal Warrior, and their other allies are stranded on Earth, while Father resides in New Japan, a floating satellite nation that orbits the Earth. So, to get to Father, Rai and the Eternal Warrior reactivate a giant X-O Manowar mech-armor and blast off into space. But Father is ready for them, and has transformed New Japan into a continent-sized robot dragon. From there, a mind-blowing outer-space melee ensues--and that's just in the first 15 pages of the series!
DF: Can you tell us about the overall storyline in this epic, and what books/characters may be involved?
Warren Simons: I don't want to give too much of Matt's story away, but I can tell you which characters we'll see throughout the "Summer OF 4001 A.D." event. First, Matt's telling the secret history of Rai, Father, and New Japan in the proper Rai ongoing series, with the immensely talented artist CAFU. You'll meet a ton of new Rai in that story arc, while also learning why Father acts and operates the way that he does.
Then, we'll have four stand-alone one-shots exploring the 41st century versions of some of our biggest characters. X-O Manowar writer Rob Venditti and artist Clayton Henry are tackling the 4001 A.D.: X-XO Manowar #1 one-shot in May; Bloodshot Reborn writer Jeff Lemire and artist Doug Braithwaite are exploring the future of Bloodshot in June's 4001 A.D.: Bloodshot #1; Jody Houser and Rafer Roberts will tell the story of the future Shadowman with artist Robert Gill in 4001 A.D.: Shadowman #1 in July. Then we have a top-secret creative team crafting the story of an all-new character at the center of "4001 A.D.", whom we're also keeping classified for now.
As you can see, we have quite the slate. But, all of these stories are completely self-sufficient and stand on their own outside of the main "4001 A.D." series. So, if you're only following Rob's X-O Manowar or Jeff Lemire's Bloodshot, you can check those one-shots out as fun, future-flung side-stories.
DF: How is Rai key to this event?
Warren Simons: Rai is the character who will really jump-start Earth's rebellion against Father. Rai has seen just how bad Father—who is also Rai's creator—really is, both from the inside and the outside, and knows that he's the only one who can stop him. He's the catalyst, as well as the driving force, for much of 4001 A.D.'s watershed moments...of which there are plenty.
DF: Can you give us any non-spoilery hints at the "all-new, top secret" character who is appearing in this summer event, and is it true this character may have a one-shot as soon as August?
Warren Simons: I can confirm that this character will debut in August with his or her own "4001 A.D." one-shot, but beyond that my lips are sealed. But, let me just say that she will have major ramifications to the future Valiant Universe, and will quickly become a key player for that world.
DF: It seems like "4001 A.D." is heralding an exciting summer for Valiant. What are your thoughts on all of this anticipation?
Warren Simons: I'm just glad that fans and readers are as excited for this story as we are. Matt and Clayton—along with all the other writers and artists contributing to "The Summer of 4001 A.D."—have really put their hearts into this project. They all have multiple projects going on, and yet they still treated this like their number-one priority. "4001 A.D." is our most ambitious event at Valiant, both in scope and vision, so it's great to see all of that hard work paying off.
DF: Warren, anything else we can expect booming from Valiant along with "4001 A.D."?
Warren Simons: We always have tons of exciting stories on the horizon, and this summer will be no different! Over in Bloodshot Reborn #13, Jeff Lemire and Mico Suayan are kicking off a new story arc in June with "Bloodshot Island." Most people already know that Deathmate is returning in an exciting new fashion for this story, and I can't wait for the fans' reactions when we pull back the curtains on that. I don't want to say that it's controversial, but...it'll definitely get fans talking.
Then, also in June, Robert Venditti will start the final arc of X-O Manowar with "Long Live the King" in issue #47. This is the grand finale to the series that kick-started the entire modern Valiant Universe, and Rob—along with artists Joe Bennett and Roberto de la Torre—have crafted an enormous story that's the capstone to everything that the team's built over the past several years at Valiant. I think his final statement on X-O Manowar will blow fans away.
Dynamic Forces would like to thank Warren Simons for taking time out of his busy schedule to answer our questions. 4001 A.D. #1 from Valiant hits stores May 4th!
For more news and up-to-date announcements, join us here at Dynamic Forces, www.dynamicforces.com/htmlfiles/, "LIKE" us on Facebook, www.facebook.com/dynamicforcesinc, and follow us on Twitter, www.twitter.com/dynamicforces
VALIANT COMICS ETERNAL WARRIOR HIGH-END LITHOGRAPH
VALIANT COMICS X-O MANOWAR HIGH-END LITHOGRAPH
---
NEW! 1. 11/25/2020 - STEVE SKROCE
4. 11/16/2020 - RYAN O'SULLIVAN
5. 11/16/2020 - RYAN O'SULLIVAN