CHRISTOPHER SEBELA

SEND THIS TO A FRIEND!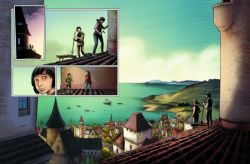 DF Interview: Christopher Sebela's Heartthrob S2: romance, crime, heart ailments and Fleetwood Mac
By Byron Brewer
There must be 50 ways to leave your lover, but none of them include robbing a Fleetwood Mac concert and escaping to Canada with a getaway driver and a group of anarchists. Putting Mercer and her life of crime in the rearview, Callie tries her damnedest to live a normal life, hide out from the FBI and make sense of Canadian currency. As her friends continue pulling crimes and Callie dips her toe back in the dating waters, she'll find out when you share your heart with someone, breaking up is way harder to do.
Writer Christopher Sebela and artist Robert Wilson IV bring to Oni Press – and readers – the anticipated second season of Heartthrob. To catch up and discover what's upcoming, DF spoke with the author, Christopher Sebela.
Dynamic Forces: Chris, tell us about how the series Heartthrob came about.
Christopher Sebela: I'd been wanting to do a heist book and I'd been wanting to do a romance book, but I couldn't figure out a way to make the two sync up in a way that made sense. One night I heard a radio show about this phenomena of people who get organ transplants having part of their personalities change, who recognize their donors even though they've never met them. That was the missing piece and I figured out the story pretty quickly from there. After that we asked Robert Wilson IV and Nick Filardi and Chris Crank if they wanted to make a book together and we were off.
DF: For the uninitiated, what does a new reader need to know going into the book's second "season"?
Christopher Sebela: Well, firstly, you can pick up the trade of our first season for only $10. That's the easiest way to catch you up to where Season 2 opens up. But basically, Callie's last job was huge and the FBI was hot on her trail, so she and the army of anarchists she's teamed up with go to Canada. She's broken up with her possibly fictional heart donor boyfriend Mercer and she's trying to leave her life of crime behind her and enjoy the few years of healthy life she has left. Hi-jinx, inevitably, ensue.
DF: What can you tell us about the "world" you are creating here in Heartthrob? Were there any other books, films, etc. that served as your muse?
Christopher Sebela: Fleetwood Mac is my biggest muse, both as a way of setting the mood and as a pool of characters that I have in mind when I'm coming up with characters who live in our world, using those weird band dynamics and translating them into the dynamics of a crew that robs instead of sings. I'm a big fan of 70s cinema and music, so a lot of that is just burned into my head. Robert's had the tough job of trying to make things look period appropriate and he's nailed it all along.
DF: Who is Callie, as a character? What challenges are awaiting her as this series returns, and why does it seem so darn hard for her to lead what she thinks of as a "normal" life?
Christopher Sebela: She's a woman who grew up with a heart defect that really sidelined her from life. Her overprotective parents and her reputation in school as a sick girl who couldn't take too much stress, it kind of isolated her in a bubble. And when she tried to break out of it, through dating, it always ended in a different kind of heartbreak. Now she's healthy and she's got a couple of guaranteed years left and she wants to live her life, on her own terms, do all the things she ever wanted to do. But she kinda doesn't know what that is. Everything that's "normal" to Callie is all the stuff she spent all of Season 1 running away from and, spoiler, her attempts at normalcy is Season 2 don't stick all that well.
DF: What other characters will longtime readers see returning? Any new characters for those faithful coming up in Season 2? Introduce us please, on both counts.
Christopher Sebela: We have a pretty tight knit crew and all of them are showing back up. Callie has joined up with an activist/anarchist crew called The Red Brigade and she's turned them into her gang, so now they're robbing stuff instead of bombing draft offices, but when she tries to turn it off, they want to keep going. Her driver, Scout, is by her side, but still part of that life of crime and dealing with a love interest of her own. Even though Callie broke up with Mercer, he's never too far from her thoughts, he's the ghost that haunts all of Heartthrob. We'll be meeting some fine Canadian citizens that Callie has gotten tight with, including a pack of soldiers who escaped to Canada to avoid the draft and never came back. Sort of our scruffier and stoned version of Peter Pan's lost boys.
DF: Tell us about your collaboration with artist Robert Wilson IV. What does he bring to this unusual table?
Christopher Sebela: Robert is amazing. First off, he's maybe the nicest person in comics. Genuinely sweet and a font of positivity to be around. He can also draw the hell out of a page and he's a really great storyteller. I think what I like best about Robert's work is how he draws people, their expressions, their bodies, he draws real people in our weirdo version of the real world, and our book is so much about feelings and thoughts that Robert sells so much of it in just the way he can show a character looking at another character and you see that swirl of stuff running through their heads. And Nick Filardi, his colors with Robert's lines, it's kind of the dreamiest book I've ever been associated with.
DF: Chris, what other projects are keeping you busy? Anything set for the near-future you can tell us about?
Christopher Sebela: I've got a brand new comic series I'm debuting with artist George Kambadais on Kickstarter called Short Order Crooks. It's a comedy/crime/cooking comic that I've been wanting to do for years. I also have KISS/Vampirella coming out through Dynamite in June and some other secret things up my wizardly sleeves.
Dynamic Forces would like to thank Christopher Sebela for taking time out of his busy schedule to answer our questions. Heartthrob S2 #1 from Oni Press hits stores June 7th!
For more news and up-to-date announcements, join us here at Dynamic Forces, www.dynamicforces.com/htmlfiles/, "LIKE" us on Facebook, www.facebook.com/dynamicforcesinc, and follow us on Twitter, www.twitter.com/dynamicforces.
KISS/VAMPIRELLA #1 ATLAS COMICS SIGNATURE SERIES - SIGNED CHRIS SEBELA EDITION
KISS/VAMPIRELLA #1 BLANK AUTHENTIX EDITION
---
NEW! 1. 11/25/2020 - STEVE SKROCE
4. 11/16/2020 - RYAN O'SULLIVAN
5. 11/16/2020 - RYAN O'SULLIVAN