ZAC THOMPSON

SEND THIS TO A FRIEND!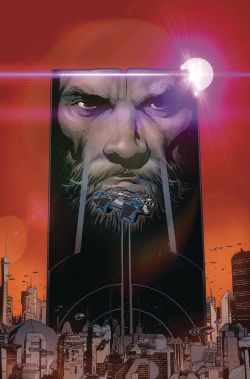 DF Interview: Zac Thompson deals with a universal populace obsessed with monoculture in Relay
By Byron Brewer
A perfect future of intergalactic travel and community. Every newly discovered planet is unified culturally through a monolithic structure known as the Galactic Relay. Although the towering monument is meant to inspire conformity of ideas, technology and progress, many resent the foreign structure.
Jad Carter, a Relay employee, must keep the peace and act as an emissary to new civilizations. But when he finds the Relay's mythological creator, Hank Donaldson, his idea of reality and the universe shatters.
Equal parts The Fifth Element and Philip K. Dick, Relay is an exploration of monoculture, identity and the deceptive nature of legend set in a thriving future where humanity forcibly assimilates new worlds. From AfterShock, Relay is written by Zac Thompson (The Dregs) with art by Andy Clarke (REPLICA, Batman). The story is by Thompson, Donny Cates (God Country, Dr. Strange) and Eric Bromberg (Pestilence).
DF wanted to know more, so we sought out and chatted with scribe Zac Thompson.
Dynamic Forces: Zac, tell us how this new book Relay came into being. I understand it involved Donny Cates and a little inspiration from Philip K. Dick?
Zac Thompson: Relay is the brainchild of Donny reading a Philip K. Dick short story called Souvenir and wondering how far he could take it if he built a world around it. Donny took the original premise of the short story and expanded it into an ambitious pitch for AfterShock. The project was basically greenlighted but with Donny's career blowing up over the course of the last year he didn't have time to take on the project. At the time, I had just finished working on The Dregs at Black Mask Studios. Donny had read that book and decided to bring me on to take the concept to the finish line. After a few chats with him about the core concept, I gutted his original outline and reworked things with my own voice in mind.
DF: Sooo … what is Donny's role now exactly?
Zac Thompson: The best way to think of Donny is perhaps as a producer. He brought the concept to me and we worked together to build out the mechanics of the world but every word on the page and every panel description is all me. That being said, Donny's unmistakable stamp is still on the way this story is being told. Our initial chats really influenced the way this narrative played out and I learned a lot about how to make Relay relentless on the page from Donny.
DF: Give me the elevator pitch for Relay.
Zac Thompson: Relay is basically the story of what happens when humanity becomes obsessed with monoculture. It's an exploration of legend and the meaning we ascribe to the past. It's about a man finding out that everything he believed in was a lie and that monoculture is as dangerous as any other type of society.
DF: Tell us about the world you and artist Andy Clarke are creating here.
Zac Thompson: Andy and I have set out to create an incredibly lived-in world that isn't a dystopia. We don't want to show you this smog-infused future where technology has ruined everything but rather a world where prosperity has seemingly arrived. It's a vivid world where the environment is prioritized. Everything about Relay's world is meticulously created by Andy. We've designed everything from the street corners, bus stops and advertisements of this world to the weapons and art that people hang in their homes. In every single part of it, you can feel the effect and influence of the Relay.
DF: What can you tell us about the Galactic Relay?
Zac Thompson: The Relay is a giant monolithic structure that governs every aspect of society and unites every single planet within its system. There is no rejecting the Relay. Although no one can say for certain where it came from, many believe it was the work of a mythological man named Hank Donaldson. The Relay only sends out one communication a day, "Find Donaldson's World," and it's up to the workers of the Relay to fulfill that wish.
DF: Who is Jad Carter? And can you tell us anything more on the enigmatic Donaldson?
Zac Thompson: Jad Carter is one of the aforementioned Relay workers. He's a man who is employed to keep the peace on planet Earth. His job is to ensure that people live peacefully under the rule of the Relay monolith and to act as an emissary to new worlds. Jad is a believer in that he truly thinks the work he's doing for the Relay matters. He believes in the messaging of the Relay and honestly believes in the legend of Hank Donaldson. We'll see in issue #1 that he's in the minority with this.
Hank Donaldson is the man who allegedly created the Relay. In many ways he's a God-like figure in this world. There are many stories surrounding Donaldson and it's unclear as to which of them are fact and which are fiction. Relay is about Hank's character. In that, we'll see over the course of the series how people interpret his legend. Some take as a religion while others take it as fiction.
DF: How does it feel to be co-creating this universe with Andy? Tell us a little about your collaboration.
Zac Thompson: I couldn't ask for a better collaborator than Andy Clarke. Andy has built out this world with incredible detail and involves me in every step of his creative process. We've taken the time to craft even the most intricate details together to ensure that everything is working in tandem. I can't express to you enough how much attention and detail Andy is packing into every page of this book. Even without my words on the page, Relay would tell a very interesting story. The backgrounds are incredibly important here. Everything from the ships in the sky, to the weapons characters hold has been meticulously crafted to work as a whole. Andy has built out an entire world and I couldn't be more grateful for his work.
Dynamic Forces would like to thank Zac Thompson for taking time out of his busy schedule to answer our questions. Relay #1 from AfterShock hits stores July 11th!
---
NEW! 1. 11/25/2020 - STEVE SKROCE
4. 11/16/2020 - RYAN O'SULLIVAN
5. 11/16/2020 - RYAN O'SULLIVAN