ADAM SMITH

SEND THIS TO A FRIEND!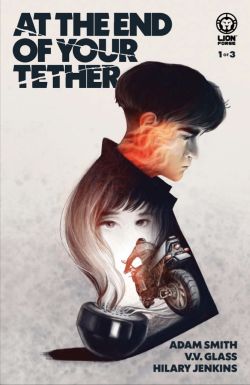 DF Interview: Adam Smith heads into noir territory with coming-of-age mystery, 'At the End of Your Tether'
By Byron Brewer
Nervous about having to see his ex, Ludo Carre gives her a phone call to explain he'll be returning to the old base they grew up on. Big laughs and a familiar sort of cadence in Arlo's voice don't just instantly calm him down, they make him excited to see her. That excitement only hurts him more when he shows up the next day and finds out Arlo has been missing...for the last week!
From Lion Forge comes At the End of Your Tether, by writer Adam Smith, artist V.V. Glass and colorist Hilary Jenkins, a period coming-of-age story set in the late 1990s, and centering around a mystery. DF wanted to bring you the full 411 so we sat down with scribe Adam Smith.
Dynamic Forces: Adam, tell readers the genesis of this coming-of-age crime story, At the End of Your Tether.
Adam Smith: I think the very genesis was wanting to write something for my mom. Both my folks have been incredibly supportive and have read most of my comics. But I don't think that I had written anything that my mom would've picked up had she just happened upon it in a shop. She's a sucker for noir and mystery books; we had this deal when my older brother and I were kids that we could rent whatever weird B horror or science fiction movie we wanted, as long as we also got an old noir and watched that with her. So the original idea was just a Post-it that said something about writing within those tropes and that genre. After that, it was just digging tributaries to feed the river of that idea; what could I add that kept me focused in on those characters?
DF: What can you reveal about the overall storyline of this three-issue miniseries from Lion Forge?
Adam Smith: Unfortunately, not a whole lot. I go back and forth on whether the mystery is important at all in the big storm that is the story but I would like to err on the side of caution as far as revealing much more than two people are forced to deal with love and loss at an age where the ideas of love and loss are in themselves pretty abstract.
DF: Introduce us to Ludo Carre, if you would. Who is he as a character, in your writer's eye? What challenges await him as the mystery deepens?
Adam Smith: Ludo is a lot of the men in my life, my brothers, my dad, friends from school. A lot of us were pretty self-involved and had a tendency to swallow our emotions and internalize this idea that our angst somehow defined us. To me, for Ludo to grow up, he's going to have to face challenges both internal and external as the story goes on.
DF: What can you tell us, if anything, about Arlo Quinones?
Adam Smith: As the story goes on, we learn a lot about and from Arlo. She's a kid as well and, as such, just as inherently messed up as Ludo. This story is at its heart a coming-of-age story for both our main characters.
DF: Are either Ludo or Arlo's families a big part of this teen noir? Other important characters?
Adam Smith: Both of these families were an absolute BLAST to write. V.V.'s design on Myriam is one of my favorite character designs. I had a loose idea and they just brought her to life. When you think noir, you may think mystery or lighting or skylines but part of the appeal for me are those wonderful supporting characters. They bob and weave through the story to remind the reader that while there is this giant existential crisis at the forefront, this world is that existence and that world is full of people. Most of which seem to have a better understanding of themselves than our main two characters.
DF: The Hardy Boys pop into my head inexcusably when I think of youth sleuths, but this also is a teen love tale with noir trappings. Of this concoction you're brewing, which is your favorite genre?
Adam Smith: I am really loving the mystery elements. Did you ever read the Boxcar Children?! I really loved those books growing up. They were these orphan kids who lived in an abandoned box car out in the middle of the woods. I always dug those stories, they reminded me a bit of Robin Hood and His Merry Men in Sherwood Forest. As I type this, I wonder if that series informed my love of Tom Waits? This romanticized idea of being on your own and away from society. Usually in a dilapidated train car. Hmm. Anyway, I'd say more noir in that the mystery here is meant to move our characters along in life.
DF: Talk about the eloquent artwork of V.V. Glass and gorgeous watercolors of Hilary Jenkins.
Adam Smith: V.V. is a master of character acting. This was a hard script. Full of incredibly annoying writing cues like, "Ludo can't manage to make eye contact as he reaches for his lighter. He's defeated here, beat and alone on his leather motorcycle seat." That is not a pleasant thing to draw but somehow V.V. makes it all look so wonderful. You really do feel the impact of those words in just the complex wiring harness they've created of a character. This book would really now work with them. And Hilary's paints, man. They're gorgeous, so rich with texture and just such a brilliant palette of color. There's this scene, in the opening as these oranges, yellows and reds lick and lap at one another as they spiral into the blue above. It's breathtaking, earnestly impactful and so moving. This [art] team, I just could not be more over the moon.
DF: Adam, what other projects, current or near-future, can you tell readers about?
Adam Smith: I have a few unannounced projects up ahead that I'm very excited to start to talking about very soon and I'm winding down on Beneath the Dark Crystal. Other than that, I have a few pitches I'm trying to get together and a few bits of short prose I may start sending out at some point. Right now, things are picking up with comics and I'm doing my best to stay the course.
Dynamic Forces would like to thank Adam Smith for taking time out of his busy schedule to answer our questions. At the End of Your Tether #1 from Lion Forge hits stores June 26th!
For more news and up-to-date announcements, join us here at Dynamic Forces, www.dynamicforces.com/htmlfiles/, "LIKE" us on Facebook, www.facebook.com/dynamicforcesinc, and follow us on Twitter, www.twitter.com/dynamicforces.
---
NEW! 1. 11/25/2020 - STEVE SKROCE
4. 11/16/2020 - RYAN O'SULLIVAN
5. 11/16/2020 - RYAN O'SULLIVAN