DREW ZUCKER

SEND THIS TO A FRIEND!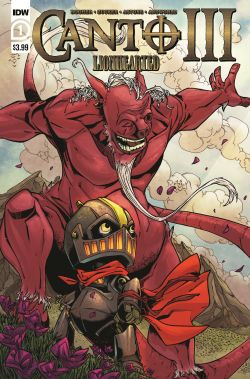 DF Interview: Drew Zucker talks working hot zones of NYC as a first responder during pandemic; also, 'Canto II: The Hollow Men'
By Byron Brewer
Once a slave forced to feed a furnace day after day until the clock in his chest ran out of time, the tin man Canto changed his whole world when he embarked on a quest to fetch the real heart of his dying beloved. Though he failed his quest, he returned home to find his people had revolted and overthrown the slavers, inspired by his own bravery.
Later this year, Canto will embark on a new adventure -- this time, with his friends – in Canto II: The Hollow Men, written and illustrated by series co-creators David M. Booher and Drew Zucker, respectively, with colors by Vittorio Astone and letters by Deron Bennett.
DF caught up with artist Zucker and chatted up the tin soldier's next adventure. But not before we had a chance to ask him about his other job as a New York first responder, especially during the ongoing COVID-19 pandemic.
"For the last five years, I've been a member of FDNY EMS in the Bronx and for the last year a member of HazTac, which is a specially-trained group of EMT/Paramedics who are trained to perform medical treatment in hot zones," Zucker said. "Over the last few months, things have been chaotic with the pandemic. Luckily even with the comics industry shutting down, having that work has made the entire situation easier to deal with. Comics have continually been my escape from the stressors of being on the front lines of what COVID is doing to people."
DF is proud of what Drew Zucker does on the front lines, and thanks him for his everyday heroism.
And now onto another hero, one made of tin.
Dynamic Forces: Drew, when David and you began the saga of Canto, did you ever imagine it would garner the critical acclaim and reader adulation that it has?
Drew Zucker: We always hoped that it would, and we knew that we both really liked what we were doing, but ultimately we were taken by surprise at not just how fast people gravitated towards Canto, but also with such loyalty. It has been a really amazing experience.
DF: I don't ask this often of an artist, and maybe I should because you are really the actor here, like an animator is really the actor in a toon. What is your take on the character of Canto? What fills your mind as your pencil fills the page?
Drew Zucker: That's a great question. I have a lot of music that informs Canto ranging from instrumental, classical, punk, metal, and ska. For me, he's the underdog who is always fighting and moving forward, even if he has moments of doubt he still gets back up and fights. His voice is also very stubborn in my head, I don't have an actual idea of what the voice is but I know the tone, if that makes any sense.
DF: It does. … In brief, can you sum up where we find Canto after Series 1 and the one-shot occur, as readers approach Canto II?
Drew Zucker: When we pick up, Canto is really coming to terms with his own legend and how he himself feels he measures up against it. It's a really interesting place to take a character like this and David has done an amazing job at setting up a new journey for Canto that is exciting.
DF: What can you tell us about the storyline of this second series?
Drew Zucker: I don't want to give to much away, but Canto will have a whole new set of friends for this adventure (we may run into some old faces.) It's also just exciting, the story is much larger than what we did in Vol. 1, but at the same time it develops threads from that story and takes it in exciting directions. It has been a genuine joy to work on.
DF: What supporting characters will readers meet with our tin soldier's quest this time around?
Drew Zucker: There are loads of new characters and a few returning, but the main new characters are Canto's friends that come with him on hi journey: Falco, Rikta and Veratta. These characters have been exciting to bring to life with David and grow the Tin's away from their conformity routes and make them their own individuals.
DF: Without spoilers, can you divulge if there is a new big-bad in Canto's life?
Drew Zucker: NO SPOILERS! Sorry, everyone, you're going to have to wait and read for that one. This whole thing has been so much fun to work on, I don't want to ruin any of it. I will say, though, the Shrouded Man is back and he's more vicious than ever.
DF: Talk a little about the chemistry that has developed between artist and writer during your collaboration with David.
Drew Zucker: David has not only been an amazing collaborator, but has become a close personal friend. I personally look for writers and projects where the writer and I are able to bond since these are projects that I have to invest years of my life into. David is an amazing writer who understands me specifically as an artist and makes my life pretty easy in writing a style that I can translate.
DF: Drew, what current or future projects can you tell readers about?
Drew Zucker: Right now, my life is all about Canto. We have not gone pencils down at all and are still forging ahead. The future is bright for the little tin guy and there are a lot of exciting developments coming for him.
As of right now, Canto Vol. 1: If I Only Had A Heart is available at all comic shops and online retailers and my World War II horror graphic novel, The House, written by Phillip Sevy with art by myself, is available at my website www.ArtofDrewzucker.com.
Dynamic Forces would like to thank Drew Zucker for taking time out of his very busy schedule to answer our questions, and again we thank him for what he does as a first responder. Canto II: The Hollow Men from IDW is currently slated to publish in July. Keep watching DF News and comics-related social media for any changes and more information.
For more news and up-to-date announcements, join us here at Dynamic Forces, www.dynamicforces.com/htmlfiles/, "LIKE" us on Facebook, www.facebook.com/dynamicforcesinc, and follow us on Twitter, www.twitter.com/dynamicforces.
---
NEW! 1. 05/24/2023 - DOUG WAGNER
3. 02/10/2022 - SIMON SPURRIER