CHRIS SEBELA

SEND THIS TO A FRIEND!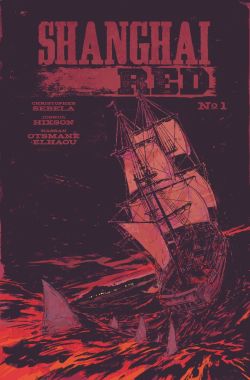 DF Interview: Chris Sebela writes a love letter to Portland and its history in Shanghai Red
By Byron Brewer
Red is one of hundreds shanghaied out of Portland in the late 1800s. Drugged, kidnapped and sold to a ship's captain, she wakes up on a boat headed out to sea for years, unable to escape or even reveal who she truly is. Now she's coming back in a boat covered in blood to find her family and track down the men responsible for stealing her life out from under her. Eisner-nominated writer Christopher Sebela (High Crimes, Heartthrob, We(l)come Back), Joshua Hixson (The Black Woods) and Hassan Otsmane-Elhaou (Felix & Macabber) bring you a tale of revenge, family and identity that stretches from the deck of a ship outside Shanghai all the way to the bleak streets and secret tunnels of Portland, Oregon.
DF spoke with scribe Chris Sebela to bring you the full 411 on this one!
Dynamic Forces: Chris, I know one of the key moments in your life thus far has been the move to Portland, Oregon. Tell us what that meant to your comics career and how it involves your new Image series, Shanghai Red.
Chris Sebela: Moving to Portland was sort of the big push I gave myself to finally pursue writing for a living, writing comics specifically. I knew there was a community of creators here and several publishers, so it felt like a good place to go to chase this dream. And weirdly it worked out. It took several years but I finally hit a point where I was writing comics full-time and I have been ever since.
Moving to a brand new city snaps you out of the comfort you get of living in a place, makes you aware you're living in a place with an entire history that you didn't grow up being told about. So I dug into Portland's history and one of the things I found were the stories about Portland being an epicenter of shanghaiing in the late 19th century, including a network of tunnels beneath the old part of downtown. After I did a tour of part of those tunnels, I came out with the idea. Turning Portland into a comic kind of felt like a way of paying Portland back for making my comics dreams come true.
DF: Give me the elevator pitch for this new book.
Chris Sebela: Shanghai Red takes place in the late 1890s, when Portland was the world's capital of Shanghaiing — a crime where sailors and others get drugged and abducted onto ships, forced to work on them for years and then tossed aside when their forged contracts expire. It was a weird time between the Old West and the Modern Age. Horses filled the streets, cars were just on the horizon, wooden ships were still kings of the sea, but were about to be replaced. One sailor who was shanghaiied, Red, manages to free herself of her captors and turn the boat she's been trapped on for the last two years around, back to Portland. She wants to reunite with her mother and her sister and she wants to get payback against every person responsible for putting her on that boat.
DF: What else can you tell us about Red? Why is this a character you want to write?
Chris Sebela: Red grew up in the Midwest on her family's farm, which barely scraped by. When the farm began to go under and her father abandoned the family, Red was left to take on the lion's share of the work and defend the home, her mother and sister. After abandoning the failed farm, Red and her family had to make their way West, which was a dangerous journey for even the most well-armed wagon trains. When they got to Portland, Red didn't want to do the kind of work reserved for women, she wanted to be a logger, make some real money and put her talents to use. So Red disguised herself as a man to get the job, and it was in this disguise she gets kidnapped and wakes up on the boat to Shanghai.
I think what drew me to Red the most is that she's torn between her two identities, trying to pretend they're two separate people instead of just two sides of her personality. She's on this bloody path of revenge, but it's one she got forced onto by years of being beaten and worked half to death on a boat where she constantly feared being discovered for who she actually is. She's not comfortable with violence, even though she's very good at it. There's something reckless and confused about Red that makes her a more compelling character than some badass vengeance machine who takes down every foe with a quip. Red's a rough and messy character.
DF: For the uninitiated and/or East Coasters, what are Portland's Shanghai Tunnels?
Chris Sebela: So back in the 1800s, a series of tunnels were built underneath what's now known as Old Town and Chinatown in downtown Portland. Portland was a huge shipping city and the Willamette River, where ships would dock, is just several blocks away. To bypass traffic, they built these tunnels to move shipments from the docks deep into downtown, where many of the businesses had basement access to these tunnels. But the tunnels also became home to crime. The Chinese Tongs began to set up gambling parlors, opium dens and brothels, along with traps to slow the police in case they came after them. And, it's said, the crimps who shanghaied sailors used the tunnels to lock up their abductees and then sneak them onto the boats with no one seeing. There's people who dispute that history, and most of the tunnels have been filled in, but the tour gives an interesting look at what could be, and I just chose the one that felt the most exciting to me.
DF: Talk a little more about your delving into the history of Portland and how this is reflected in the series. Did artist Josh Hixson do historic research is well? 'Twould seem thus by his awesome pages!
Chris Sebela: I read a ton of books and spent a lot of time in the Portland Central Library's special collections room, reading old newspaper stories from back then, going over letters written by sailors who had been abducted, using maps to figure out where businesses were located back in the 1890s in Portland. Which bridges had been built and which hadn't, what the street life was like, just a massive amount of digging.
But I found out some really useful stuff that I incorporated into the story of Shanghai Red. One in particular was about boardinghouses that employed women to draw sailors in. They would send these same ladies out on bicycles to drum up business and it was so scandalous that women in Portland stopped riding bicycles for several years because they didn't want to be perceived as being women of easy virtue. Fun little facts like that made their way into my story in a big way. Plus I drew on a lot of historical characters from Portland's past who were crimps or boardinghouse owners or part of city government.
Josh probably did twice as much research as me because he had to draw it and make it look convincing. I did my best to provide him with any useful material I came across, but Josh is the one who googled and pored over photos of Portland back in the late 1800s and managed to make it all look great and real. It feels like Portland to me. Which is doubly impressive since Josh had never been to Portland until he flew in for us to announce the book.
DF: Wow, cool. … Spinning from the above, talk a little about your collaboration with Josh on Shanghai Red.
Chris Sebela: I first saw Josh's art on Tumblr. I had been working on Shanghai Red for several months and I thought his style was perfect for it. It's pretty rare I have that reaction, but I thought Josh's pages that I saw back then were just really impressive and I knew he'd only get better as he went along. Fortunately, he responded to my random message and said he'd be up for doing Shanghai Red. So we put a pitch together and got it approved. That was back in January of 2015. Since then, Josh and I have been working on it when we can between other jobs. We've both been working on it for free, a real labor of love thing. But working with Josh keeps me excited about the book, even when there's sometimes been several months of not working on it happening, coming back to it and knowing that Josh was gonna do more pages always got me excited as I've always been to tell this story. He's a great storyteller and he makes really smart decisions out of the scripts I give him. We've developed a good short hand and working style, so I just wanna work with Josh as much as I can on other books.
DF: Chris, what else do you have going right now, and in the near-future?
Chris Sebela: Right now the last issues of Agent 47 are coming out from Dynamite. I've also got a creator-owned book with Hayden Sherman at AfterShock called Cold War. In addition to Shanghai Red, I have another Image book coming out in the summer called Crowded. Oh and I had a Ghost Rider one-shot that came out March 28thand two issues of Harley Quinn in June. And other stuff, but I've talked a lot.
Dynamic Forces would like to thank Chris Sebela for taking time out of his busy schedule to answer our questions. Shanghai Red #1 from Image Comics hits stores June 20th!
For more news and up-to-date announcements, join us here at Dynamic Forces, www.dynamicforces.com/htmlfiles/, "LIKE" us on Facebook, www.facebook.com/dynamicforcesinc, and follow us on Twitter, www.twitter.com/dynamicforces.
DAMNATION: JOHNNY BLAZE GHOST RIDER #1 SIGNED BY CHRIS SEBELA
AGENT 47: BIRTH OF THE HITMAN #1
KISS/VAMPIRELLA #1 ATLAS COMICS SIGNATURE SERIES - SIGNED CHRIS SEBELA EDITION
KISS/VAMPIRELLA TRADE PAPERBACK
---
NEW! 1. 11/30/2020 - SKYLAR PATRIDGE
5. 11/16/2020 - RYAN O'SULLIVAN