VASSILIS GOGTZILAS'

SEND THIS TO A FRIEND!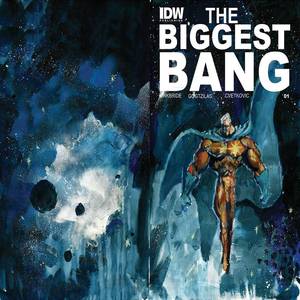 DF Interview: Vassilis Gogtzilas' art puts the bang in Biggest Bang
By Byron Brewer
Born in the cataclysmic cosmic catastrophe known as "The Bigger Bang," Cosmos traversed the barren egg-lands in between universes, discovered the wisdom of space whales, defeated intergalactic evil, and found love. Now a new threat presents itself, one the hero has never known … worship! What can he give those who could call him God?
Intergalactic action and pataphysical philosophy return in The Biggest Bang, the thrilling sequel to IDW's miniseries The Bigger Bang, from writer D.J. Kirkbride and artist Vassilis Gogtzilas.
Flipping our usual interview format, your DF correspondent sought out artist Gogtzilas to get his unique take on this unique sequel.
Dynamic Forces: Vassilis, would you mind recapping the events of the original series, The Bigger Bang, by you and writer D.J. Kirkbride?
Vassilis Gogtzilas: As far as the first series is concerned, it opened a window to the events following a "Bigger Bang" than the one we all know. As a result, a superhero is born known as Cosmos. We follow him as he wanders around trying to deal with his guilt. And besides him fighting King Thulu, he also has to fight against Wyan who proves to be his other half!
DF: How did this new sequel, The Biggest Bang, come about?
Vassilis Gogtzilas: [A sequel always] was meant to happen. The story and the hero needed a closure … an epic closure … so that is what the second part is all about. The first four issues had a surprisingly big response from comic book readers and that fact gave us the chance to reload Cosmos. In a comic book universe pact with superheroes, launching our own had been a very ambitious task all the way.
DF: What can you tell us about the story here in lieu of what happened in Bigger Bang?
Vassilis Gogtzilas: The first miniseries was revolving around self acceptance. This book, the second one, is all about the wrong kind of acceptance one might accidentally get. So there is more to the picture than meets the eye. New villains and an almost cursed love affair are also crucial narrative components. I think thats a good summary without any spoilers.
DF: Who are the main characters in the sequel?
Vassilis Gogtzilas: We've got Cosmos and Wyan who has been developed further as a main character.
DF: Do we meet any new characters this time around?
Vassilis Gogtzilas: Janishier Sneck is the new threat in the guise of a cosmic priest. And a few more to discover throughout the pages.
DF: As artist, did you get to design – or maybe redesign – any characters for Biggest Bang?
Vassilis Gogtzilas: What I find extremely refreshing in the design process was that we got to invent new characters. Drawing from scratch is a very liberating process. You get as an artist to explore and hit all the different creational directions you desire. That was a great opportunity for me to develop several concepts and on top of that I have a dynamic working relationship with D.J. Kirkbride, allowing me to have no restrictions in presenting my ideas in the exact surreal way I wanted.
DF: After doing the first series, you must have a favorite character? Who is it and why?
Vassilis Gogtzilas: I really like Cosmos' silent moments and all those personal issues they reflected. I could associate to some of his melancholic moods. But I really enjoyed drawing King Thulu. He had lots of moments for me to pick up his personality and, as I say, more splashes of ink and angry faces.
DF: Vassilis, what else are you working on?
Vassilis Gogtzilas: A new Augusta Wind series with J.M. DeMatteis that is a thrill to work on since the text is so beautiful. There is another project that I can't say much about as yet. I also work on paintings for new exhibits and gallery shows.
Dynamic Forces would like to thank Vassilis Gogtzilas for taking time out of his busy schedule to answer our questions. The Biggest Bang #1 hits stores May 18th!
For more news and up-to-date announcements, join us here at Dynamic Forces, www.dynamicforces.com/htmlfiles/, "LIKE" us on Facebook, www.facebook.com/dynamicforcesinc, and follow us on Twitter, www.twitter.com/dynamicforces
---
NEW! 1. 11/25/2020 - STEVE SKROCE
4. 11/16/2020 - RYAN O'SULLIVAN
5. 11/16/2020 - RYAN O'SULLIVAN