SEAN LEWIS

SEND THIS TO A FRIEND!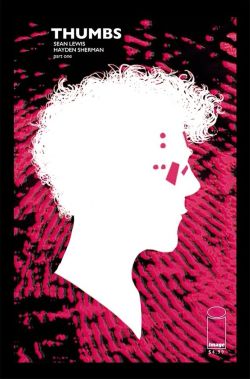 DF Interview: Sean Lewis dissects technological dystopias in 'Thumbs'
By Byron Brewer
Imagine someone like, say, Mark Zuckerberg created his own army of tech-obsessed teens and directed them to take on the government. What would the fallout be? Charley "Thumbs" Fellows is a member of just such an army. Poor and raised by the influential MOM app, he finds himself in the center of a war.
The Social Network meets Blade Runner in Thumbs, a big event book from writer Sean Lewis and artist Hayden Sherman, the team that brought you the hit series The Few. DF in its desire to bring you the full 411 chatted up the series with scribe Sean Lewis.
Dynamic Forces: Sean, what was the genesis behind your latest maxi-series for Image Comics, Thumbs? Is it a concept you have been thinking of for awhile?
Sean Lewis: I've been really obsessed with watching people almost walk into traffic while looking at their cell phones. I've been just as intrigued in cars at red lights, waiting in traffic as people check their phones and miss the green light. I've seen friends' moods change as they return to the table after checking their phone. I've followed the Facebook/Russian bots fiasco…
But more than anything, what influenced the book was watching kids at Parkland after their school got shot up. I remember seeing all over social media -- "Hey, I just saw the kids from Parkland and they're gonna save this country." I understood the sentiment but I found it so weird. We'd made a big mess and we were expecting teenagers to fix it. It doesn't discount those kids' bravery but it did make me just look at myself, an adult, in a world out of control and go what the hell is wrong with me? With us? What world did we make where we need children to save and protect us?
And that became the genesis: a world where kids were the armies as one half and a culture emotionally and intellectually controlled by the devices they once made to make their lives more free.
DF: Tell readers about the world you and artist Hayden Sherman are building in Thumbs.
Sean Lewis: Hayden is amazing. A wizard. I mean, visually, he's created a tech advanced near future. A place where apps operate as holograms, where hallways are transformed into video screens of your memories, where weapons operate like video game play. He's done everything in a very sparse color scheme; it's almost grayscale and then it explodes in neon! It's a very cinematic experience.
I think that is the main thing Hayden and I have thought of with this book. What is the reader's experience? Comics are such an incredible medium. My favorite medium. We literally get people to touch and feel the pages and turn the page -- it's the truest interactive medium -- not virtual reality, but ACTUAL REALITY. So, to that end we have made something in between a storybook and a comic book. It's big, 48-50 pages per issue of futuristic designs, cyber punk imaginings and epic storytelling.
DF: Who is Charley "Thumbs" Fellows? Can you tell us about him as a character, and what challenges he must face as this series gets underway?
Sean Lewis: He is an average teenager who wants to play video games. He's poor. He lives in a trailer park. His parents both work long hours so he is left at home to watch his younger sister Tabitha with the help of the MOM app, a virtual babysitter and soldier.
He spends his free time playing videogames and obsessing over videos of Adrien Camus, a Mark Zuckerburg-type character, who has been giving free technology to lower income kids.
DF: What is the storyline going forward in Thumbs?
Sean Lewis: Well, no gift is ever free. Camus' free tech leads to gaming tournaments and scholarships to a special school he has created and eventually to the development of his own army. See, he's been training you since the first moment you picked up a Nintendo Switch. He gave it to you for free and programmed the games you would play and the rules you'd follow and now you're a perfect soldier. And his enemy? The Power, a thing the United States has become.
See, Americans are very emotional. We are very impatient. We want to be heard and we want the change we want now. So, the Power has looked at tech and these weaponized kids and they've turned the country into the equivalent of Eastern Europe in the Cold War. State run, state mandated.
Thumbs is at war with this. All he wants is to reunite with his sister.
And his sister? She is being groomed by the Power.
DF: Any other important characters readers should know about as issue #1 approaches?
Sean Lewis: Tabitha is Thumbs' wisecracking younger sister who he left behind when he went to the Camus school. She's the most important thing in the world to him. His best friend is a girl named Nia, who he came up through the videogame ranks with. The Power is led by two people whose lives were destroyed by technology in different ways. And there is Adrien Camus, the Mark Zuckerburg of this world, who has all your personal information and whose morality is constantly shifting with the tide.
DF: You are addressing subtly herein one of my concerns for today's society: the internet and a seeming obsession with it. Are we already being controlled and do not know it? Do we actually control modern technology, or does it control us? Thoughts?
Sean Lewis: Ha! Do we control it? So, every few months Twitter or Facebook change something in their interface and people write on their profiles how mad they are and they threaten to leave and they act as if they are a customer:
"I spend a lot of time on this site and I demand you change."
You aren't the customer. You're the product. Your likes, your mentions, your personal information – all shoved into algorithms that come up with patterns to place in front of you to influence your buying, your voting, your emotions, your education, your beliefs… Everyone I talk to – people my age versus my students in classes I teach -- all mention how anxious they feel. Everyone is anxious. I think because subconsciously we know we are being watched. We know our devices are keeping tabs on us; deep down, our animal selves know that this is off. We were born to be free creatures. We are animals. But somewhere inside of us we sense this invader and it creates anxiety.
BUT. A person like myself, without email I have no career. Without social media, I have no way to connect and market my work. Without apps, I can't even bank or buy groceries.
It's become a necessity. Though, the only carefree people I see are kids in my son's daycare. The only people still young enough to not have had a cell phone in their hand.
DF: Talk about Hayden's art and contribution to this book.
Sean Lewis: He's incredible. I mean, I'd stop at that but that is flip. Look, when I first found Hayden for The Few, it was on the old BOOM Comics Facebook page for artist submissions. I knew then he was special. I hadn't seen art like his before. It was so different. He was amazing on that book. He's only gotten INCREDIBLY better.
He has an incredible natural gift for paneling. It's kinetic. I don't think you can teach that. He creates energy between panels. But he also knows how to give a splash page this kind of space that creates real emotion.
He's gonna be one of those guys we look back on when things are said and done and he'll be pantheon. He'll be Mignola level. He's just doing stuff that is so advanced. I'm very lucky to get to work with him.
DF: Sean, you work in so many fields. What can you tell readers about coming projects, in or out of comics?
Sean Lewis: TOO MANY FIELDS!
Thumbs is the big comic project right now. I have some contracts lined up at other places but nothing announced just yet. In film and TV, I just directed Adult Ed, a TV show that stars a bunch of comic book alumni like Campbell Scott (Amazing Spider-Man) and Aubrey Joseph (Cloak in Freeform's Cloak & Dagger). It premieres at the Tribeca Film Festival at the end of the month. I have a new play about the history of guns called Conceal and Carry that opens in Atlanta next fall. And I just finished a sci-fi novel about a post-climate earth. I'll either publish that in e-book and Kindle form through Little Ark Publishing (a company I work with) or shop to publishers. Publishers move a little slow, so we'll see. It'll probably be Amazon, baby!
Thanks to your readers and to DF in general for the time.
Dynamic Forces would like to thank Sean Lewis for taking time out of his busy schedule to answer our questions. Thumbs #1 from Image Comics hits stores June 5th!
For more news and up-to-date announcements, join us here at Dynamic Forces, www.dynamicforces.com/htmlfiles/, "LIKE" us on Facebook, www.facebook.com/dynamicforcesinc, and follow us on Twitter, www.twitter.com/dynamicforces.
---
NEW! 1. 11/25/2020 - STEVE SKROCE
4. 11/16/2020 - RYAN O'SULLIVAN
5. 11/16/2020 - RYAN O'SULLIVAN