JIM RUGG

SEND THIS TO A FRIEND!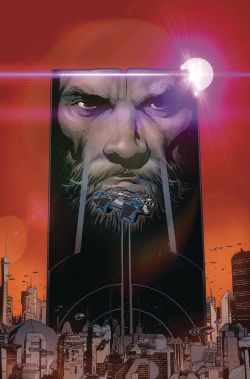 DF Interview: Jim Rugg brings an underdog hero to life in the Street Angel Afterschool Kung Fu Special HC
By Byron Brewer
Jesse "Street Angel" Sanchez takes the Ninja Kid to school! Her fists are the facts and his face is the report card! Meanwhile, Saturday night's the big dance and Jesse doesn't want to go. Is love in the air? No.
Image Comics brings Jesse Sanchez to hardcover in Street Angel Afterschool Kung Fu Special from the writing team of Jim Rugg and Brian Maruca with Jim on the art as well.
DF wanted to know more of this unusual HC, so we caught up with Jim Rugg. Here is what he told us.
Dynamic Forces: Jim, Street Angel started, I believe, as an alt-comic 5-issue limited series published in 2004 and put together by Brian Maruca and yourself. What else can you tell us about this series and how it came to Image Comics, getting ready to receive the HC treatment?
Jim Rugg: The 2004 Street Angel series was my first published comic. I grew up on superhero comics but I was unhappy with the Direct Market of the early 2000s. I got into mini-comics, which meant no rules! Just make the comics that you want to make. Street Angel came out of that. At the time, there weren't too many comics with strong young women or girl leads, especially in the superhero genre. This was before Hit Girl or Stranger Things' Eleven.
I wanted to make something different than what I was seeing at my comic shop. I wanted a fun, dynamic superhero comic full of the stuff I liked - action, humor, a charismatic never-say-die hero, and colorful villains. I think this approach was briefly described as 'fusion' comics - creator-driven comics that reflected the unique interests of the cartoonist. For me that meant Frank Miller, Dan Clowes, Julie Doucet, ninjas, skateboarding, crime noir, manga, comedy, and a hero who defied the sexism that defined so much of American comics.
In 2013, AdHouse Books published a collection of Street Angel comics. Putting that collection together reminded me how much I like the character. I met with Image Comics at Comic Con and proposed a new Street Angel series. They said yes. And Brian Maruca and I started writing new Street Angel stories.
The new Street Angel stories are self-contained. One of the problems I have with comic books is that they can be hard to find. I hear about a good, new series and then I find issue 3 at my comic book store and it's part of a longer story arc...but the store only has a random issue. Or the story is several issues but I just want to try an issue to see if I like it rather than buying a stack of comics and finding out that night that they aren't for me.
My life is busy. I think everyone's life is busy. So I have fallen in love with short stories, videos, podcasts...formats that deliver a great story experience in a fast, immediate, satisfying way because that fits my life and schedule well.
So when we started working on new Street Angel stories, that was something we wanted to create - self-contained, standalone stories. When Image saw these, they proposed the hardcover graphic novel format because it suits the stories well. I love this format. In the last five years, I've become more and more interested and influenced by picture books. So working in this format is very exciting! I hope our excitement transfers through the stories and art to our readers.
DF: From what I have seen, and you can correct me, the series is both a satire of superhero comics AND the era of the Golden Age. Why this take for the book, and what goal lies behind this execution?
Jim Rugg: The original series was more satirical. I think in the last decade satire has changed a lot. Malcolm Gladwell describes this very well in episode 10 of Revisionist History podcast: the Satire Paradox. http://revisionisthistory.com/episodes/10-the-satire-paradox
The reason for that approach at the time was because Street Angel was a response to American comics, specifically the Direct Market. The Golden Age influence reflected a pre-Watchmen less "serious", less "realistic" tone.
Today's comics industry is so different than it was 15 years ago. It's much more diverse in terms of genre, format, styles, creators, distribution, and readership. I hope these new Street Angel stories reflect and add to the richness of today's comics. Also, Brian and I are very different people and creators - hopefully much better comics makers.
I would describe this new series as funny, dynamic, character-driven stories. Street Angel remains a charismatic underdog hero but the storytelling is more contemporary - influenced and relatable to fans of books like Smile, Ghosts, Paper Girls, Nimona, Batgirl, and This One Summer as well as other notable visual storytelling like picture books, video, webcomics...
My favorite part about comics today is that there aren't rules anymore. When I was a kid, comics had to be in color (this was the post-black-and-white-boom-and-bust), they had to feature superheroes, they had to be comic book sized, they were only found in comic book stores...none of that is true now. So now I want to make up good stories and then tell them in the most exciting f*cking way I can think of using anything and everything available.
DF: What I really love about some of the work I have seen on Street Angel is there are no attempts whatever to maintain a continuity, as you said. And characters pop in and out without explanation! It's crazy … in a good way!
Jim Rugg: Thanks. Crazy works for me. My favorite part of comics was the crazy - seeing stuff I never saw before depicted in weird art. I love that part of comics. My favorite comics are crazy.
We strive to maintain continuity within stories for the benefit of reading and clarity. The two unforgivable sins of storytelling are boring and confusing.
Characters do come and go, like in real life, and we don't always stop to explain their history. I think this is something you see in a lot of current television storytelling. Stick with it, if that character's back story is relevant, we'll address it sooner or later.
Our priority is the story. Every choice is based on whether it makes the story better or not. If it doesn't, we're moving on. Jesse's life moves at a frenetic pace. We're just trying to keep up.
DF: What can you tell us about Jesse Sanchez and her world?
Jim Rugg: Jesse Sanchez is a homeless orphan living on the streets of Wilkesboro - a dangerous, poverty-stricken neighborhood near Angel City. Jesse's world is based on our world but with more ninjas, laughs, heartbreak, and less food.
She's the deadliest girl alive and uses her talent to help others less fortunate than herself - she's like a cross between a Xenomorph, the A-Team, and Lacey Baker. You know how Pigpen would get dirty just walking down the sidewalk? That's like Jesse's relationship to trouble.
DF: Tell me about how you and Brian work together, the process.
Jim Rugg: We're writing partners. So we write stories, ideas, character and scene sketches, then once or twice a week we meet and discuss what we've written. We organize our writing into shared Google documents and edit, revise, and shape these documents into story form.
We write stories in a short story format.
When we have a story that we're both happy with, I translate it into a comic book script. First I break the story into pages, then I break those pages into panels. The scripts include notes on visuals, dialogue, sounds, and additional text like captions.
We go over the script together. Then I print it out and draw it.
DF: I'm not sure readers know this, but a Street Angel live-action short film was made in 2008, and used original artwork from you for its opening animated sequence. What can you tell us about this experience?
Jim Rugg: The short film can be seen here: https://vimeo.com/134169024
It's great! The filmmaker, Lucas Testro, contacted us when he was a film student in Australia. He was interested in adapting Street Angel for his thesis project. We said "great". That was about it. He would send us updates but we had very little involvement in the actual making of the short film.
DF: So what will readers be discovering in the Street Angel Afterschool Kung Fu Special hardcover when they pick it up?
Jim Rugg: If they don't know Jesse Sanchez, they'll discover the deadliest girl alive and her school friends. Jesse has a pretty big reputation at school. Most people steer clear of her because she is violent and her personal hygiene sucks.
In Afterschool Kung Fu Special, she arrives late to school. She's always late. She's a terrible student. Anyway, she finds a threatening note taped to her locker. Jacob, aka the Ninja Kid, challenges her to a fight. Because she's so badass, Jacob thinks he'll be the king of the school if he can defeat her in combat. On top of this drama, there's a school dance coming up. Jesse's friend Bell wants her to go but teen angst and Jesse's life style make that tough…
Stardust the Space Wizard also makes a brief appearance.
Afterschool Kung Fu Special will introduce readers to Jesse Sanchez and give them a glimpse of her daily life and the ups-and-downs that go with it.
DF: Jim, any projects current or near-future you can tell us about?
Jim Rugg: Street Angel is my primary focus.
We post Street Angel webcomics on streetangelcomic.com, Tapastic, and LINE Webtoons.
patreon.com/streetangel - I'm posting the newest Street Angel story, "Super Hero for a Day," as I finish pages. I post process stuff, original art, sketches, and other Street Angel goodies here.
I'm also doing a short biographical comic of Hall of Fame skater Cindy Whitehead for Femme Magnifique - a Kickstarter graphic novel anthology that delivers inspirational comic-book stories about powerful women in science, politics, and the arts. Edited by Shelly Bond, previously Vertigo Editor-in-Chief, now Black Crown mastermind and founder.

I'm also training for my first marathon. After each training run, I make quick journal comics and post them on instagram @jimruggart and twitter @jimrugg.
Dynamic Forces would like to thank Jim Rugg for taking time out of his busy schedule to answer our questions. The Street Angel Afterschool Kung Fu Special HC from Image Comics hits stores today, April 26th!
For more news and up-to-date announcements, join us here at Dynamic Forces, www.dynamicforces.com/htmlfiles/, "LIKE" us on Facebook, www.facebook.com/dynamicforcesinc, and follow us on Twitter, www.twitter.com/dynamicforces.
CAPTAIN VICTORY AND THE GALACTIC RANGERS #1 By Jim Rugg, more!
CAPTAIN VICTORY AND THE GALACTIC RANGERS TRADE PAPERBACK By Jim Rugg, more!
---
NEW! 1. 11/25/2020 - STEVE SKROCE
4. 11/16/2020 - RYAN O'SULLIVAN
5. 11/16/2020 - RYAN O'SULLIVAN