JOE CORALLO

SEND THIS TO A FRIEND!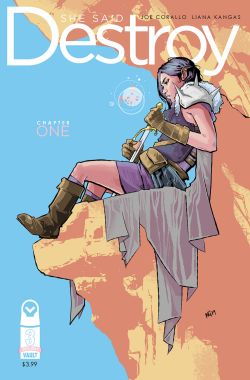 DF Interview: Joe Corallo gives us a Death God actually trying to save us all in 'She Said Destroy'
By Byron Brewer
Over millennia, Brigid, God of the Sun, has conquered and converted the entire solar system into worshipping her and her alone, save one space colony. The Witches of Fey are the last believers of The Morrigan, God of Death, Brigid's sister and the only other God left. As Brigid's forces prepare for one final battle, The Morrigan prepares to do what she does best: Destroy!
From writer Joe Corallo and artist Liana Kangas comes She Said Destroy, a science fantasy adventure like none other. DF caught up with scribe Corallo and got the full 411 on the book.
Dynamic Forces: Joe, tell readers, if you will, the inspiration for your coming comic from Vault, She Said Destroy. I hear it has something to do with your love of Sailor Moon and anime?
Joe Corallo: I had a lot of inspirations for She Said Destroy, and Sailor Moon and anime were definitely a big factor! Science fantasy as a genre really fuels She Said Destroy, and Sailor Moon is one of the earliest properties I remember being exposed to with those kinds of elements. I saw Sailor Moon before I saw Star Wars.
Final Fantasy was another big inspiration. I was at the right age for when Final Fantasy 7 came out with the gigantic ad campaign and got really into that game. From there, I went back and got 4 and 6 on the SNES, and played a rom of 5 on an emulator. A lot of those stories had teenagers with magical abilities that had to face off against an empire, so there's definitely a bit of that here built into this story. It doesn't go quite like a lot of those other stories, but the influence is there.
DF: Has the idea for this comic proper been hiding in a hobbit hole in the rear of the Corallo brain for awhile, or is this something more recent?
Joe Corallo: This was very recent. I came up with the idea sometime around February of 2018, very close to the early stages of starting to get this ready to pitch. I have other ideas that have been kicking around my brain for a while, but this one came fast and got traction pretty quickly. I'm not complaining!
DF: Give us an extended elevator pitch for She Said Destroy.
Joe Corallo: Far into the future all of the Gods have slowly been forgotten. All who remain now are Brigid, God of the Sun, who has worked tirelessly to convert all who the sun touches to worship her and her alone, save the satellite of Fey. There hold the last remaining witches that worship The Morrigan, God of Death. Brigid will not stop until everyone worships the sun, leaving her the only God left. Now that she's so close to her goal the once-benevolent God will do whatever it takes to get what she wants, even if it means destroying Fey and leaving no survivors.
DF: Can you introduce us to your protagonists?
Joe Corallo: The main protagonists we follow are Winona and Raul, two young Witches of Fey. The Morrigan is kind of like Captain Planet here. She's ever present and manifests when they need her most, but we really focus on the personal journey of Winona who is working on understanding their own power, faith, and how to balance that while Raul is trying to prove their worth as they feel the other witches have put Winona up on a pedestal, which has been a strain on their friendship.
DF: Tell us more about the intriguing big-bad of the series, Brigid, if you will. Usually a God of the Sun and a God of Death would be cast in opposite roles.
Joe Corallo: Brigid as the antagonist was inspired in part by being an unlikely villain, as The Morrigan would be viewed by quite a few people as an unlikely hero. Part of what fed into that for me was how she was assimilated into Catholicism as Saint Brigid. I liked the idea of The Morrigan being unwavering in her convictions no matter the consequences while Brigid was willing to disregard them in order to survive through the ages. Once I worked through that, Brigid just seemed like the natural choice for the villain; this God that's willing to do whatever it takes to reach her ultimate goal of having everyone the sun touches to worship her.
DF: Talk about the art of Liana Kanga and why it's so right for this book.
Joe Corallo: I had the pleasure of working with Liana in the Mine! anthology I co-edited that came out at the end of 2017. She had illustrated a story by Pat Shand, and we got the chance to meet at Forbidden Planet in NYC at a signing for the book. We hit it off, and when I came up for the initial idea of She Said Destroy, she was the first and only artist I talked to about it. Her artwork really lends itself to a science fantasy setting, and after getting to talk with her more, we found that we had a lot of the same interests and influences, which made for the perfect pairing on this comic.
DF: Joe, before we wrap, are there any projects current or near-future you can tell readers about?
Joe Corallo: Yes! I have a short comic I wrote in Dates Volume 3 from Margins Publishing (on Kickstarter right now!), Always Punch Nazis Volume 2, and Everything Is Going Wrong which are all anthologies coming out this year. I'm also co-editing my second anthology, now with Eric Palicki, over at A Wave Blue World that will be announced around ECCC. It's a music-themed horror anthology with a great lineup that I can't wait for people to get their hands on. Look for it on Kickstarter April 9th!
Dynamic Forces would like to thank Joe Corallo for taking time out of his busy schedule to answer our questions. She Said Destroy #1 from Vault Comics hits stores May 29th!
For more news and up-to-date announcements, join us here at Dynamic Forces, www.dynamicforces.com/htmlfiles/, "LIKE" us on Facebook, www.facebook.com/dynamicforcesinc, and follow us on Twitter, www.twitter.com/dynamicforces.
---
NEW! 1. 11/30/2020 - SKYLAR PATRIDGE
5. 11/16/2020 - RYAN O'SULLIVAN