CHARLES SOULE

SEND THIS TO A FRIEND!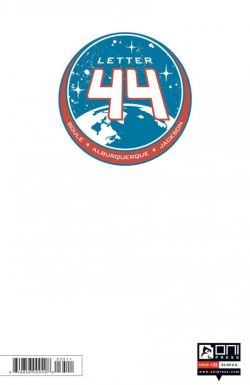 DF Interview: Charles Soule talks about wrapping up the long-running Letter 44
By Byron Brewer
Just look at any listing of comics solicits and one will quickly gather that writer Charles Soule is a busy man. From Curse Words to Astonishing X-Men, the scribe has more than a full platter each month.
Dynamic Forces is honored today as Soule takes time to talk with us about his Oni Press comic, Letter 44, which has been a mainstay for the author amid changing titles. The book is slated to end its long run in July, and Soule talks today with DF about that experience, and more!
Dynamic Forces: Charles, we've talked before about how the death of America's space shuttle program was, ironically, a sort of launching pad for your idea for Letter 44, which will be wrapping up its long run in July with issue #35. Tell us a little, first off, about your enthusiasm for space exploration and its importance to mankind here on Earth.
Charles Soule: I've always been fascinated by space travel. Everything we're coming to understand about cosmology suggests there could literally be anything out beyond the edge of our fragile atmosphere, if you go far enough. I know that we almost certainly won't be able to fill in most of those blanks within my lifetime, but I wholeheartedly support the endeavor. Space is our species' future, and I think that there's almost nothing more important in terms of long-term goals. If we can begin to harness what's outside our planet in a real way, then we move to a post-shortage society, and everything changes. We no longer have to think about finding power, resource scarcity, population restrictions… it's like winning the Powerball and realizing you never have to work again, ever. If we can do things like utilize the resources in the asteroid belt, a number of the problems that take up a great deal of our time, treasure and attention right now will no longer be an issue. I'm pretty passionate about this stuff, and while I probably won't live to see that future, I want to do whatever I can to help us get there. If a series like Letter 44 inspires some people to think about the possibilities of space travel, then I've done my job.
DF: There was a lot of space adventure during Letter 44's run, beginning with an alien presence in our own solar system. But there was also much political intrigue. What can you say about your inspiration for the "politics of the day" in the comic, and how have even more recent turbulent times on the real-life national political scene influenced your status quo there, if they have?
Charles Soule: I'm an attorney when I'm not writing comics, and so government has always fascinated me, and particularly U.S. Presidents and other world leaders. It's such a strange job to even want, but certain types of personalities just gravitate towards it. I find that fascinating – these are people who, on some level, truly believe that they have what it takes to run the world (or at least a significant portion of it.) That's almost pathological. So, I'll write Presidents any chance I get. As far as whether recent events have affected my storytelling in Letter 44… not too much, only because I had this ending planned out ages ago, well before the 2016 election. There's probably something unconscious, though – we'll see. I still have to write the very last issue. I will say that L44 was designed to be non-partisan since the start, and I'd like to continue that. Both of the main Presidents we see in the series (the "current" President Stephen Blades and his predecessor Francis Carroll) are trying to serve the world as best as they can – they're putting their country and the world first, above their parties. That seems idealistic these days.
DF: Things seem to have gotten quite grim of late. What can you tell us, in a non-spoilery manner of course, about what has/is/will be happening to some of your main protagonists in the series?
Charles Soule: Yes – it seems like it's not just the end of the series but the end of the world (in the book, I mean – it remains to be seen for the real world). It's hard to discuss what will happen without spoiling things, but I'm trying to give solid endings to all of the main cast in a way that will still surprise readers of the series. It's tough – a real balancing act, you know? I've been writing this series for what will end up being about five years, and the idea of not doing it anymore, or even just attempting to write that last issue – it's hard to even process, on some level.
DF: You've pretty much always planned the long story, and a finite run, for Letter 44, you once told me. Now that we are in the wrapping-up days, in a manner of speaking, are there any plot threads which you never will have a chance to tie up? Something that might lead to a spin-off series perhaps? Did you tell the tale you started out to deliver to readers?
Charles Soule: This story is exactly what I'd always planned. I have a series bible I looked at recently, just to see, and I stuck to it almost beat for beat. There were some surprises along the way – for example, I'm doing something unusual in issue #34 that I hadn't planned out too far ahead of time – but that's more of a format thing. The story's what I had planned. There is a spin-off series that's been technically approved to be told, but I'm not sure if I'm going to do it – not because I don't want to, but because I also think there's value in letting the story rest where it is. Six volumes, one epic tale… it's nice. But never say never!
DF: What character will you miss the most when that 35th issue is out in the stores?
Charles Soule: I think it's Blades. I love writing that guy. He makes massive mistakes – he's human – but does what he can to get past them, and saves the world as best as he can.
DF: Charles, you have worked on a lot of comics since the first issue of Letter 44 hit shelves, but it has been a large presence in your life and readers' lives since October 2013. What will you miss about it most, and what does its body of work represent to you as creator?
Charles Soule: I know – I added it all up and it's well over 5,000 pages of comics, between work for DC, Marvel and my creator-owned work like Letter 44. While I'll miss having it as a constant presence, I'm also so happy that I was able to have a long-form series that made it to the finish line. That's very rare these days, for any number of reasons. I'm particularly happy that the series was completed alongside my incredible collaborator Alberto Jimenez Albuquerque, who has drawn the vast majority of the series – except for five interstitial issues that looked into the background of some of the cast, Alberto has drawn every issue. I'll miss working with him very much, and I hope we'll do something together again soon. Letter 44 is a story that I got to tell on my own terms, with essentially no restrictions, and I'm very happy with how it all came together. Shaping a huge series like this in slow-motion over a number of years… it's such a strange exercise, and I'm so glad I got a chance to do it.
I have another creator-owned series that just launched, Curse Words, from Image Comics – only two issues out so far, drawn by my co-creator Ryan Browne. It's a gonzo modern fantasy series about a wizard-for-hire in New York City, strange, dark and funny, very different in tone from Letter 44. That should run for a similar length of time to L44, and will help to scratch my personal creator-owned itch. I hope people will check that one out too.
DF: Finally, Charles, would you like to talk a little about The Oracle Year?
Charles Soule: Yes! This is my other big non-Marvel project happening right now. The Oracle Year is my first novel, which I sold to HarperCollins in November. It will be out in early 2018, so we're still a little ways out – but not that far! The book is about a man who receives a little over a hundred specific predictions of the future – this event will happen at this time in this place – and his efforts to understand what he's supposed to do with them and how the world changes when a literal prophet emerges. I think Letter 44 fans will love it – it's the same kind of twisty-turny real-world storytelling, but really, anyone at all anywhere in the world will also love it. I can't wait for it to get out into the world.
Dynamic Forces would like to thank Charles Soule for taking time out of his very busy schedule to answer our questions. Letter 44 from Oni Press wraps up its long run with issue #35, which hits stores in July!
For more news and up-to-date announcements, join us here at Dynamic Forces, www.dynamicforces.com/htmlfiles/, "LIKE" us on Facebook, www.facebook.com/dynamicforcesinc, and follow us on Twitter, www.twitter.com/dynamicforces.
OBI-WAN & ANAKIN #1 LIGHTSABER SILVER SIGNATURE SERIES SIGNED BY CHARLES SOULE
STAR WARS: POE DAMERON #1 GOLD SIGNATURE SERIES SIGNED BY CHARLES SOULE
WOLVERINES #1 FIRST PRINTING SIGNED BY CHARLES SOULE!
DEATH OF WOLVERINE LOGAN LEGACY #1 SIGNED BY CHARLES SOULE!
WOLVERINE: DEATH OF WOLVERINE #1 DF EXCLUSIVE COVER - SIGNED BY WRITER CHARLES SOULE!
---
NEW! 1. 11/25/2020 - STEVE SKROCE
4. 11/16/2020 - RYAN O'SULLIVAN
5. 11/16/2020 - RYAN O'SULLIVAN