MARK WAID

SEND THIS TO A FRIEND!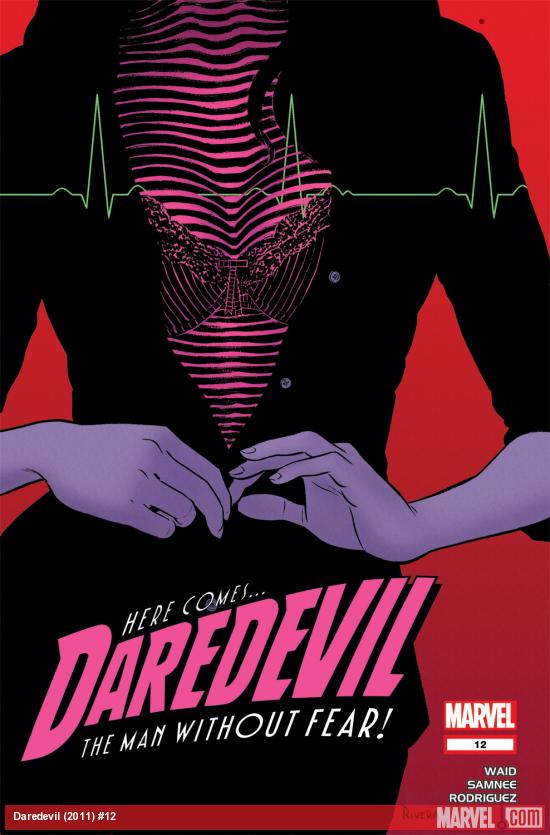 DF Interview: Let's Level About Daredevil - Part 2: Mark Waid
By Byron Brewer
With the second season of television show Marvel's Daredevil available on Netflix and a new incarnation of his comic book on the stands, Daredevil – the blind attorney Matt Murdock who has been policing the mean streets of NYC (and San Fran, for a time) since 1964 – is more popular with more people than ever.
We at Dynamic Forces thought we would take this opportunity to talk to some of the comic book creators who, over the last half century, have added or embellished the mystique of mighty Marvel's original street hero.
Are his creators of one medium (comics) watching a re-creation of ol' Hornhead on another (TV)? How important was DD to their own careers? Did they have a favorite supporting character? What was their favorite arc … or least favorite?
Over the course of the week, DF will be posing some of these questions to those who have made the Man Without Fear the hero he is today. So join us here daily this week and see if we talked with your favorite DD creator.
*****
Mark Waid
The Daredevil comic certainly seems to bring out the best in most of its creative teams, and it did just that for writer Mark Waid.
Although his award-winning and critically-acclaimed runs on the Man Without Fear are now held up as examples of excellence, it was his work on another crimson-clad hero, DC's The Flash, way back in 1992 which many fans credit as bringing Waid wider recognition in the comics industry as a scribe.
Waid had been working for Marvel on and off for years when, in July 2011, the House of Ideas relaunched a monthly Daredevil series with Waid on writing duties.
Waid and Paolo Rivera garnered positive reviews for their work on the title, and earned multiple Eisner Awards in 2012, including Best Continuing Series and Best Single issue (Daredevil #7). In addition, Waid won Best Writer for his work on Daredevil as well as his work on Irredeemable and Incorruptible. He received a Best Writer Harvey Award for his exceptional work on DD's book as well.
Also in 2012, that rare type of magic happened that only long-time comic book readers can know and experience as Chris Samnee returned to Daredevil (he had drawn a story written by Ed Brubaker for Daredevil #500 in 2009) with issue #12. Waid and Samnee began to really delve into ol' Hornhead and raised the level of the Eisner-winning book even more!
Waid and Samnee continued on the title until issue #36, the last of that volume. At this time, April 2014, when many of Marvel's titles were getting new #1's Daredevil was relaunched. Waid and Samnee stayed aboard, to the cheers of fans and critics.
Daredevil has been relaunched again as part of today's "All-New All-Different Marvel," but these days the Waid/Samnee team is instead concentrating on Daredevil's former partner and erstwhile lady love in her new book: The Black Widow!
Let's level about Daredevil with Mark Waid.
Dynamic Forces: Mark, in 2011 Marvel relaunched a new Daredevil book by you and artist Paolo Rivera which earned multiple Eisner Awards and both critical and fan acclaim. Aside from the awards, what was the one thing you brought to DD during that stint on his book of which you are most proud, and why?
Mark Waid: That's easy. The change in tone. The apparently successful attempt to step away from the Frank Miller template and find a new way to tell DD stories. I'm as big a fan of what Frank did as anyone, truly, and admire all the work done on the character since -- but I felt there was some room to stretch the tone a bit. I maintain that it wasn't "bright, shiny, Silver-Age Daredevil," which is an unfair rap laid on it by some, because I do think Matt's life was just as tragic and horrifying during my run as it ever was -- the difference was simply in how Matt reacted to his tribulations.
DF: In 2012, Chris Samnee came on board your DD ship and that next year Eisner came calling again. The creative team stayed together when Daredevil was relaunched with a new #1 and now you guys are working on Black Widow, DD's old partner. Tell us about the chemistry between you and Chris as a team.
MW: Chris is adventurous and fearless, two important qualities in any collaborator. His storytelling is impeccable and always exceeds the demands of the scripts. He and I are very much in tune as far as what kinds of stories we enjoy telling and how best to hit the emotional beats.
DF: During your collective runs on Daredevil, is there any plot thread you would like to see more story on? Was there something you did that, in the light of hindsight, you wish you would not have done as writer?
MW: Hmm. I do wish I'd had more time to just spend in San Francisco, showing more of the city and how Daredevil deals with things like the eternal fox and the cablecar wires EVERYWHERE. But I never felt like we were truncated as far as plots went. As far as paths I wish I hadn't taken -- there are always little things I'd like to have futzed with, and I'm not sure the Silver Surfer issue landed as well as it should have with the Kirsten/Matt relationship wrinkle, I'm not sure I paid that out satisfactorily -- but overall, I think we clicked.
DF: Mark, do you watch the Netflix Daredevil program? If so, what are your impressions of it and can you please compare and contrast the TV DD/Matt Murdock with YOUR DD/Matt Murdock?
MW: I've watched the first season, haven't yet had time to dive into the second one. Overall, I liked what I saw. Kingpin was the highlight, and the Matt/Foggy/Karen relationship was well-played. I wish there were more done with his super-senses, but TV has its budgets. And I think their Matt is my Matt -- or at least, has the potential to someday BECOME my Matt, fingers crossed!
Dynamic Forces would like to thank Mark Waid for taking time out of his busy schedule to answer our questions.
Join us here tomorrow for another insight into the life of Daredevil and Matt Murdock as seen through the eyes of the character's various creators.
For more news and up-to-date announcements, join us here at Dynamic Forces, www.dynamicforces.com/htmlfiles/, "LIKE" us on Facebook, www.facebook.com/dynamicforcesinc, and follow us on Twitter, www.twitter.com/dynamicforces
DAREDEVIL #1 TWO-BOOK SET- SIGNED BY MARK WAID AND PAOLO RIVERA!
DAREDEVIL #19 SILVER SIGNATURE SERIES - SIGNED BY MARK WAID!
DAREDEVIL #1.50 ULTRA-LIMITED 50TH ANNIVERSARY VARIANT SET SIGNED BY MARK WAID!
DAREDEVIL #1.50 ULTRA-LIMITED CHRIS SAMNEE VARIANT SIGNED BY MARK WAID!
DAREDEVIL #1.50 SIGNED BY MARK WAID
ARCHIE #1 DYNAMIC FORCES EXCLUSIVE BY JAE LEE GOLD ELITE SIGNATURE SERIES SIGNED BY MARK WAID
ARCHIE #1 DYNAMIC FORCES EXCLUSIVE BY JAE LEE SIGNED BY MARK WAID
PRINCESS LEIA #1 DYNAMIC FORCES EXCLUSIVE ELITE IMPERIAL GOLD SIGNATURE SERIES SIGNED BY MARK WAID
PRINCESS LEIA #1 DYNAMIC FORCES EXCLUSIVE LIGHTSABER SILVER SIGNATURE SERIES SIGNED BY MARK WAID
PRINCESS LEIA #1 DYNAMIC FORCES EXCLUSIVE SIGNED BY MARK WAID!
STAR WARS: PRINCESS LEIA #1 ELITE IMPERIAL GOLD SIGNED BY MARK WAID
STAR WARS: PRINCESS LEIA #1 LIGHTSABER SILVER SIGNED BY MARK WAID
STAR WARS: PRINCESS LEIA #1 SIGNED BY MARK WAID
S.H.I.E.L.D. #1 SIGNED BY MARK WAID!
DOCTOR SPEKTOR #1 "COLOR" RARE BOB LAYTON VARIANT, SIGNED BY MARK WAID
THE SPIRIT/ROCKETEER PULP FRICTION #1 - SIGNED BY MARK WAID
INDESTRUCTIBLE HULK #1 SKOTTIE YOUNG BABY VARIANT - SIGNED IN HULK GREEN BY MARK WAID!
---
NEW! 1. 01/21/2021 - RORY MCCONVILLE
5. 01/07/2021 - DARICK ROBERTSON