BRIAN MICHAEL BENDIS

SEND THIS TO A FRIEND!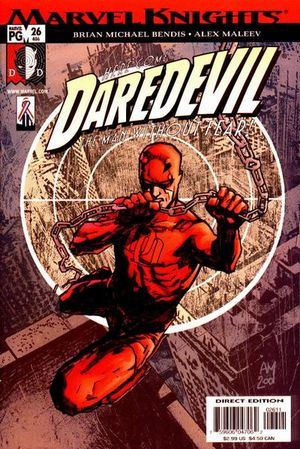 DF Interview: Let's Level About Daredevil - Part 1: Brian Michael Bendis
By Byron Brewer
With the second season of television show Marvel's Daredevil available on Netflix and a new incarnation of his comic book on the stands, Daredevil – the blind attorney Matt Murdock who has been policing the mean streets of NYC (and San Fran, for a time) since 1964 – is more popular with more people than ever.
We at Dynamic Forces thought we would take this opportunity to talk to some of the comic book creators who, over the last half century, have added or embellished the mystique of mighty Marvel's original street hero.
Are his creators of one medium (comics) watching a re-creation of ol' Hornhead on another (TV)? How important was DD to their own careers? Did they have a favorite supporting character? What was their favorite arc … or least favorite?
Over the next week, DF will be posing some of these questions to those who have made the Man Without Fear the hero he is today. So join us here daily this week and see if we talked with your favorite DD creator.
*****
Brian Michael Bendis
The shadow of former creator Frank Miller still loomed large over the comic Daredevil as the House of Ideas moved its characters into the 21st century. The industry was changing and so was the market. Times were tough for many superheroes.
Arguably, among a handful of shining lights in the Marvel firmament, in Daredevil's case the one that started to shine a bit of light into Hell's Kitchen was none other than the man who would eventually become a major architect of today's All-New All-Different Marvel Universe, Brian Michael Bendis.
Bendis wrote the comic from December 2001 through January 2006, another of his influential and memorably long runs on a Marvel series.
Bendis with (most memorably) artist Alex Maleev returned the book to the shadowy "true-crime" roots that Miller had planted years before, focusing on the man behind the mask, the humanity of Matt Murdock and the downward spiral his life was taking.
Daredevil was no longer a typical superhero comic (whatever that definition was in the '00s), it was now a noir crime drama that revolved around a costumed hero.
In 2003, the book under Bendis and Meleev won the Eisner Award for Best Continuing Series.
Let's level about Daredevil with Brian Michael Bendis.
Dynamic Forces: Brian, your run on Daredevil is one of the most fan- and critically-acclaimed of all time. In its collectivity, of what storyline, plot or character development are you most proud? Conversely, anything you wish you had done differently in the afterglow of hindsight?
Brian Michael Bendis: From its inception all the way till today, Daredevil has a very special place in comic readers' minds. It has been the home of one amazing groundbreaking run after the other. Frank Miller's Daredevil is the reason I wanted to make comics so being offered the chance to write Daredevil was a monumental task and all I think when I think back on it is: thank God I didn't screw it up.
Sure, there are things that I would have done differently or things that I like that nobody else does but I tend to not speak of those things publicly because something I might not like might be someone else's favorite thing and what is it my business to taint that reader's enjoyment with my self-loathing? (laughs)
DF: Someone asked this of you at WonderCon, but it might've gotten lost in promo so I will ask it again, with your permission: Do you object to Daredevil's secret identity no longer being public knowledge, given that you were the writer who introduced that twist?
BMB: I was given an inordinate amount of freedom to pursue that storyline and shouldn't I want that freedom for every other writer who writes the book? So Charles [Soule, current DD writer] should be allowed to tell his story with the same passion and freedom I was allowed to tell mine. And truthfully, I didn't think he would have been outed for as long as he was.
DF: What were some of your favorite characters to work with during your DD run? Any that you would have liked to give more time, perhaps even a spinoff?
BMB: We introduced a lot of characters … particularly his wife, Mila, a real blind person. And putting all of his supporting cast through the grindstone of what we were doing to Matt and his outing and his ascension to the "King of Hell's Kitchen" was the most fun thing about the book
DF: Brian, do you watch the Netflix Daredevil program? If so, what are your impressions of it and can you please compare and contrast the TV DD/Matt Murdock with YOUR DD/Matt Murdock?
BMB: I absolutely love this TV show. Not because it's Marvel and not because I'm a company man. I love it because it is the Daredevil that I was hoping to accomplish. I think they do a phenomenal job. The cliffhangers on every episode are truly awe-inspiring. Just from a level of craft, I admire it. It is very impressive to see them accomplish so much.
Dynamic Forces would like to thank Brian Michael Bendis for taking time out of his busy schedule to answer our questions.
Join us here tomorrow for another insight into the life of Daredevil and Matt Murdock as seen through the eyes of the character's various creators.
For more news and up-to-date announcements, join us here at Dynamic Forces, www.dynamicforces.com/htmlfiles/, "LIKE" us on Facebook, www.facebook.com/dynamicforcesinc, and follow us on Twitter, www.twitter.com/dynamicforces
---
NEW! 1. 11/25/2020 - STEVE SKROCE
4. 11/16/2020 - RYAN O'SULLIVAN
5. 11/16/2020 - RYAN O'SULLIVAN