DONNY CATES

SEND THIS TO A FRIEND!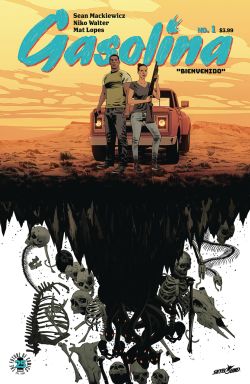 DF Interview: Donny Cates tells of vampires in backwoods Texas in Redneck
By Byron Brewer
The Bowmans are vampires who have quietly run the local barbecue joint in their small town for years, living off cow's blood. Their peaceful coexistence ends as generations of hate, fear and bad blood bubble to the surface -- making it impossible to separate man from monster!

In Redneck from Skybound, writer Donny Cates (God Country) and artist Lisandro Estherren serve up the tale of a DIFFERENT kind of family just trying to get by, deep in the heart of Texas.
For all the 411, DF went to the scribe, Donny Cates.
Dynamic Forces: Donny, this is a most interesting concept: Redneck vampires! Tell us about your creation for Redneck.
Donny Cates: Redneck is hands down the most personal thing I've ever written. It's about my own family and my upbringing and things like that…but if I'm being completely honest, it didn't start that way.
It began when I looked at the word "redneck" and thought…. "Wait, has anyone done a country vampire book called Redneck?" The answer, as you might suspect, was no. No one ever had. So, of course, I had to.
It was only after I started writing the pitch for it that it clicked into place. I was talking about my own family. I was talking about a lot of very real things under this umbrella of a Texas vampire story.
I still can't believe it's real, to be honest. I love it so much.
DF: Introduce us to the Cates … er uh, the Bowman family please, and a little about each character.
Donny Cates: Well, there's a bunch of em' so I'll give you the greatest hits.
Uncle Bartlett is our main character and…kind of a layabout. He was sired the same month, same day, Texas declared its independence. So he thinks of himself as the "last surviving son of Texas". These days he's kind of a broken drunk of a dude. Spending every night on his front porch getting drunk on Bloodwieser (Cow blood and paint thinner) and writing in his journal. We get the impression he's seen a lot.
Perry is the youngest of the family. And possibly the most dangerous. She's effectively a little girl, though she's probably forty years old or so. And she can read minds and…possibly tell the future. A power none of the other vampires (except Granpa -- he lives in the attic) has. She's my favorite of all of them. So creepy.
JV is the acting patriarch of the Bowman clan. He's the one who has instituted these very isolationist policies that dictate the goings on (or lack thereof) of the Bowman family. He's older than Texas itself. Big. Scary…but in his (extreme) old age he's calmed down a bit. He's been through a lot, and he's lost a lot of people he loved.
DF: Who is Father Landry?
Donny Cates: The latest in a very long line of Landrys that have terrorized the Bowman family for hundreds of years. It's funny because that's how I think of them…but there's a version of this story, told from their point of view, where they are good guys that have been attacked by vampires for hundreds of years. It's interesting.
DF: Even in the beginning of the first issue, the locale of the piece has a great character as established by you and artist Lisandro Estherren, aided greatly by the muted palette of colorist Dee Cunniffe. Tell us a little about Sulphur Springs, East Texas, and the Bowman history therein.
Donny Cates: Yeah, so as made up sounding as it seems, Sulphur Springs is a very real place in East Texas. I have a great deal of extended family out there and as a kid, it always kind of freaked me out. East Texas can be pretty rough country. It's very much an isolated area. It doesn't take much to imagine monsters in the shadows out there.
The Bowmans have been in Texas since before Texas was Texas. Back when it was still spelled with a "J". It's all they've ever known. And it's a home they are very much willing to fight for…as we'll see moving forward.
DF: Was this story's occurrence on Christmas Eve important to how you told it?
Donny Cates: That's a great question. Yeah, that's certainly there on purpose. I was thinking a lot about family, and the times where we are all together. I thought wrapping this horrific story up in the trappings and settings of the most precious time of the year would give it a really nice juxtaposition. I wanted the reader to think about family the entire time. Christmas does that.
Even in Texas where it's 80 degrees outside on Christmas Eve!
DF: Why vampires?
Donny Cates: Because vampires are the coolest. Haha, I mean…I don't know. Vampires have always thrilled me. I just love this idea of these alpha predators, this family of lions sitting out in the woods. Corralled only by their own sense of self-preservation….and then unleashed when threatened.
I've always been a sucker for a good vampire story. I think the best ones have always been metaphors for something else. For a marginalized group of people, for sexuality…here they are very much a metaphorical extension of the "sins of the father" idea. Where we explore this family trying to be better. Trying to overcome a blood-soaked past to make a better future.
And it's great because as we get to unravel their history more, it's not the sins of the father…THEY did these things. They're immortal, so you get to go back in time and watch the SAME people start these fights and plant the seeds of the trees they end up hanging from.
It's all very cool. To me at least. I hope others like it too.
DF: You have a great feel for dialogue. Is there any particular inspiration for this clan of cow-suckers and their Texan twang?
Donny Cates: Well, it's my own accent, so it's pretty easy to dip into it. I can hide it and you won't get a hint of it when you talk to me…but put me in a room with aunts and uncles and oh boy…I get country pretty quick.
As far as the actual characters themselves, yeah! Actually, each and every one of them is based on my friends here in Austin. Each of them looks JUST the way they look in the book, and those are actually their real names.
It's odd writing my friends as characters.
It's even weirder to kill them…
DF: Speaking, as we were above, about the artists, tell us about collaborating with Lisandro and Dee.
Donny Cates: Oh man, they've been amazing. I keep saying this, but Lisandro is a dream on this book. He draws ugly in a very beautiful way if that makes sense. He brings a kind of raw, ominous feeling to the entire series that I love. And Dee! AH! I've worked with Dee a few times now (Interceptor, Paybacks) and he just keeps impressing me. He's a chameleon, that one. Adapting and changing his style on every project. He gets it. They both do. They both get what we are trying to accomplish with this book and they just NAIL it every time.
Our letterer, Joe Sabino, as well! It doesn't get talked about as much as it should, but the things he's doing on this book are just breathtaking. It looks like the balloons and captions were built into the art from the jump. He's matched the style of the book perfectly with these kind of wonky shaped balloons that really mesh well with Lisandro's art and the overall kind of backwoods "pretty ugly" thing we have going on.
I'm really over the moon about the crew we have in the book. Top to bottom, these guys are killers.
DF: Donny, 2016-17 is turning into a pretty good period for Writer Cates. Any other projects you can talk about?
Donny Cates: Yeah, it's been a wild year so far! God Country wraps up in June, the same month as Babyteeth, my new Aftershock ongoing, begins. So that's one I'm really excited for people to start reading. I think it's going to shock a lot of people. Not in the way you're thinking, though…I think people are going to be shocked at how…sweet it is. How loving.
It's the nicest book I've ever done. And it's about the antichrist.
And yeah…a few more announcements coming up this year. None that I can talk about, sadly. But keep your eyes and ears to the ground and follow me at @doncates on Twitter!
Dynamic Forces would like to thank Donny Cates for taking time out of his very busy schedule to answer our questions. Redneck #1 from Skybound hits stores April 19th!
For more news and up-to-date announcements, join us here at Dynamic Forces, www.dynamicforces.com/htmlfiles/, "LIKE" us on Facebook, www.facebook.com/dynamicforcesinc, and follow us on Twitter, www.twitter.com/dynamicforces.
---
NEW! 1. 11/25/2020 - STEVE SKROCE
4. 11/16/2020 - RYAN O'SULLIVAN
5. 11/16/2020 - RYAN O'SULLIVAN