CHRIS SEBELA

SEND THIS TO A FRIEND!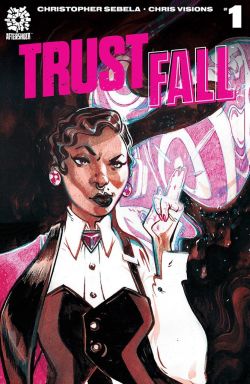 DF Interview: Christopher Sebela brings a new heist tale with a super-powered twist in 'Trust Fall'
By Byron Brewer
Ash Parsons was raised to believe she's special. As someone with a quirk of genetics that lets her teleport things, she's the golden goose of her family.
Her family is the foundation of a struggling criminal outfit trying to get ahead in the world and Ash is able to pop out whole fleets of cars and entire bank vaults. But while she can teleport valuables and her accomplices, she can't teleport herself – making every job a trust fall with her family there to catch her and escort her to safety. It's a perfect setup but as things begin to change and the Parsons move up in the world, Ash will find herself pushing back against her golden cage, with deadly results.
From AfterShock Comics comes Trust Fall, written by Christopher Sebela with art by Chris Visions. DF was intrigued by the new series and so "bamfed" into scribe Sebela's office for a chat.
Dynamic Forces: Chris, before we get started on this very unique crime series, how does it feel to be reunited with Dead Letters cohort Chris Visions on Trust Fall?
Chris Sebela: It's great and a long time coming. Chris and I became friends pretty quickly while working on Dead Letters and I think it was both of our first times really working with a complete stranger on something. I was nervous since it was the first creator-owned book I sold to a publisher and something I really wanted to get right. From the word go, Chris and I just clicked on everything. Not just the book but influences and favorite things. We got along even after working for two years on a book together, which says a lot. Ever since we wrapped it, we'd been talking about something to work on next. A couple of things got close, but never happened, but we finally found some room to work on Trust Fall together.
DF: Man, you break just about every mold and trope with Trust Fall, and I haven't made it past the solicit! (laughs) Tell us a little bit about the overall mag, what you are doing therein, and why you decided to go in this daring direction.
Chris Sebela: I have this notebook called WOODSHED that's sort of a testing ground for ideas. Sometimes I get a specific story idea, sometimes it's just a concept that I really like and think would make for an interesting story. I give myself both sides of one page to figure it out and if I can't, then I move on and it gets tossed aside. Trust Fall was one of those. I grew up watching Cronenberg's The Fly and reading comics with teleportation, it's a thing I'd thought about a lot throughout my life. Figuring out a story to do with it, using it as a hook but not the whole book, I pretty quickly figured out some ways to go that weren't what normally show up in teleportation narratives. Not that we have a ton of those, so I had a lot of room to go as wild as I wanted without stepping in someone else's backyard. I just wanted this ability to be not a superhero thing. I wanted it to be about crime, about revenge, about how something as majestic as this can get harnessed for the least noble stuff.
DF: Who is Ash Parsons as a character?
Chris Sebela: Ash is, to anyone on the outside, a spoiled brat. She lives in the lap of luxury, part of a rich family who never has to worry. She certainly has never had to worry about anything lurking out in the world because she lives inside this bubble. But the truth is she's never had any choice in the matter, this is how she was raised. Her family has always ferried her from one place to another, monitored and curated the kind of things she reads, listens to, sees. They go so far as to redefine things like good guys and bad guys to convince her that the things they do — stealing and running from the cops — are the actions of heroes against villains. Eventually she bristles against it. She is who she is because she's been told to be that and has never known any different but the more little peeks of the real world she sees, the more curious she gets. Even in her cocoon of drugs they feed her to keep her ability under control, she's starting to grow out of every constraint they put on her and reach out towards the real world, which is a lot grimier and conflicted than the fairy tales she's been taught.
DF: I know this is a crime drama, but is also seems a family drama. Tell readers about Ash's family, her role therein, and how this may become a future challenge.
Chris Sebela: Ash has a fairly typical family. A mom and dad, four siblings who compete for their attention, hate each other and Ash, especially, a hired driver who is her best friend and who picks her up at the end of every job. They're not just a family, they're a crime family too, trying to carve out a bit of their own thing in New York and all the outer boroughs.
With this thing she can do, Ash has always been the golden goose of the family and she's the reason her family has become a big enough contender in the literally cutthroat world of criminal empires to be invited to the table of the biggest consortium of all: Dead Flag. Dead Flag is like the Archer Daniels Midland of Crime. They devour, they consume, they're everywhere and you don't even realize it, they have a hand in every part of your life. This is what her family has been angling for and thanks to Ash, they've finally been invited in. Which is just going to complicate things.
DF: Can you explain a little about Ash's teleportation. Is she Nightcrawler? Gateway?
Chris Sebela: I guess she's a little bit more Gateway than Nightcrawler, in the school of teleporters. Ash can teleport things and people, but she can't teleport herself, which is why at the end of every job, she has to find a way out and get rescued by her family. She's got all this amazing power at her fingertips, but she still has to catch a ride to save her butt. I think there's something kind of cruel yet fair about that exchange that plays into the singularity of her ability existing in this world. You can do this one thing but your life is still going to be just as hard, if not harder, with it.
DF: Most Sebela works, to my mind, have some kind of subtext, which I do not often like to discuss. But they seem to be coming out of the woodwork here, LOL. As the writer, what is the underlying message you would like to get across to readers in Trust Fall?
Chris Sebela: Honestly, you're probably asking the wrong person. I try not to set out with a thesis in mind for my books. I like the characters and the story to push things along and it's often not until the middle of writing a book that I really and truly get what I'm trying to do. The subconscious is there for a reason, so I like to make mine put in work. Mostly, I'm just trying to tell a good story with a lot of messed-up stuff that you've never seen before in any medium. But I try to do that every time out no matter what. With this, I'm leaning into the destruction a bit more, visually and emotionally.
DF: Back a little bit to the beginning now. What does Chris Visions bring to a book like this?
Chris Sebela: I got stupidly lucky to have Chris work on Dead Letters. He was amazing back then and he's even better now. I'm not sure how to sum it up, but you can't mistake a Chris Visions page for anyone else. When he cuts loose, it's him and it's a thing no one else can touch or match. It's all got energy to it. The people feel both supremely outsized and real, the whole world and everyone in it kind of pulses. He plays around with layouts and visuals in a way I remain in awe of. With Chris, I give him a script, tell him he can change what he wants to and get out of his way and it's always nothing like what I envisioned. Like, creating comics is an experiment every time out, you never know what the final results are going to be when you're sitting down writing that first script. Chris is a great scientist, so this book is going to blow minds all over.
DF: Chris, what other projects in which you are involved can we tell readers about?
Chris Sebela: The second arc of Crowded is starting up in June from Image and we're about wrapped on the third and final arc of Heartthrob from Oni Press. Plus I have Test debuting from Vault Comics and a couple of other things I'm messing around with in secret I'm hoping to debut before the summer is up.
Dynamic Forces would like to thank Chris Sebela for taking time out of his busy schedule to answer our questions. Trust Fall #1 from AfterShock Comics hits stores June 12th!
For more news and up-to-date announcements, join us here at Dynamic Forces, www.dynamicforces.com/htmlfiles/, "LIKE" us on Facebook, www.facebook.com/dynamicforcesinc, and follow us on Twitter, www.twitter.com/dynamicforces.
KISS/VAMPIRELLA #1 ATLAS COMICS SIGNATURE SERIES - SIGNED CHRIS SEBELA EDITION
AGENT 47 VOL. 1: BIRTH OF THE HITMAN TRADE PAPERBACK
KISS/VAMPIRELLA TRADE PAPERBACK
AGENT 47: BIRTH OF THE HITMAN #1
---
NEW! 1. 11/25/2020 - STEVE SKROCE
4. 11/16/2020 - RYAN O'SULLIVAN
5. 11/16/2020 - RYAN O'SULLIVAN