BRIAN HABERLIN

SEND THIS TO A FRIEND!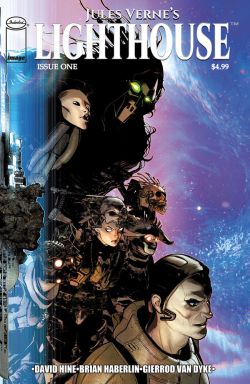 DF Interview: Brian Haberlin gives 'Jules Verne's Lighthouse' a sci-fi refurbishing
By Byron Brewer
At the edge of the galaxy, there is a giant supercomputer known as the Lighthouse. The only brain powerful enough to navigate ships through a Sargasso of naturally occurring wormholes, potentially cutting months or even years off a spaceship's journey. Three humans, one alien, and a nanny bot have manned the remote station for years in relative peace until the arrival of Captain Kongre and his band of cutthroat pirates threatens the future of civilization and reveals that each of the Lighthouse crew has been hiding a shocking secret.
He who controls the Lighthouse controls this part of the galaxy.
From Brian Haberlin and David Hine, the team that brought you The Marked and Sonata, comes this double-sized sci-fi thriller set on the high seas of space and based on the work of master storyteller Jules Verne. DF sat down with artist/co-plotter Brian Haberlin to take a deep dive into this space opus.
Dynamic Forces: Brian, the reimagining of this Jules Verne lesser-known classic has me hooked already simply from its solicit. Adventure on the high seas can be felt in this swashbuckling space opus and it's only issue #1! Tell readers about the re-thinking of this tale for the sci-fi fan by David Hine and yourself.
Brian Haberlin: It's been in my orbit for many years. It's an interest piece of his [Verne] as it doesn't feel fully finished and indeed it was published posthumously. And this year I wanted to do a few miniseries so it was first in line. I already have a pretty well flushed-out sci-fi universe from my Anomaly graphic novels that the adapted version of this story fits well into. Besides the sci-fi elements, David and I wanted to add to the psychological elements in the story; our hero of the piece, Vasquez, has PTSD…needs meds to keep her functional. She has a dark past that she has to come to grips with if she is to overcome, and the pirates hold a mirror of that past right up to her face!
DF: Before we broach Lighthouse, are you a fan of these types of grand high adventures? It seems they are becoming more scarce in all media, and that is sad.
Brian Haberlin: Sure. From The Three Musketeers to more modern Life of Pi and many, many more!
DF: What can you tell readers about the Lighthouse itself? Give us a little feel for this world David and you are building.
Brian Haberlin: There is an area in Conglomerate space where there is a "Sargasso" of wormholes…hundreds of them, a potential hyperspace highway to many corners of the galaxy. However, no computer that could be contained in a spaceship could manage the computations to safely navigate any of them. That's why the Lighthouse was created, a supercomputer the size of a massive skyscraper that can do the computations and send them to ships, cutting months, even years off their travel times. It's manned by a skeleton crew of just four. It's a lonely post at the far corner of the galaxy. A place for Vasquez to quietly live out her days…or so she'd hoped.
DF: Introduce us to Moses and some of your other protagonists.
Brian Haberlin: Moses is a nanny bot with delusions of grandeur! It has been in the Vasquez family for generations and is really beginning to show its age with glitchiness (has the short-term memory of a heavy pot smoker). And it is such an old generation there are no OS updates, no replacement parts or upgrades. Vasquez has been taught from a young age on how to patch and fix him. He is programmed to keep Vasquez safe…and with pirates taking over the station, that's quite a task indeed for a broken down bot.
DF: Who is Captain Kongre?
Brian Haberlin: The villain of the piece…sort of. I mean you can't have an interesting villain unless they have real motivations. Kongre, now pirate, was once a freedom fighter against the tyranny of the Conglomerate. On a practical level, he has been through hell, from fighting in the Seraphim Wars. He has become a bit eccentric as a result: anyone who rides a mechanical unicorn… well, you get the picture. But his main motivation is to the free state he is part of, Libertaria… and the only way to keep it free is to bring about the destruction of The Conglomerate. That's where his plans for the Lighthouse come in.
DF: Give readers an overview of this limited series' storyline.
Brian Haberlin: Well, I don't want to give too much away. The Lighthouse is a story of survival, revenge and redemption. Our hero and her broken down bot against a crew of ruthless pirates. But more lies beneath in this story.
DF: Talk about the process David and you are working with as collaborators here. If I am not mistaken, you did some of the plotting as well as the art, correct? Was the process similar to what you guys did with The Marked and Sonata?
Brian Haberlin: David and I basically plot together over Skype, then David does most of the scripting with me coming in with bits and bobs here and there.
DF: Brian, what other projects inside or outside comic books in which you are involved can you tell readers about?
Brian Haberlin: I am working on two other miniseries for later this year, a fantasy piece and a horror piece. And Whilce Portacio and myself will be bring back Stone for a double-sized issue with a bunch of fun guest talent as well…all "A" listers!
Dynamic Forces would like to thank Brian Haberlin for taking time out of his busy schedule to answer our questions. Jules Verne's Lighthouse #1 from Image Comics is in stores now!
For more news and up-to-date announcements, join us here at Dynamic Forces, www.dynamicforces.com/htmlfiles/, "LIKE" us on Facebook, www.facebook.com/dynamicforcesinc, and follow us on Twitter, www.twitter.com/dynamicforces.
STONE: THE AWAKENING #1 - SIGNED BY BRIAN HABERLIN
---
NEW! 1. 05/09/2021 - JOE HENDERSON
3. 05/03/2021 - DECLAN SHALVEY
5. 04/26/2021 - PORNSAK PICHETSHOTE