GREG PAK

SEND THIS TO A FRIEND!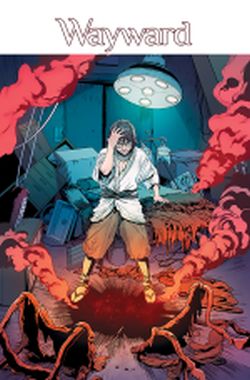 DF Interview: Greg Pak puts the 'snikt!' back into mutants in Weapon X
By Byron Brewer
Decades ago, the Weapon X program produced the deadliest mutant killers on the planet. Now, with more research, more funding and more adamantium at its disposal, the Weapon X program is creating new killers for old targets: Old Man Logan. Sabretooth. Lady Deathstrike. Weapon X isn't just experimenting on mutants anymore ... it's eradicating them. All of them.
Weapon X from Marvel Comics reunites X-Men: Phoenix - Endsong creative team Greg Pak (World War Hulk) and Greg Land (Uncanny X-Men).
To gather all the info, DF sat down with scribe Greg Pak.
Dynamic Forces: Greg, we've seen the covers, of course, but tell us about the cast for this new X-book, Weapon X.
Greg Pak: The book stars Old Man Logan, Sabretooth, Lady Deathstrike, Domino and Warpath. I'm actually realizing even as I type these answers that I'd never written any of these characters before this series! But I love 'em all and was thrilled as each of their names came up when I was brainstorming the cast with my editors.
If you're coming into this fresh, all you need to know is that Old Man Logan is an old, badass version of the Wolverine you already love. Sabretooth is another mutant with a tremendous healing factor and adamantium claws who's hated Logan for decades. Warpath and Domino both served with Wolverine on various X-Men black ops teams and Sabretooth and Lady Deathstrike have spent much of their careers as straight-up villains. So this is a group of incredibly dangerous heroes and villains who might normally be as likely to fight each other as anyone else -- but they're facing a massive threat that they'll only survive if they can figure out how to work together.
DF: Most of us are familiar with the government's Weapon X program. What is it up to in this iteration of the saga? What motivates Old Man Logan and the rest of the cast to assemble?
Greg Pak: Weapon X has gone through a number of iterations over the years. But it's best known as the super-soldier program that tortured, experimented on, and brainwashed mutant soldiers like Logan himself over the years. Now it's been resurrected and it's more deadly than ever -- with a clearly defined mission to eradicate all mutants.
DF: Can you give us any hints at all about the movers and shakers behind Weapon X?
Greg Pak: No spoilers from me! I'll just say you're going to meet a classic villain and a brand new character who may be the best villain I've helped create since the Red King in Planet Hulk. I'm hugely excited about these villains -- and about building the mystery of who they are and what their big plan is.
DF: There are always those rumors about a Logan return. Can you hint at Old Man Logan's role in Weapon X, especially in light of the recent film and its popularity? Are we gonna see X-23 here at all?
Greg Pak: X-23 doesn't feature in the first two story arcs of the Weapon X book. But her history certainly ties into the book's themes ... who knows what'll happen in the fullness of time?
DF: Speaking of the MCU, with the recent news of Atlanta star Zazie Beetz's hiring to play Domino in the Deadpool film sequel, this character has certainly upped her social visibility. What is your take on Domino as a character?
Greg Pak: This is actually the first time I've written Domino in all my 12 years at Marvel, and I'm loving it. Domino's a ton of fun to write because her skill set is just a blast -- she generates a kind of probability field that allows her to do nearly impossible things. Basically, her mutant power is luck, and that's a ton of fun to play with. She's also a kick because she's sharp and funny and a great contrast to gruff heroes and anti-heroes like Logan and Sabretooth and Warpath.
DF: Ah, Warpath! Certainly one of the most interesting and least used X's (especially considering his special legacy connection to the ANAD X-Men through his brother). What will his role be here?
Greg Pak: James Proudstar, a.k.a. Warpath, gets a big introduction in issue #2 -- dontcha dare miss it! As our story starts, he's rethinking his life -- he's constantly stood up to horrific oppression and atrocities throughout his career, but every time he fights, people he loves gets hurt. He's trying to figure out if there's a better path.
DF: Department H anyone?
Greg Pak: Maybe, eventually, possibly?
DF: So how does it feel to be reunited with your X-Men: Phoenix – Endsong co-creator, Greg Land, for this series?
Greg Pak: It's great. Greg and I have wanted to work together again for years. He's done a few covers for books I've worked on since Endsong, but this is our first time reuniting for interiors, and I'm loving what he's doing. We've got a lot of scenes set in natural, organic environments, and he's doing a gorgeous job with those elements. And at the same time, we've got killer cyborgs and mind-bogging tech and action, and he's eating all that alive.
DF: Greg, any projects current or near-future you can tell us about?
Greg Pak: This summer, Weapon X will cross over with Totally Awesome Hulk in the "Weapons of Mass Destruction" storyline, which cranks everything to eleven, and it's gonna be awesome. More news on all of that very soon!
Dynamic Forces would like to thank Greg Pak for taking time out of his busy schedule to answer our questions. Weapon X #1 from Marvel is in stores now!
For more news and up-to-date announcements, join us here at Dynamic Forces, www.dynamicforces.com/htmlfiles/, "LIKE" us on Facebook, www.facebook.com/dynamicforcesinc, and follow us on Twitter, www.twitter.com/dynamicforces.
PLANET HULK #1 FIRST PRINTING SIGNED BY GREG PAK!
BATMAN/SUPERMAN #1 FIRST PRINTING GOLD SIGNATURE SERIES SIGNED BY GREG PAK!
BATMAN/SUPERMAN: FUTURES END #1 3-D MOTION ULTRA-LIMITED GOLD SIGNATURE SERIES ELITE EDITION SIGNED BY GREG PAK!
STORM #1 FIRST PRINTING SKOTTIE YOUNG VARIANT ULTRA-LIMITED EDITION SIGNED BY GREG PAK!
SUPERMAN DOOMED #1 GOLD SIGNATURE SERIES SIGNED BY GREG PAK!
ALPHA FLIGHT #1 - (1:25) EAGLESHAM VARIANT - SIGNED BY WRITER GREG PAK!
DF'S DOUBLE "INCREDIBLE" HULK VARIANT SET-SIGNED BY STAN LEE AND GREG PAK!
INCREDIBLE HULK #617 - SIGNED BY GREG PAK!
INCREDIBLE HULKS #635 - SIGNED BY GREG PAK!
SILVER SURFER #1 - SIGNED BY GREG PAK
CHAOS WAR #1 - SIGNED BY GREG PAK
---
NEW! 1. 11/25/2020 - STEVE SKROCE
4. 11/16/2020 - RYAN O'SULLIVAN
5. 11/16/2020 - RYAN O'SULLIVAN