MARIA LlOVET

SEND THIS TO A FRIEND!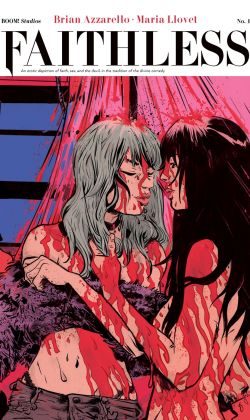 DF Interview: Maria Llovet puts the gorgeously breathtaking into 'Faithless'
By Byron Brewer
Faith. Sex. The Devil.
Faith likes to dabble with magic. Her friends think it's cute – and not just a little off-putting, but it's part of her charm and her warped search for purpose in a world that makes too much sense. But she's a true believer and knows there is a power within her reach. She's right, of course. It just took a while for that magic, that temptation, that unknowable thing to find her . . .
In short, Faith is bored as hell. And Hell has noticed.


New York Times bestselling writer Brian Azzarello (100 Bullets , Batman: Damned ) and artist Maria Llovet (Loud) with Eisner Award-winning artist Paul Pope on covers coalesce in Faithless, a story of self-exploration, eroticism, and maybe even love. So what are we waiting for?! DF talks with artist Llovet about this new erotic occult comic from BOOM! Studios.
Dynamic Forces: Maria, what can you tell readers about the overall storyline of your new book with writer Brian Azzarello, Faithless? Weeks before release, it has already created quite the buzz for its reported eroticism.
Maria Llovet: I'm really happy that a project like this is generating such a positive vibe in the U.S. Faithless portrays the main character Faith's search for identity. She's a bit innocent, a bit lost, and happens to have a "gift." And she encounters a bunch of characters who are much more than they seem at first sight.
"Faith is bored as hell. And hell has noticed" is a powerful line ...
DF: Tell us about Faith as a character, in your artist's eye, and about her fascination with magic.
Maria Llovet: I think Faith personifies a lot of girls her age. Which of us hasn't felt a certain fascination with magic or esoteric and occult powers when we were young? The difference is that what for us was only a game in her case is real, with all that entails. I think even though she's a pure and innocent character, Faith carries a certain burden in having the gift of magic, and not knowing exactly what to do with it.
DF: Can you give us a little bit of a feel as to how you approached this book, using your artist's toolbox to create an honest, nuanced portrayal of female identity in a modern world?
Maria Llovet: I found Brian's characters fascinating since day one. Already in the character descriptions, they were charismatic and believable. That was an important starting point.
Then, there are two key aspects of character design for me. First are the characters' expressions. Each one having their own particular gestures, a certain face they make in a particular moment, a certain smile or look, like you and me and everyone. It's one of my favorite things when I draw because you get the feeling of "knowing" them for real, like that certain face that your friend has or that gesture your father does.
The second aspect is the costume. I'm really interested in the fashion world and for me it's a great source of interesting material to work on when designing a character's clothing. Not only for the overall style, that already gives you a general approach as to how the character is (this is a mix of the clothes and how he/she moves on them), but also with the small details. I really enjoy mixing what they're wearing, making them take one piece of clothing or accessory off, just like a regular person would in their daily life. This makes them more real to me when I draw them, gets me closer to them.
DF: What other characters are important to the start of this tale?
Maria Llovet: Poppy, without a doubt! For me she's the star. I have to admit I have a weak spot for her. The way in which Brian described her from the start, and the way he writes her in the scripts are really inspiring for me to try and represent her. She's pure magnetism, and I'm sure Faith would completely agree with me!
Ha ha, I think the readers are gonna love her. Faith, too, because of her honesty and naturalness. They're both wonderful. Can you tell I'm a fan?
Wait till you meet Louis in issue 2, though... talk about magnetism!
DF: Without spoiling anything, what can you tell readers about "that temptation, that unknowable thing" that goes bump in the dark and Faith eventually discovers?
Maria Llovet: I think the crucial point here is that Faith is a very noble character. In this first issue, it's clear that she's hasn't got any bad intentions in her dealings with magic. Of course, that won't save her from getting into trouble but I think it's important to note because it makes all the difference. She's going to experiment with sex and magic and her innocence will make her trust people who maybe are not worthy of that trust. But her intentions are pure and that's why we're 100% with her on this, even if it's not going be that easy to get out of trouble once she's stepped right into it.
DF: In executing Faithless thus far, have you done anything unique with layout, etc. that you have never tried before? It would seem this would be a fantastic book for such visual experimentation.
Maria Llovet: I think I have developed a quite specific way of doing the layouts through time, a kind of structure that allows me to narrate the way I do, and that feels comfortable with my general style. It's like a set of rules that I generally follow and allows me to "speak" the way I do.
There are certain things I do in storyboard and others things I never do. For example, I never place panels inside of panels. In general, I like to use horizontal panels, which is a result of the influence of cinema on my art. And of course there's always room for variation and experimentation, but it depends on the kind of scene or resource you want to play with.
I think there's a misconception about layout because the really important thing is the "visual narrative." A really imaginative layout in the storyboard only makes sense as a tool of how we tell the story through visual narrative; that means that the important part is "how" we tell the story; the sequence of shots and what each shot consists of. Without this, the layout is merely decoration or a visually interesting resource but nothing more.
Take, for instance, something as common as a splash page. I'm not a huge fan but I understand why they're used; to create a shocking and spectacular moment, like a stop along on the way. The thing is that you can create something spectacular without needing to change the format of the panel in such a drastic way. Sometimes what's represented on the splash doesn't really need a panel that big; other times it does, of course, but not always. What we try to achieve is drama, but drama can be achieved with narrative in different ways, specifically with pace and rhythm, choosing what goes before, what goes after that, what kind of pauses to use, what kind of angles to choose. This is what really engages the audience in the story and can make the next panel, splash or not, shocking.
I learn constantly from cinema in this regard.
Also, one of the things that interests me most in visual storytelling is the pace of the story. To allow room for pause and silence is something precious and very rare. That's something you can find in Faithless, and it's there because Brian wrote it that way. It's very difficult for me to include this if the writer hasn't planned for it beforehand; you can try to squeeze it inside the narrative anyway, but it will never work as well as if it really has a place in there from the start.
DF: Talk about working with Brian.
Maria Llovet: I'm very happy to be working with him. Brian's scripts give me the opportunity to try to be the best version of myself.
For me, there's a fundamental difference between working on my own scripts and on other writers' scripts. The main difference lies in what I consider to be the key point in making a comic, that is the moment of "translation" of words into images; the moment that transforms the script into a visual narrative through the storyboard. It's a critical point because it determines how the work is going to end up.
When a cartoonist translates the script into a storyboard, there's only one brain working on it, so this "translation" works in a simpler, more natural way. When an artist has to translate into their brain what another brain has written, things get a bit more complicated.
Up until now this process had always been very difficult for me when working with other writers. Normally, the way I would illustrate a certain scene wouldn't work for different reasons, and the process of translation was like a puzzle that was very difficult to solve without losing my essence in the process.
Then I read the first Faithless script and started the storyboard. And everything flowed, without a struggle, just smooth and easy, as if it had been written in the same frequency as my brain. I was really surprised because, honestly, I didn't think that was possible at all. So that makes my job extremely easy and leaves room for me to try and give my best effort in the most natural way possible.
For all those reasons, I really think Faithless is a very special and unique work. My impression is that it flows in a direction where nobody has to struggle to provide their best effort, and I think this really shows in the final work. There's a bit of true magic happening here.
DF: Maria, what other projects present or future do you have going that you can tell readers about?
Maria Llovet: Well, Black Mask Studios is about to publish my latest graphic novel Loud. I'm so excited about it because, even though it's my fifth graphic novel both as writer and artist, it's the first that will be published in English and in the U.S. Loud is a mosaic of interrelated characters and stories, all happening in one night at a club. The comic is nearly silent as the music is so loud that the characters can't hear each other.
Admittedly, it's a bit different than my usual work because I wanted to experiment and do something more action-related and casual. My stories tend to be a bit more moody and transcendental, but always with the erotic touch of course, ha ha.
I'm also trying to decide on my new comic project after Faithless. The only thing I know for sure is that it's going to be a comic book this time, and not a graphic novel. The problem I have is that I can't seem to decide on which script to do next; I have a few in different stages of writing, but I keep changing my mind every other day. I guess I won't really decide until we finish Faithless. We'll see!
Dynamic Forces would like to thank Maria Llovet for taking time out of her busy schedule to answer our questions. Faithless #1 from BOOM! Studios is in stores now. Issue #2 hits stores May 22nd!
For more news and up-to-date announcements, join us here at Dynamic Forces, www.dynamicforces.com/htmlfiles/, "LIKE" us on Facebook, www.facebook.com/dynamicforcesinc, and follow us on Twitter, www.twitter.com/dynamicforces.
BATMAN: DAMNED #1 SIGNED BY BRIAN AZZARELLO
DR. THIRTEEN: ARCHITECTURE & MORTALITY TP
---
NEW! 1. 11/25/2020 - STEVE SKROCE
4. 11/16/2020 - RYAN O'SULLIVAN
5. 11/16/2020 - RYAN O'SULLIVAN