CURT PIRES

SEND THIS TO A FRIEND!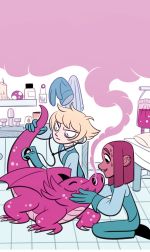 DF Interview: Fame is a killer in Curt Pires' The Forevers
By Byron Brewer
What if there were something you wanted, so badly you could feel it in your soul? And then, all of a sudden – you had it, and the fame and glory that accompanied your dream?
That is what happened to five friends who attained their stardom in a black magic pact. And now, years later, the glow is fading. Suddenly, they are being hunted. And the hunter is one of their own!
Writer Curt Pires and artist Eric Pfeiffer explore all this and more in the Black Mask Comics series, The Forevers. DF wanted to probe deeper into this book on human desire and black magic, so we sat down with Curt Pires for a chat. Here's what he told us.
Dynamic Forces: Curt, what was your inspiration for your series The Forevers, about a group of friends that seek success in their chosen fields and then FIND it … through black magic?
Curt Pires: I think I was just fascinated with the idea of getting everything you want and then having it fall apart. I like stories where characters are put through the ringer. The first thing that came to me in terms of the book was that opening scene -- of them doing the ritual and it sort of came together from there.
DF: What can you tell us about the world you and artist Eric Pfeiffer are creating here?
Curt Pires: It's sort of a world where the connection between magic and celebrity is explored. Stuff like the 27 Club, Robert Johnson's deal with the Devil at the Crossroads. I wanted to create a world, a work that explored the mythology of celebrity and musicians, in particularly the darkness that's connected to them.
DF: Can you introduce us to your protagonists, their particular career desire, and a little about them please?
Curt Pires: Jamie -- A washed-up junkie garage rocker.
Kate -- A less washed-up supermodel, Jamie's ex.
Daisy -- A Paz De La Huerta-esque indie film starlet.
Bronson -- Sort of a Jay Z type, former producer, current mogul.
Alice and Zach are sort of a grunge Kurt and Courtney-esque analogue. And Carl is a mystery.
DF: And (this is not a spoiler) one of them dies in a car accident? What does this lead to?
Curt Pires: The book starts with the former manager of one of the Forevers dying. It's sort of a catalyst that forces the Forevers to reunite and reconnect after a period of estrangement.
DF: Even before the coming of Marvel's Doctor Strange to the silver screen, we have seen a lot of media (TV, movies, and especially comics) treating magic in new and imaginative ways. How do you define "magic" here in the Forevers-verse?
Curt Pires: I think the magic in the "Forevers-verse" is purposefully mysterious and happening a lot of the time off panel/screen. The big conflict of the book is sort of this group of people trying to figure out what they've got themselves into and how exactly they can deal with it. The "it" in this case being the "magic". I sort of like to think of it as similar to the way Lynch or Refn handle magic. I want everything to feel like a dream. Lurking just outside of understanding, and consciousness.
DF: Most of the career fields of the group are very "show-bizzy," and of course we all know the price of fame. Can you tell us a little more on the subtext behind the whole story, if there is one?
Curt Pires: I think that's more for readers to discover as the book goes on. I wouldn't want to give anything away. That said, I think if you read some of my other answers you can pick up on some of it.
DF: Talk about the beautiful art of Eric, and working with him on the book.
Curt Pires: Having a great time working with him and seeing him push his style. He's a consummate pro and a joy to work with.
DF: Curt, are there any other projects current or near-future you'd like to tell readers about?
Curt Pires: I'm working on a new slate of creator-owned projects alongside projects in the film/literary world. Also getting ready to launch a streetwear venture. But yeah. Lots of comics. After a couple of years of soul searching and exploring other things, I'm getting ready to dive back in with my biggest projects yet.
Dynamic Forces would like to thank Curt Pires for taking time out of his busy schedule to answer our questions. The Forevers #4 from Black Mask Comics hits stores April 12th!
For more news and up-to-date announcements, join us here at Dynamic Forces, www.dynamicforces.com/htmlfiles/, "LIKE" us on Facebook, www.facebook.com/dynamicforcesinc, and follow us on Twitter, www.twitter.com/dynamicforces.
---
NEW! 1. 11/25/2020 - STEVE SKROCE
4. 11/16/2020 - RYAN O'SULLIVAN
5. 11/16/2020 - RYAN O'SULLIVAN