CONOR McCREERY

SEND THIS TO A FRIEND!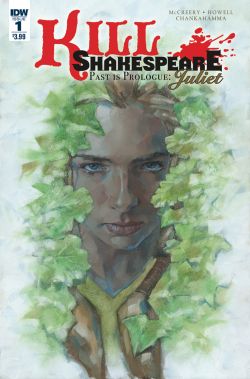 DF Interview: Conor McCreery presents a strong lead heroine in Kill Shakespeare: Past is Prologue - Juliet #1
By Byron Brewer
Juliet lives! The newest chapter of the award-winning Kill Shakespeare series from IDW Publishing flashes back to five months after the death of Romeo, where Juliet is mourning yet another loved one -- her mother! Now Juliet must discover who the murderer is, lest she becomes the next victim. New series artist Corin Howell (Transformers, The Mighty Zodiac, X-Files: Scully) takes the reins with writer Conor McCreery in a tale perfect for new readers to the series.
And whyfore Juliet? DF wanted to know that and more, so we caught up with the KS bard himself, William … er uh, Conor McCreery!
Dynamic Forces: Conor, it never ceases to amaze me how you are able to bring these characters with whom some are turned off at the mention of Shakespeare to such vivid life. If you wouldn't mind, can you recount how the Kill Shakespeare series began please?
Conor McCreery: Sure thing! It all began on a cold winter's day (well, Anthony and I ARE Canadian….). We were joking about the movie Kill Bill, and saying that it would be even better if they tried to kill a different Bill. But what William to Whack? William Clinton? Too political. William Cosby? WAY too political (although, now, strangely prescient). William… Shakespeare?
Yes! That was it. The BIG Billy himself. We laughed, but then quickly realized that there was something there. WOULDN'T the Bard's characters be itching to get some revenge on him, especially those who lost their loves, their legacies, their lives?
After that it was months and months of work to come up with the framework for the story, but eventually we landed on Hamlet's quest to save his Father and the rest is, as they say, a decent-sized footnote in comic history.
DF: What can you tell us about this latest installment of the series? How does it connect with what has gone before, if it does? Is this tale a good place for new readers to get into the series, and why or why not?
Conor McCreery: This is the perfect place for a new reader to jump in. Juliet is a stand-alone tale that doesn't require you to have read any Kill Shakespeare. It picks up a few months after the end of Romeo & Juliet – where we find a teenaged Juliet, still mourning one death, forced to confront another – only this time it was murder – and she could be the next target.
For those who are die-hard fans, Juliet will deepen the Kill Shakespeare universe and show you how the star-crossed lover took the first steps into becoming the leader of the Prodigal rebellion that you know and love.
DF: Who is this iteration of Juliet as a character to you, the writer? What are you trying to achieve with the heroine here?
Conor McCreery: Juliet is an odd character in that she's really misunderstood by contemporary audiences. By our standards Shakespeare's Juliet seems… weak. I mean who falls in love in one night, so deeply that she KILLS HERSELF, when the guy dies?
It seems just so… dramatic.
Anthony and I have always seen Juliet as much stronger than that – she's the driver of her play. Compare her to Romeo and Juliet is the BOSS. In the first Kill Shakespeare books, we saw her as a modern-day Princess Leia (one who doesn't kinda disappear after the first movie). She's a fully-realized woman who leads an army, shows compassion to the people, and can help guide our hero Hamlet to overcome his obstacles.
What's fun for me with Juliet is to take a step back. To look at a young woman struggling with loss, and her responsibility for it. This Juliet is much more emotional, savage even, in her approach to things. It's no accident that the first shot of her is seeing her screaming in rage. Hopefully the last panels of the series will underscore how far that person has come….
DF: Even though dead, I am wondering if Romeo will play any part at all in this story? Ol' Will was big on ghosts!
Conor McCreery: Well, that's tricky, of course, if you've read the first four volumes of Kill Shakespeare. But I will say Romeo definitely has a presence in this story.
DF: Any hints at the dread Capulet criminal? Is it someone we should know?
Conor McCreery: The villain is taken from deeper in the Bard's catalogue, but he's an outright bastard. Although, not a literal one.
DF: Conor, I know you and Anthony are always big on research and setting the right tone for these period pieces. What have you done on that toward Juliet's end?
Conor McCreery: A lot of it is rereading particular sections of the source plays – to make sure we have a good grip on the character. For Juliet, I definitely dug back into R&J, as well as a couple of others I won't mention so as to not spoil the surprise of other folks who make an appearance.
DF: How is it working with new series artist Corin Howell? Any Transformers showing up hereabouts? (laughs)
Conor McCreery: Well, she DID pitch me on "Grimlock, the Violent Squire." It was, uh, quite a presentation….
Corin is amazing. I'm not afraid to admit I was really nervous to try to find someone to fill (original series artist) Andy Belanger's shoes. Andy was such a fundamental part of everything that made the first four books work, and we never could have achieved our success without him.
Corin is a very different artist, but her and Andy share some important characteristics. They both are dedicated beyond belief, and bring a lot of great story ideas to the table. They also both do really intricate backgrounds which I think has been such a huge part of the series' appeal. Readers always commented on how they felt they could walk into Andy's panels and live in them. I think Corin brings the same depth.
It's also incredibly helpful to have two different women on art duties (Corin and colorist Shari Chankahamma), who can help weigh in on Juliet's choices.
DF: Conor, any projects present or near-future you can tell us about for you?
Conor McCreery: Definitely. I've got a project with BOOM! Studios that is going to be announced soon – I'm just doing a draft of issue #1 right now actually.
I'm also going to be releasing the first in what will hopefully be a series of YA action-comedy books called Catacombers with Meagan Kearny for Papercutz sometime in 2018. And I'm fielding offers on a magical-realism take on the life of Nigerian superstar musician/activist Fela Kuti – with an incredible Nigerian-Canadian fine artist named Jibola Fagbamiye.
And there's always another thing or two in the hopper…
Oh, and TV! Anthony and I are writing the pilot for the Kill Shakespeare television series for Amazon Studios.
I guess that counts too.
Dynamic Forces would like to thank Conor McCreery for taking time out of his busy schedule to answer our questions. Kill Shakespeare: Past is Prologue - Juliet #1 from IDW is out now!
For more news and up-to-date announcements, join us here at Dynamic Forces, www.dynamicforces.com/htmlfiles/, "LIKE" us on Facebook, www.facebook.com/dynamicforcesinc, and follow us on Twitter, www.twitter.com/dynamicforces.
SHERLOCK HOLMES VS. HARRY HOUDINI #1 - (1:10) B&W RETAILER INCENTIVE COVER BY JOHN CASSADAY! Written by Conor McCreery & Anthony Del Col
SHERLOCK HOLMES VS. HARRY HOUDINI TRADE PAPERBACK Written by Conor McCreery & Anthony Del Col
---
NEW! 1. 11/25/2020 - STEVE SKROCE
4. 11/16/2020 - RYAN O'SULLIVAN
5. 11/16/2020 - RYAN O'SULLIVAN