JOHN PERRY

SEND THIS TO A FRIEND!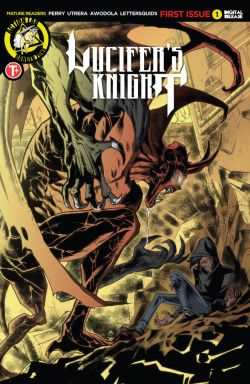 DF Interview: John Perry mixes high school drama with demonic possession in Lucifer's Knight
By Byron Brewer
Luke Anderson, a high school boy, lives a mostly normal life until he is attacked by a demon who wants to eat his soul. After this event, he learns secrets about his friends and the world around him. Now he must learn to live and survive in this new world.
From Action Lab: Danger Zone comes Lucifer's Knight, by writer John Perry and artist Emilio Utrera. DF wanted to check out this new digital-first comic, and so we sat down with scribe John Perry to get the full 411.
Dynamic Forces: John, tell us about the genesis of Lucifer's Knight. I understand you have a rather personal story about what this comic has/does mean to you, and that you have been working on it since high school?
John Perry: This story means the world to me. I started writing it in high school and it became my passion project. I saved up paychecks to get pages done so I could keep moving forward with it. Once college hit, I started a downward spiral into depression, but writing kept me going. Whenever I had time to myself, I would use it to write more of L.K. and go back to rewrite past issues from when I first wrote them. Lucifer's Knight made me want to keep going and to become a better writer.
DF: Spinning from above – and we WILL get to the book proper, I promise – tell readers about how you created the comic's cast and why finding their unique voices is easier than it might otherwise be.
John Perry: This one's easy! I based all my main characters off of people I knew when I was Luke's age. Luke is based on myself, Rachel is based on my fiance Brittnay, Derek is based on my real life best friend Brandon, C.J. is based on my friend Quinn, Kat is based on my friend Amanda, and Sam is based on my friend Hannah. Using my friends as reference, it was easy to make my main cast. It was fun to go back through texts and photos to get down their personalities from back in the day.
DF: What is the overall storyline of Lucifer's Knight? Can you give us an extended pitch, in other words?
John Perry: Of course! Lucifer's Knight follows Luke Anderson's daily life. Going through school, home life, and him hanging out with his friends. But that changes when he is attacked by a demon. Luke needs to learn to try and survive this new world he's put into, even if it means taking drastic measures.
DF: Who is Luke Anderson? What challenges does he come to face in the first issue?
John Perry: Luke is, for the most part, an average sophomore in high school. He likes comics, games and anime. His adoptive parents love him and he's happy to be in a home that cares about him. He is not the most social person in the group, but he does his best to socialize. In the first issue, the major challenge Luke faces is a repeating nightmare of a demon chasing him through a deserted town. These nightmares have been happening for over five months and he doesn't know what's causing them. He confides in his girlfriend, who might know a bit more than she's letting on, but the best she does is comforting him. The middle half of the issue has Luke come face to face with a demon, which is where things get interesting!
DF: As discussed earlier, can you introduce us to some of your cast here?
John Perry: Let's start off with Rachel, Luke's girlfriend. She's a bit older than a majority of the group (mostly due to her being held back for poor grades). Like Luke, she's a big introvert, preferring to stay inside and watch movies rather than going out. She's the pseudo-leader of the group and does her best to make sure everyone's happy. Next up is Luke's best friend Derek. Derek is a lot different from Luke, mostly due the the fact that he is a big extrovert. He does track, has probably "dated" a third of the girls in their grade, and is hyper as hell due to his ADHD. Next up is C.J. The best way that I can describe her is that she's a bitch to most people but cares for her friends in her own way. She's naturally grouchy and has a short temper to go along with her height. Then we have Sam, the quietest of the group. She tends to keep to herself most of the time, usually reading a book no one has heard of. The only time she does speak is when something really interests her. Then you can't get her to stop. Lastly, we have Katherine or Kat as her friends call her. She's the oldest of the group and tends to be the voice of reason among her younger friends. In short, she's the team mom.
DF: I talked a little to artist Emilio Utrera and he is very enthusiastic about this book! Talk a little about what he brings to this table.
John Perry: Emi is one of the best artists I have worked with while doing Lucifer's Knight. I'll give him some ideas I have – take the demon from issue #1, for example – and have him run with it. He got back to me in record time with some sketches for the design and I loved them. Working with Emi is one of the best decisions I made for Lucifer's Knight.
DF: In summing up the reason for Lucifer's Knight, you have said, "No matter how many times life pushes you down, you just need to get up and keep moving forward". Given the time and the circumstances we are living in now, is that more important than ever – and how can comics help with this?
John Perry: With how the world is right now, I would have to say yes. Life is pushing everyone down, but all we can do is to get back up, keep moving forward, and never give up. Comics is one of the things that keeps me going, it gives me the escapism that I need to clear my head and forget all the bad things in the world. That's what I want people to get out of reading Lucifer's Knight. I want them to be able to forget the bad day they had and escape to a world that makes them happy. That's what I want for my readers.
Dynamic Forces would like to thank John Perry for taking time out of his busy schedule to answer our questions. Lucifer's Knight from Action Lab: Danger Zone is a digital-first comic. Issue #1 is out now on comiXology, with issue #2 dropping April 22nd!
For more news and up-to-date announcements, join us here at Dynamic Forces, www.dynamicforces.com/htmlfiles/, "LIKE" us on Facebook, www.facebook.com/dynamicforcesinc, and follow us on Twitter, www.twitter.com/dynamicforces.
---
NEW! 1. 11/25/2020 - STEVE SKROCE
4. 11/16/2020 - RYAN O'SULLIVAN
5. 11/16/2020 - RYAN O'SULLIVAN