CULLEN BUNN

SEND THIS TO A FRIEND!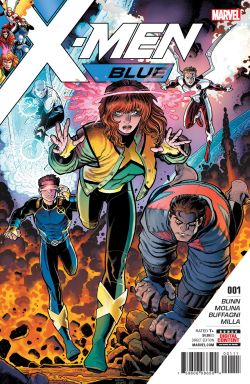 DF Interview: Out-of-time original X-Men reassemble – again – under pen of Cullen Bunn in X-Men Blue
By Byron Brewer
After the world-shaking events of IVX, the original five X-Men – Marvel Girl, Cyclops, Beast, Iceman and Angel -- are here to bring mutant criminals to justice and restore a heroic sheen to their team. But with a new leader in Jean Grey and a new mentor in their "arch-frenemy" Magneto, will old rivalries and new conflicts tear these heroes apart? Again?!
To discover the answers to that question and more, DF spoke with the author of Marvel's new X-Men Blue book, Cullen Bunn.
Dynamic Forces: Cullen, the forthcoming X-Men Blue is a new re-teaming of the time-misplaced original X-Men. What is the overall theme of this new iteration of the Original 5 as it comes out of the gate?
Cullen Bunn: The overall theme is fun, thrilling superhero adventure! We're going to see the Original 5 standing up for mutants (and humans) all over the world. They want the world to see mutants being heroic. But the team does have a little baggage, considering that they come from an earlier point in history and we're not sure what that means for the present. We'll be diving into those ramifications a bit too.
DF: Jean Grey is not only getting her own book with ResurrXion, but it appears as if she is in command of these teen X-Men. What can you tell us about this development, and how that comes about?
Cullen Bunn: I think it's about time that Jean take a leadership role on the team, but there is a story reason for this too. Jean is the reason the team comes together and starts working with Magneto—their oldest enemy. The other X-Men are following her lead on this crazy scheme.
DF: Is there anything left of the Scott/Jean relationship at this point? If so, how does that figure into the book's equation?
Cullen Bunn: There's always going to be something going on between Jean and Scott. Always. And I'm not leaving romance out of this title.
DF: Speaking of "arch-frenemies," what can you tell us about the role Magneto will play in X-Men Blue?
Cullen Bunn: As I mentioned, the X-Men are working with Magneto. In fact, he "recruits" them specifically. As this story kicks off, Magneto is in hiding. Many people think he's dead. And that's how he wants it. He feels that his presence will strike too much fear into the hearts of the populace. He is trying to live up to Xavier's dream, and he doesn't want to see it crumble because of the terror he has sown. He needs the X-Men to represent the best of the best when it comes to mutants.
DF: Will there be interplay between X-Men Blue and Champions?
Cullen Bunn: That's possible down the line. We're not ignoring the fact that Scott is a member of another team, but we're not dwelling on it for the time being.
DF: It will be fun to see how the O5, working together again, react to some of the classic ANAD X-Men villains much as it was for readers who recall the early days of Storm, Banshee, et al battling Magneto, Juggernaut, etc. for the first time. Black Tom was a great start. Any other Claremont/Cockrum/Byrne foes coming our way that you can tell us about?
Cullen Bunn: There will definitely be some classic Claremont era villains (and heroes) showing up in this book. Lots of them, in fact. There will also be characters from later eras appearing. I'll be drawing on a lot of X-history here. I don't want to give away too much about who will be appearing, but if you are an X-fan, this is the book for you!
DF: For once, Bobby is going to get some attention because of new developments in his young life. Can you tell us anything about where his non-adventure story may be going?
Cullen Bunn: The X-Men have struck out on their own, and they are a long way from home. Bobby finds himself in a long distance relationship, which causes him some trouble. But—again—I'm not forgetting the romance for Bobby either.
DF: Tell us about working with artist Jorge Molina on this X-citing new series.
Cullen Bunn: Jorge is terrific! He brings a great sense of fun to the series, which is exactly what we wanted. The characters are youthful without being too young, and the action is intense. He is a pleasure to work with.
DF: Cullen, any other projects current or near-future you'd like to tell us about?
Cullen Bunn: Well, I'm working on the Monsters Unleashed ongoing series, and it is a book I couldn't be more stoked about. Darth Maul is currently on the stands. And I have a couple of other Marvel projects that haven't been announced yet!
Dynamic Forces would like to thank Cullen Bunn for taking time out of his busy schedule to answer our questions. X-Men Blue #1 from Marvel Comics hits stores April 12th!
For more news and up-to-date announcements, join us here at Dynamic Forces, www.dynamicforces.com/htmlfiles/, "LIKE" us on Facebook, www.facebook.com/dynamicforcesinc, and follow us on Twitter, www.twitter.com/dynamicforces.
X-MEN: BLUE #1 ULTRA-LIMITED BLUE SIGNATURE SERIES SIGNED BY CULLEN BUNN
X-MEN: BLUE #1 SIGNED BY CULLEN BUNN
X-MEN: BLUE #1 ULTRA-LIMITED GOLD SIGNATURE SERIES SIGNED BY STAN LEE
DARTH MAUL #1 ULTRA-LIMITED CRIMSON RED SIGNATURE SERIES EDITION SIGNED BY CULLEN BUNN
MONSTERS UNLEASHED #1 SIGNED BY WRITER EXTRAORDINARE CULLEN BUNN
DEADPOOL BACK IN BLACK #1 SIGNED IN BLOOD RED BY CULLEN BUNN
MICRONAUTS REVOLUTION #1 SIGNED BY CULLEN BUNN
IDW'S REVOLUTION #1 SIGNED BY CULLEN BUNN
CIVIL WAR II: X-MEN #1 SIGNED BY CULLEN BUNN
MICRONAUTS #1 CLASSIC ACTION FIGURE COVER SIGNED BY CULLEN BUNN
DEADPOOL AND THE MERCS FOR MONEY #1 BLOOD RED SIGNATURE EDITION SIGNED BY CULLEN BUNN
DEADPOOL'S SECRET SECRET WARS #1 ULTRA-LIMITED EDITION SIGNED IN BLOOD RED BY CULLEN BUNN!
HELLBREAK #1 - MASTER SET OF ALL FOUR COVERS SIGNED BY CULLEN BUNN!
SINESTRO: FUTURES END #1 3-D MOTION ULTRA-LIMITED GOLD SIGNATURE SERIES ELITE EDITION SIGNED BY CULLEN BUNN!
CAPTAIN AMERICA & BLACK WIDOW #638 SIGNED BY CULLEN BUNN!
SUPERIOR CARNAGE ANNUAL #1 GOLD SIGNATURE SERIES SIGNED BY CULLEN BUNN!
---
NEW! 1. 11/25/2020 - STEVE SKROCE
4. 11/16/2020 - RYAN O'SULLIVAN
5. 11/16/2020 - RYAN O'SULLIVAN