JOSEPH KEATINGE & WOOK JIN CLARK

SEND THIS TO A FRIEND!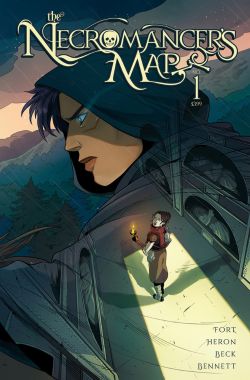 DF Interview: Joseph Keatinge & Wook Jin Clark serve up a fantasy feast supreme in Flavor
By Byron Brewer
Within a strange walled city, an unlicensed chef discovers a mystery that threatens to end it all. Join Joseph Keatinge (Glory, Shutter) and Wook Jin Clark (Adventure Time: The Flip Side) on this culinary epic adventure – Flavor – where chefs are the ultimate celebrity and food is the most valued commodity. The high-stakes competition of Hunger Games collides with the lush, Miyazaki-esque world-building in this delectable new ongoing series featuring culinary consulting and bonus content by Ali Bouzari, renowned food scientist and author of the IACP Award-winning cookbook, Ingredient: Unveiling the Essential Elements of Food.
DF had a chance between courses to discuss Flavor with creators Joseph Keatinge and Wook Jin Clark. Here's the dish they served up.
Dynamic Forces: Joe and Wook Jin, Flavor from its solicitation sounds like a very unique comic. Tell us how it came about.
Wook Jin Clark: Joe and I have been friends since 2011, I think. We met initially at ECCC almost seven years ago which is kinda nuts looking back! We hit it off and talked about working together on a project. Both of us were working on other projects at the time but we knew we'd work together one day, and now is that day, haha! Flavor was something Joe mentioned to me, and I immediately thought it sounded like something of a challenge, but also a fun project that we could both cut loose on!
Joseph Keatinge: Image's Corey Hart introduced me to Ali Bouzari, the famed culinary scientist and consultant on our book, and our conversation on food, comics, and the crossroads of creativity in between got me thinking. The ideas we discussed over dinner percolated for a while and when Wook Jin's schedule opened up, I proposed we work on this odd idea for a food comic unlike any other. I'm happy he said yes and we were able to include not just Ali, but colorist Tamra Bonvillain and letterer Ariana Maher as well.
DF: As you say, and if you will pardon the pun, there are a lot of ingredients just to the extended creative team. How is it working with a culinary consultant in Ali Bouzari?
WOOK JIN: Ali is amazing! I was introduced to him through Joe. Just being able to pick his brain on how he approaches food is otherworldly! He's a culinary scientist, I believe, and his job is R&D with food and how different ingredients and elements to food bring about specific tastes. He's been essential to making the food aspects of Flavor more legit and also informative.
JOE: What Wook Jin said. Ali has been an invaluable consultant, whether it's helping to decide what foods reveal the most about character or how real-world science can translate to our fantasy realm.
DF: Joe, give readers the elevator pitch for Flavor. What about the book excites you?

JOE: Every Image book I do exists because it's the thing I want to read which doesn't exist. Nothing excites me more than coming in to create something whole cloth with collaborators who are some of the most interesting creators in the field. Wook Jin, Tamra, Ariana, Ali and our graphic designer, cartoonist Rich Tommaso, are some of my favorite people working today.
Flavor is a culinary Battle Royale by way of Hayao Miyazaki. Hunger Games without the Hunger.
DF: What can you tell us about Xoo, her status as an underage, unlicensed chef and what that means in this world you and Wook Jin are creating?
JOE: Xoo's an outsider in a world where everyone wants to be an insider. Her perspective sheds light on something people around her have ignored for generations.
DF: Wook Jin, tell us about designing the characters and this world for Flavor. What to your mind has been the most challenging about the series thus far for you as an artist?
WOOK JIN: The characters have all been a joy to come up with! I think some are an extension of myself or friends/family I know. I think we both wanted characters that were recognizable from silhouette alone while also looking similar enough to exist in the same world together. One of my big things I'm trying to be better about with characters is to make them simpler and more distinct. I wanna be able to make it clear who's who. The most challenging thing for me so far was probably coming up with the simpler but clear designs. I want the characters to change clothes, but make sure to keep it in line with what they would wear. Fashion is something I've been into drawing, but approaching it in a more functional way for cooking is a challenge. The chef/cook outfits are an element I wanted to look similar enough to everyday attire, but also being slightly different for this world.
DF: Aside from Xoo, tell us about some of the other characters in the book and how they came to be, artistically.
WOOK JIN: Buster the dog is just a fun character to draw. I think the best part about being Xoo's best friend is also being able to have an animal character act like both a dog and also a person. He is as much a cook/chef as anyone else in the book! Geof, Xoo's uncle, is just a fun character to draw overall. He's a big guy who kinda always messes things up, so it's interesting to make him somewhat sheepish even though he's one of the larger characters to draw.
DF: Joe and Wook Jin, what would you each say to readers to get them to pick up this totally unique take on a comics story?
WOOK JIN: Flavor is a book about one just trying to make a better life for their family. Xoo is the character we all are day to day who's thrust into something unexpected. The other shoe drops for all of us at some point, and it's all about how we fight ourselves out of a corner and strive forward.
I'd say it's a book to lose yourself in! Xoo goes through difficulties we all go through and we get to read about how she deals with setbacks. We all have to overcome the odds, and hopefully people can sympathize and be able to understand that they've done the same or are doing so now in their lives. Flavor is a book that breathes and doesn't try to be something it's not.
JOE: It's a delicious take on a genre unlike any other. Food comics has a great history, especially in Japan and recently in the U.S., and I'm thrilled to put our little book out there.
DF: What other projects, present or near future, can you tell readers about?
WOOK JIN: Haha! I've got a few things unannounced brewin' (sorry for that), but nothing I can speak of quite yet. Hopefully soon!
JOE: Image Comics and Skybound have been and will continue to be the homes for most of my work, but I have a lot of cool stuff on the horizon. News to come in the nearish future.
---
NEW! 1. 11/25/2020 - STEVE SKROCE
4. 11/16/2020 - RYAN O'SULLIVAN
5. 11/16/2020 - RYAN O'SULLIVAN