DARICK ROBERTSON

SEND THIS TO A FRIEND!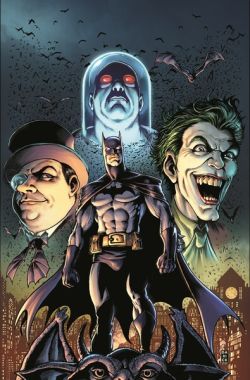 DF Interview: Darick Robertson lives 'dream come true' writing, drawing kickoff chapters of returning DC anthology, 'Legends of the Dark Knight'
By Byron Brewer
Debuting in 1989, Batman: Legends of the Dark Knight put Batman in the hands of some of the most talented writers and artists in comics. Their efforts yielded unforgettable story arcs for comic book fans, such as "Shaman," "Prey," which redefined the evil and twisted Dr. Hugo Strange, "Gothic," and "Venom," the story that introduced the dangerous super steroid to a Santa Prisca prison inmate who would later be known as Bane.
On March 28, this influential anthology returns as a new DC Digital First series, Legends of the Dark Knight. Stories will be released digitally as 10-page weekly "chapters," with two digital chapters making one print issue; issue #1 arrives in comic book stores on May 18. Legends of the Dark Knight will serve as a place for both well-known and up-and-coming creative talent to tell new, evergreen stories, appealing to a wide variety of fans, all based on one of the most beloved and enduring characters in popular culture.
Legends of the Dark Knight kicks off with a six-part weekly/three-issue monthly tale, written and illustrated by Darick Robertson (The Boys, Hellblazer: Rise and Fall, Transmetropolitan), with colors by Diego Rodriguez and letters by Simon Bowland. In "Bad Night, Good Knight", a new player has arrived on the scene in Gotham City and is selling deadly chemicals to the worst villains in town: Mr. Freeze, the Penguin, and even The Joker! It's up to Batman to stop the villains, track down the supplier, and save Gotham City from not only his most vicious foes, but this new mystery villain.
DF discussed the multi-chapter installment of the Bat anthology with Darick Robertson, and more.
Dynamic Forces: Darick, how does it feel to be part of the return of such an iconic property to the Batman-verse?
Darick Robertson: I feel honored, really. I'm not especially known for my writing, but I have written for Spider-Man, New Warriors and Conan the Barbarian...but Batman is special in that he was the first superhero I really attached to as a kid. From my Mego action figures to my plastic Batmobile, to my Ben Cooper Halloween costume, this character is deeply embedded in my psyche.
DF: Legends of the Dark Knight put the Cowled Crusader in the hands of talents like Denny O'Neil, Grant Morrison, Ed Hannigan, Doug Moench. Klaus Janson, and more! Is the return of such an anthology – a format not readily seen on comics shelves today – exciting for a creator?
Darick Robertson: I wrote this story initially back in 2013, but in the ensuing time when DC left New York and moved to Burbank, my story got lost in the shuffle. So for a long while there I kind of just lamented missing my shot. But to be the lead story upon its revival, to have a Batman #1 with a writing and art credit, and doing the covers, it's just a dream come true. I'm doing the art for the final chapter and the covers now and I feel I've really grown as both an artist and a writer in the past few years, and that the delay was probably for the best. I only recently re-read Denny O'Neil's brilliant "VENOM" arc and was impressed about how much that era of Batman writing influenced me. So I am proud that I get to contribute to the mythology. I even created two new characters for my story.
DF: You are both illustrating and writing your kickoff six-part weekly (digital-first) / three-part monthly (print) story, "Bad Night, Good Knight". I do not know if I have ever asked this of you, but do you prefer the double hats rather than collaboration?
Darick Robertson: Actually, no! The reason I have so little of my writing published is that I really enjoy collaboration. When there are so many great writers that I have worked with and want to work with, it almost feels foolish to write my own stories. But I take the writing aspect very seriously. I don't try to rely on my artwork to tell a good story, I hope to write a good story that stands on its own and deliver artwork that is the same quality as if I weren't the writer. And often, artist me gets pissed off at writer me.
DF: Haha! … And what are the advantages/disadvantages of being a solo gun?
Darick Robertson: Well, I started my career writing and drawing my own original creation Space Beaver back in 1986 but at the same time, I was drawing and painting Batman images, and this story idea is actually an expansion on an idea I had then, that I was going to illustrate for my own penciling samples in hopes of getting work at DC. So coming full circle and actually doing that dream job, it's pretty cool. But the disadvantage is knowing I'm still something of a fledgling writer so all the pressure to deliver something good is on me. The upside is the ability to pivot and change little things as I go. Writing the dialogue years after the story was written and mostly drawn, I'm finding new things in the idea that I didn't have originally and that freedom to just have fun and be creative since it's my own story, that's the best part. It's a little like the feeling I had as a kid wearing that
Ben Cooper Batman costume. I get to think like Batman for a little while in my imagination.
DF: So tell readers the general storyline of "Bad Night, Good Knight" please. No spoilers (unless you really really wanna!).
Darick Robertson: It's a story that focuses on my favorite aspect of what makes Batman such an enduring character, his true super power, his mind and his determination. He's like an Olympic athlete, a ninja and a scientist all in one. He's peak human and can hold his own alongside people born with or bequeathed powers. But ultimately, he's only human. So my story opens with Batman utterly exhausted, having been awake for over 36 hours already, and refusing to stop and rest until he stops the worst of Gotham's villains from getting their hands on a poisonous gas that is being sold on the black market by a mysterious Russian free agent in a gas mask. In his relentless effort to stop this deal from going down, Batman has one of the worst nights of his life.
I had initially written this as a Batman/Joker story and then my friend and editor Hank Kanalz asked if I could add more villains to it, and that's like asking if I'd like a weeklong pass to Disneyland rather than the day pass, so of course I said yes.
DF: I understand you are introducing a new mystery villain with a vile hobby: selling deadly chemicals to Gotham's super-villain crème de la crème! I won't ask where the newbie got his address book, but I WILL ask how it felt writing the Joker, the Penguin, Mr. Freeze and whoever else may be on your baddy's list; AND did you get to choose your villains?
Darick Robertson: I did get to choose! It quickly occurred to me that gas was something these villains have in common, with their schtick and weapons, so they'd be competing to get their hands on this stuff. Writing them was fun. Writing Joker's dialogue was a blast and so was Penguin. It revived the feeling I had as a kid playing with my action figures and making them speak and creating what they'd do.
DF: Elephant in the room: I know the answer to this, but readers wanna know so I gotta ask: Can you tell us anything at all, relay any clues that you might be seeding in your multi-parter about the identity of this mystery foe?
Darick Robertson: There are two new foes, but one of them I don't want to spoil. Gas Mask is a low level villain. His greed and ruthlessness are what make him most dangerous. A true sociopath. Years ago, I read an article about how during the fall of the Soviet Union a lot of weapons caches from WW2 were left vulnerable and desperate Russians were breaking into them and selling the weapons on the black market. After the tragic terrorist attack in Tokyo where people were exposed to sarin gas, I began thinking of what kind of monster would allow that sort of thing to get into the hands of people who would weaponize it against civilians, especially for profit, and Gas Mask is just that kind of monster.
DF: Can you tell us if your villains are BRAND new, or iterations of some other lost Rogues? And are there any plans for these villains post- "Bad Night, Good Knight"?
Darick Robertson: Both of my characters are brand new. One of them is inspired by a classic villain, but that will be obvious when the character appears for the first time.
DF: Fanboy time: Okay, Darick, you are co-creator of The Boys and have done a lot in our industry. But you are writing AND drawing Batman. BATMAN! You may have done it before, but… how does it feel to be in complete control (editors be damned!) of The Bat?
Darick Robertson: Truly, this is literally the dream come true. And for the most part, all three editors I've worked with over the course of completing this, most recently David Wielgosz, have been great and given me plenty of freedom and support. David has been especially enthusiastic and supportive, which has eased my imposter syndrome that flares up a every time I realize that I'm completely creating an original Batman story with so many of my favorite heroes and villains.
DF: Talk about working your pulse-pounding pencils in tandem with the always-creative palette of color artist Diego Rodriguez.
Darick Robertson: Diego and I get along really well for two guys that have only ever talked via e-mail! He's a fantastic colorist, evidenced most recently with our conclusion on Hellblazer Rise & Fall, which we both gave a herculean effort to finish on time and he didn't spare an ounce of quality. I'm so excited to have him on board for Batman as he communicates and collaborates, so in the end I really get to see my vision for the completed art come through.
DF: Darick, any new projects in or out of comics in which you are involved that you can tell readers about?
Darick Robertson: Aside from creating some new artwork for The BOYS Season 3, I am working with Gerard and Michael Way on a short story for the Anthrax anthology comic Among the Living. That's been great as Gerard and I have been wanting to collaborate for some time and it's already mad fun.
I have some pitches in at DC and have my fingers crossed that I'll be sharing some good news on that front later in the spring. In the meantime I'm creating covers for JLA: Last Ride written by Chip Zdarsky and that's been fun as I'm drawing the iconic Justice League again for the first time since my time on the mini series "Midsummer's Nightmare" back in 1996.
The comic Space Bastards that I co-created with writers Joe Aubrey and Eric Peterson from Humanoids with my art for their first arc "Tooth & Nail" is now being released monthly from Humanoids and we just finished the Kickstarter for the deluxe hardcover editions, having surpassed the funding goal!
I also recently created cover and promotional artwork for the game "No More Heroes III", meaning that my kids are finally impressed with my career.
Dynamic Forces would like to thank Darick Robertson for taking time out of his busy schedule to answer our questions. The first chapter of the multi-parter "Bad Night, Good Knight" in the anthology Legends of the Dark Knight from DC Comics is slated to be available digitally April 2nd, and in stores May 18th!
For more news and up-to-date announcements, join us here at Dynamic Forces, www.dynamicforces.com/htmlfiles/, "LIKE" us on Facebook, www.facebook.com/dynamicforcesinc, and follow us on Twitter, www.twitter.com/dynamicforces.
LEGENDS OF THE DARK KNIGHT #1 CGC GRADED
THE BOYS OMNIBUS VOL. 6 TRADE PAPERBACK - DARICK ROBERTSON SIGNED EDITION
THE BOYS OMNIBUS VOL. 5 TRADE PAPERBACK - DARICK ROBERTSON SIGNED EDITION
THE BOYS OMNIBUS VOL. 4 TRADE PAPERBACK - DARICK ROBERTSON SIGNED EDITION
THE BOYS OMNIBUS VOL. 3 - DARICK ROBERTSON SIGNED AND REMARKED EDITION TRADE PAPERBACK
THE BOYS OMNIBUS VOL. 2 - DARICK ROBERTSON SIGNED AND REMARKED EDITION TRADE PAPERBACK
THE BOYS OMNIBUS VOL. 1 - DARICK ROBERTSON SIGNED AND REMARKED EDITION TRADE PAPERBACK
THE BOYS VOL 1 HC DUAL SIGNED BY GARTH ENNIS AND DARICK ROBERTSON
GREEN LANTERN: DARKSTARS #1 SIGNED BY DARICK ROBERTSON PLUS 1
THE BOYS COLLECTIBLE TRADING CARDS - THE SEVEN TEAM SET FEATURING DARICK ROBERTSON SIGNED CARD
DCEASED: A GOOD DAY TO DIE #1 SIGNED BY DARICK ROBERTSON PLUS 1
---
NEW! 1. 05/09/2021 - JOE HENDERSON
3. 05/03/2021 - DECLAN SHALVEY
5. 04/26/2021 - PORNSAK PICHETSHOTE