KEN GARING

SEND THIS TO A FRIEND!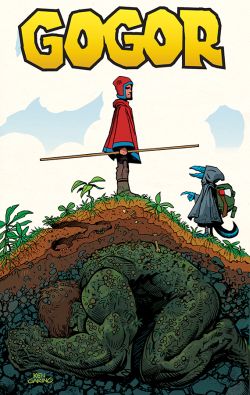 DF Interview: Ken Garing embarks on an epic fantasy journey in 'Gogor'
By Byron Brewer
Deep underground, among the floating islands of Altara, the mystical Gogor sleeps. But trouble brews above ground as soldiers of the Domus impose their will across the land. Now, a young student named Armano must awaken Gogor and begin his quest to protect the culture of Altara.
From Ken Garing, writer/artist of the acclaimed series Planetoid, comes Gogor, an all-new ongoing Image series of wonderfully weird high fantasy. So wonderful and weird in fact that DF needed to know more, so we chatted the new book up with the multi-talented Ken Garing.
Dynamic Forces: Ken, as you may know I loved your work on Planetoid. Tell readers how this new ongoing from Image Comics, Gogor, came about.
Ken Garing: I'm happy you enjoyed Planetoid! I did two volumes on that series and wanted to switch gears from gritty industrial sci-fi to something more colorful and lush.
I've always liked off-beat fantasy from across the spectrum: from Jim Henson's Dark Crystal to the novels of Jack Vance and Ursula Le Guin to comics like Heavy Metal Magazine (artists like Moebius and Richard Corben in particular.)
Some of the ideas in Gogor date back to my childhood, while others were made up right on the page.
DF: What can you tell us about the world you have built for this saga?
Ken Garing: The world of Altara consists of a ring of floating islands inhabited by different people, cultures and creatures. There's total freedom of movement and some trade but no central authority or monetary system or standing armies. There's a vague understanding of a fallen tyranny from days passed. That era is referred to as "The Blotted Age" and uncovering the truth of Altara's past is something that both the characters and readers will have to piece together.
DF: Who is Armano as a character? What is he striving to achieve/his goals in life as the book begins its first arc?
Ken Garing: Armano is a teenager who studies at the School of Natural Arts. When his school is attacked by the Domus, he's forced to flee and leave his friends behind. So basically his whole way of life is upended and he's now responsible for awakening Gogor and begining his quest to somehow stem the Domus invasion. Basically, he has to accept that the world has changed and answers won't come easily... that's a primary theme in the series.
DF: Who/what is the Gogor?
Ken Garing: Gogor is a mythical creature who lays dormant underground and is awaken during times of strife. Gogor is composed mostly of plants and other organic matter. Very little is known about Gogor. Learning more is part of the journey.
DF: Give us the extended elevator pitch for Gogor. (No fair regurgitating the solicit copy. Ew.)
Ken Garing: I'd rather not do an elevator pitch. I'll just say it's a really unique high fantasy series with a lot of mystery, adventure and lush artwork. The tone is somewhere in between Jim Henson and Frank Frazetta.
DF: Tell us about the threat of the Domus.
Ken Garing: The Domus are an invading force of armed men. They have a uniform culture and legal code that they seek to impose on Altara. The origins of their ideology are unknown at first but I think readers will be shocked when it's revealed. There's a lot of crytpic clues in the series for events that play out later on.
DF: Again, you're riding solo as creator with both writing AND drawing pens. Explain why you love to do it this way? Advantages/disadvantages?
Ken Garing: I just like the idea of one person being able to write/draw/color/letter a comic that can compete in the direct market against mainstream books. I remember reading Sin City as a teenager and realizing that Frank Miller was single-handedly putting out the best book on the shelves, and thinking I wanted to do the same.
Obviously, it's a lot more work. But it's necessary for the type of comics I do. Even though I do genre work I consider my comics to be really personal since I'm exploring my own thoughts and fears and ideas.
DF: Ken, any other projects you can let readers know about in which you are involved?
Ken Garing: I'm knee-deep in Gogor at the moment, but I have lots of other stories I want to work on. I have a cyberpunk mini-series I want to do. And there's a comic about Bobby Fischer that I've been compiling notes on for years.
Also, Planetoid is under a new option for film/TV development and moving ahead. And I've been doing mini-book reviews and posting a lot of sketchbook work on my Instagram at: ken_garing.
Dynamic Forces would like to thank Ken Garing for taking time out of his busy schedule to answer our questions. Gogor #1 from Image Comics hits stores May 1st!
---
NEW! 1. 11/25/2020 - STEVE SKROCE
4. 11/16/2020 - RYAN O'SULLIVAN
5. 11/16/2020 - RYAN O'SULLIVAN