ERIK BURNHAM

SEND THIS TO A FRIEND!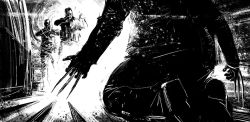 DF Interview: Erik Burnham brings Prime, ATC casts together in Ghostbusters 101
By Byron Brewer
Before they began investigating the supernatural, most of the original Ghostbusters were teachers ... and they've decided it's time they start sharing their knowledge again. But when their first batch of students start poking around the firehouse and accidentally set in motion the merging of two universes (it's easier than you'd think), Venkman, Stantz, Zeddemore and Spengler will need all the help they can get to put things right.
And who do you think will Answer the Call? If you guessed Holtzmann, Yates, Tolan and Gilbert, you get a gold star.
From IDW Publishing and regular Ghostbusters creators Erik Burnham and Dan Schoening comes Ghostbusters 101, a brand new interdimensional meeting of the minds.
Want to know more? So who we gonna call? Writer Erik Burnham, that's who. Here's what he told us.
Dynamic Forces: Erik, Ghostbusters as a franchise definitely reached a new generation of audience with the 2016 film reboot. Tell us how this new IDW series came about.

Erik Burnham: Dan Schoening, Luis Delgado, Tom Waltz and I have been running full-bore with comics based on Ghostbusters since 2011. A couple of years back, we opened up interdimensional possibilities (something Aykroyd was keen on in his initial treatment) with a Teenage Mutant Ninja Turtles crossover.
We used that success as an excuse to go a step further, and bring the Prime Ghostbusters (from the original movies and our comics, which are all part of the same canon) and the cartoon Real Ghostbusters together.
Ghost Corps took interest in interdimensional stuff from the get-go (that TMNT crossover) and when we were prepping our new mini, 101, they suggested bringing in the ATC ladies here to make it all one thing in a way not possible in the movies. It makes everything part of one separate-but-still-connected whole.
DF: For those who might only be familiar with one iteration of Ghostbusters, can you take a moment or two and introduce us to each of the protagonists and tell a little about them please?

Erik Burnham: Surely. (And for the record, we put in a brief dramatis personae into each issue of Ghostbusters for this very reason!)

The Prime Ghostbusters are:
Dr. Egon Spengler, the brain of the team. He's a sometimes addled polymath who co-designed most of the equipment and usually pulls the scientific inspiration out of mid-air.

Dr. Ray Stantz, a man keen on research and obscure lore. Excitable, childlike enthusiasm, co-designed the equipment. Heart of the group.

Winston Zeddemore, former Marine, and moral compass of the Ghostbusters (the others can get distracted at best.) He's got an honorary doctorate, but doesn't make a show of it. And he's taken almost enough law classes to have a fallback career.

Dr. Peter Venkman, the mouth of the Ghostbusters. He's the one with a legit degree (psychology as opposed to just parapsychology) and is a manipulative sort, but he's not all bad.
Janine Melnitz, head of the office staff, mother hen, does not suffer fools, the Ghostbusters sometimes excepted. (Has busted ghosts; prefers to avoid the mess when she can.)

They -- along with Walter Peck, who runs the municipal department that oversees the Ghostbusters -- are all from the movie. We also heavily include:

Kylie Griffin (who we stole from the Extreme GB cartoon, though this character is largely different). She manages Ray's bookstore, busts ghosts and researches part time.

Kevin Tanaka, Janine's underling. Basically a secretary.

Jenny Moran, used to work for PCOC, NYC's Ghostbusters oversight dept. Now she's a ghost.
And Melanie Ortiz, the Ghostbuster's federal liaison with the FBI. (Sounds like a lot, right? It is! We've REALLY expanded the cast over the years -- there's even a branch in Chicago -- but hey, all of these folks appear in 101!)

The "Answer the Call" cast is smaller, limited to the five main characters from the 2016 movie. Those are:

Dr. Erin Gilbert, high strung head scientist, who pioneered paranormal studies in a book with…

Dr. Abby Yates, a mildly impatient theoretician and co-designer of this universe's ghostbusting equipment with…


Everyone's favorite engineer, Dr. Jillian Holtzmann, a bundle of impulses that enjoys messing with heads …

Patty Tolan, a former municipal employee and NYC historian, ostensibly the "everyman" character since she doesn't have a doctorate, but also the most complete person on the team.

Kevin Beckman, the secretary. He seems to be missing a large portion of his own brain, but at least he has…

MIKE HAT. Dog supreme.

ALSO! There are four students (who were going to be featured more prominently, until we were asked to include the ATC cast!). They are: Cait Banner, Janine's niece; her friends Evan Torres and Zoe Zawadzki; and Garrett Parker, son of one of Peter Venkman's old psych classmates.

That's everyone! (What a long answer.)

DF: Whew! OK … In a non-spoilery manner, can you tell us how the two teams come together?

Erik Burnham: Remember when I mentioned the TMNT crossover? In that comic, the Ghostbusters got hold of an interdimensional transporter. The 101 cadets -- Cait, Zoe and Evan -- are showing this to newly arrived Garrett when something goes wrong and the dimensions of the Prime and ATC Ghostbusters starts to overlap.
That's way too dangerous to be allowed to continue, and that's what our teams are looking to fix, once they all meet.

DF: The ghosts are always fun in any brand of Ghostbusters, even the more threatening ones. Will we be seeing any new phantoms in this book? Any old ghostly friends returning?

Erik Burnham: We'll get a glance at our friend, the Green Ghost (sometimes called Slimer) and … a few other familiar surprises in the busts that have come up so far. I'm just now writing the first outing for the combined group (in issue #4) so we'll see what else the muse (or Dan) decides to sneak in!
DF: Will there be any new characters among the Ghostbusters themselves?

Erik Burnham: Just the aforementioned cadets, introduced in the 2017 annual.

DF: How has it been to work such a long time with artist Dan Schoening?

Erik Burnham: With the exception of three issues' worth of break, I've been working with Dan (and colorist Luis Delgado) since Ghostbusters #1 back in October 2011.

And it's been the best. We've complemented each other as a team, and I could have no better working experience. I know how lucky I am to have worked so much and for so long with these fellas and I'm grateful.

DF: Truth time: How many times when you are penning a script do you hum (even in your mind) the movie theme song?

Erik Burnham: It's been on general loop in the back of my head for about seven years now.

DF: Erik, any other projects you can tell us about?

Erik Burnham: In May, I have two one-shots coming out from Dynamite: Red Sonja: The Long Walk To Oblivion (with artist Tom Mandrake) and KISS: Forever (with artist Daniel HDR). In August, a four-issue arc with Sophie Campbell in TMNT Universe featuring Shredder's granddaughter Karai. Dragons, swords, Yakuza, ghosts and a cursed sword all come into play.

And… well, I have one or two other things on my plate but -- new comics, a Patreon I'm prepping to launch -- but just my luck, it's too soon to mention them!
Dynamic Forces would like to thank Erik Burnham for taking time out of his busy schedule to answer our questions. Ghostbusters 101 #1 from IDW hits stores March 22nd!
For more news and up-to-date announcements, join us here at Dynamic Forces, www.dynamicforces.com/htmlfiles/, "LIKE" us on Facebook, www.facebook.com/dynamicforcesinc, and follow us on Twitter, www.twitter.com/dynamicforces.
RED SONJA: THE LONG WALK TO OBLIVION ONE-SHOT
KISS: THE DEMON #1 KYLE STRAHM "BLACK & WHITE VIRGIN" LIMITED EDITION
BACK TO THE FUTURE #1 DF EXCLUSIVE SIGNED & REMARKED BY KEN HAESER
TEENAGE MUTANT NINJA TURTLES GHOSTBUSTERS #2 BLANK VARIANT EDITION SIGNED & REMARKED BY KEN HAESER WITH A HAND-DRAWN SLIMER PIZZA VARIANT SKETCH!
TEENAGE MUTANT NINJA TURTLES GHOSTBUSTERS #2 BLANK VARIANT EDITION SIGNED & REMARKED BY KEN HAESER WITH A HAND-DRAWN SLIMER SKETCH IN GREEN!
---
NEW! 1. 02/10/2022 - SIMON SPURRIER
4. 01/31/2022 - TIM SEELEY & AARON CAMPBELL
5. 01/27/2022 - TYLER BURTON SMITH