DAVID M. BOOHER

SEND THIS TO A FRIEND!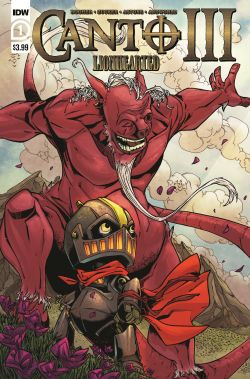 DF Interview: David M. Booher sends one tin soldier to the rescue in 'Canto and the Clockwork Fairies'
By Byron Brewer
When Canto encounters a group of captured fairies, it's up to him to liberate them. But can he do it without being captured himself?
David M. Booher, Drew Zucker, Vittorio Astone and Deron Bennett return to Canto's world, following the brave clockwork hero as he leads his people out from their home in Arcana to find somewhere – and something – new! DF wanted to know more about this one-shot, Canto and the Clockwork Fairies, so we chatted with scribe David M. Booher.
Dynamic Forces: David, artist Drew Zucker and yourself are bringing Canto, the little tin hero who took comicdom by storm last year, back for a new one-shot from IDW in May! For the uninitiated, what can you tell us about this diminutive dynamo?
David M. Booher: Canto is a tiny clockwork hero in search of a heart! He's part of a race of beings who were once enslaved by a mysterious figure called the Shrouded Man. This evil sorcerer removed their hearts and replaced them with clocks. Canto went on a quest to find their hearts in order to save his beloved, whose clock had been damaged. I can't say much beyond that without spoiling Canto's first adventure, Canto: If I Only Had a Heart. (The trade paperback is out in March!)
DF: Do readers contemplating the one-shot, Canto and the Clockwork Fairies, need to know anything about the previous series? Can you bring them up to speed here on what happened previously?
David M. Booher: The good thing about Canto and the Clockwork Fairies is new readers don't need to know much about Canto or his first adventure. We designed it to be a true "side quest". So what I've described is more than enough so anyone can jump right into Clockwork Fairies. Of course, we hope new readers end up adoring Canto as much as we do and following his adventures, both past and present.
DF: Before we get into the meat of the one-shot, what can you tell us about the world that Drew and you have created? MOST intriguing! Part Dante's Inferno, part Wizard of Oz.
David M. Booher: You are definitely not alone in being intrigued by our Inferno/Oz inspirational mash-up. I suppose the short answer is this: Canto is truly a co-creation between Drew and me. He originally came to me with a character design and a much more adult story idea inspired by Dante's Inferno. I love Dante's imagery but we decided quickly to make an all-ages story. Since my all-time favorite fable is The Wonderful Wizard of Oz, we leaned into both famous stories to create a new fantasy tale for everyone to enjoy.
DF: Okay, what is the overall storyline for the book? (No fair using the IDW solicit! LOL)
David M. Booher: It's a sweet and simple tale. Canto and his Malorex are playing around a bit (a little Calvin & Hobbes moment for them) when they hear a cry for help from a hole in the nearby ruins. When they investigate, they find a captured race of sweet fairies. But they're caught by a fearsome mechanical witch and must fight to free themselves as well as the fairies.
DF: Overboard anxious to see the race of fairies this time around. Will readers encounter any other of the mysterious creatures/races hinted at in Canto's previous series?
David M. Booher: In Clockwork Fairies, we introduce readers to the fairies and the witch. They'll also see a cameo of another tin knight named Falco. There will be much more of him and some other new friends, as well as catching up with many familiar faces, when Canto II hits shelves in July!
DF: That's a new one! A mechanical witch as the big-bad. Can you clue us in on anything about her?
David M. Booher: I don't want to spoil too much for this strange and fearsome witch, but she was loosely inspired by the baba yaga from Slavic folklore. Much like Canto, she is a mix between the clockwork and organic life. You definitely don't want to meet her alone in the woods at night!
DF: Talk about the art of Drew and your collaboration on this wonderful creation. (Er uh, Canto, not the witch.)
David M. Booher: Extraordinary? Stupendous? Face-meltingly good? Every time he sends me pages, those are my one-word responses. Drew and I have worked so closely together for over two years bringing Canto to life that we've become close friends. His talent comes through on every page and he's an amazing person. Couldn't have asked for a better partner.
DF: David, what other present or upcoming projects can you tell readers about?
David M. Booher: Canto II begins this July, so we're working hard on that. I also have two other comics in the works. Killer Queens is a fun queer sci-fi romp for older readers by an all-LGBTQ creative team. The other is a middle-school-age graphic novel series inspired by my childhood growing up in Ohio on the coast of Lake Erie. A little Scooby Doo and a little Goosebumps. I'm also working on some TV and film projects. And when I'm not hiding in my office writing, I'm trying to keep up with my husband and our two adopted greyhounds.
Dynamic Forces would like to thank David M. Booher for taking time out of his busy schedule to answer our questions. The Canto and the Clockwork Fairies one-shot from IDW Publishing hits stores on May 20th!
---
NEW! 1. 11/25/2020 - STEVE SKROCE
4. 11/16/2020 - RYAN O'SULLIVAN
5. 11/16/2020 - RYAN O'SULLIVAN