DAN ABNETT

SEND THIS TO A FRIEND!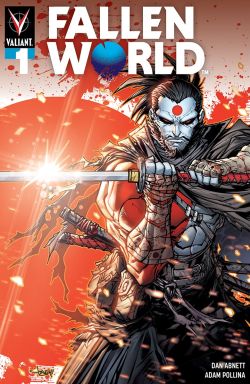 DF Interview: Dan Abnett brings smart sci-fi, engrossing world-building and a lot of Rai with 'Fallen World'
By Byron Brewer
A cyborg samurai named Rai struggles to find his morality in the year 4002. Can he become the inspirational figure that humanity desperately needs, or will he resort to solving his problems with a sword? A nanite-filled super-soldier named Bloodshot is also on a mission to save the citizens of Earth.
Will the brutal Bloodshot and the peaceful Rai work together for the greater good? All signs point to no. Oh, and did we mention there are also dinosaurs on the loose and powerful animal-human hybrid mutants?
Writer Dan Abnett (Aquaman) and artist Adam Pollina's (X-Force) bring readers an important new Valiant series, Fallen World. DF needed to get the full 411, so we sat down with one of our favorite scribes, Dan Abnett.
Dynamic Forces: Dan, Fallen World sounds like a very important book for the Valiant Universe going forward! Tell us what you can about that.
Dan Abnett: The Fallen World series is important – it's the next big chapter in the story of the Valiant Universe's future. Following the last big event, we find out what happened after the defeat of Father and the fall of New Japan, and follow the fates of Rai, the Eternal Warrior, the Geomancer, and more. The future starts here!
DF: Talk about the world you and artist Adam Pollina are building in this book. It at least begins in the year 4002, correct?
Dan Abnett: Correct. We're exploring the aftermath of the fall of New Japan, the utopian orbital city that was being tyrannically controlled by the AI, Father. It's a story of survival or rebuilding a working civilization, and confronting the new threats of a strange new world – Earth is not the place we know today! We've worked hard to develop a really compelling environment with strong characters and amazing locations… It's a future world like no other, and Adam is incredible.
DF: Tell us about Rai, how you see him as a character, and his mission in this brave new VU.
Dan Abnett: For Rai, it's really a story about what happens to a hero when his work is finished. Are there new challenges? Is it time to "retire"? Does the work of a hero ever really end? Rai is faced with the downside of his heroism – he brought New Japan (and Father) down, which was the right thing to do…but not everybody sees it as a good thing, especially the survivors of New Japan, who were living pampered lives, not realizing how they were being ruled and controlled. They are pretty shaken by the tough new life they are supposed to lead. And Rai has a chance to discover his human side at long last, to BE human and renounce the violent ways of the Rai, at last…if the threats of this world will let him!
DF: What role does Bloodshot play in this scenario? Other VU heroes?
Dan Abnett: Bloodshot is a really interesting "guest" in this story. I don't want to give too much away, but his arc and what happens to him is a real twist and readers will be shocked.
DF: What can you tell readers, in a non-spoilery manner, about the initial storyline of Fallen World?
Dan Abnett: Primarily, it's about survival in a hostile new world, and Rai coming to terms with his human side….which means accepting human emotions…which, in turn, means living with the guilt of saving people yet putting them in a difficult situation. The series is going to be very strong on character, and will present a unique take of a "future Earth." The technological legacy (curse?) of New Japan is hard to shake off.
DF: Is this series a good jumping-on point for fans new to Valiant? If so, why?
Dan Abnett: Absolutely. It's the start of a new chapter in the overall story, and we've made sure everyone is properly introduced and the "backstory" is established clearly. It's a great place to meet a character at a pivotal moment in his life.
DF: Talk about the art of Adam Pollina.
Dan Abnett: What can I say? He's a legend, he's back at the top of his game, and he's producing incredible work!
DF: And what about that bad-ass main cover by Jonboy Meyers?! Thoughts?
Dan Abnett: Mind-blowing. What an image!
DF: Dan, what other projects are you working on that you can tell readers about?
Dan Abnett: I'm working on Titans, The Silencer and Justice League: Odyssey for DC, lots of stories for 2000 AD, and more novels for Warhammer 40K and The Horus Heresy. Plus, Fallen World is leading to other things! (smiles) Busy time, and I'm having a lot of fun with it all!
Dynamic Forces would like to thank Dan Abnett for taking time out of his busy schedule to answer our questions. Fallen World #1 from Valiant Entertainment hits stores May 1st!
For more news and up-to-date announcements, join us here at Dynamic Forces, www.dynamicforces.com/htmlfiles/, "LIKE" us on Facebook, www.facebook.com/dynamicforcesinc, and follow us on Twitter, www.twitter.com/dynamicforces.
BATTLESTAR GALACTICA CLASSIC OMNIBUS VOL. 2
AQUAMAN REBIRTH #1 CGC GRADED!
BATTLESTAR GALACTICA: THE DEATH OF APOLLO #1 RARE MIKE MAYHEW "VIRGIN ART" EDITION FEATURING SILVER ELITE EDITION SIGNATURE BY MIKE MAYHEW
GUARDIANS OF GALAXY #14 100TH ISSUE ANIVERSARY CELEBRATION CGC GRADED 9.8!
WAR OF KINGS #1 (OF 6) - SIGNED BY COVER ARTIST BRANDON PETERSON!
BATTLESTAR GALACTICA: THE DEATH OF APOLLO TRADE PAPERBACK
BATTLESTAR GALACTICA VOL. 2: THE ADAMA GAMBIT TRADE PAPERBACK
BATTLESTAR GALACTICA VOL 1: MEMORIAL TPB
---
NEW! 1. 11/25/2020 - STEVE SKROCE
4. 11/16/2020 - RYAN O'SULLIVAN
5. 11/16/2020 - RYAN O'SULLIVAN