SERGE LEHMAN

SEND THIS TO A FRIEND!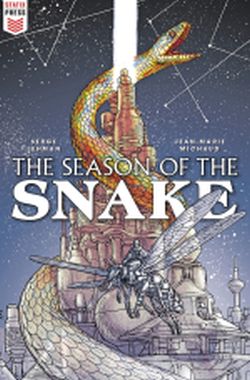 DF Interview: Serge Lehman brings readers 'pure science fiction' in Season of the Snake
By Byron Brewer
In the Intersection, order is key. Having connected solar systems to one another through a series of space tunnels, humans have managed to conquer the universe. But long before humans dominated, there were native species, and after thousands of years something is waking up ...
From award-winning science fiction writer Serge Lehman and artist Marie Michaud comes Season of the Snake. To discuss the book from Titan Comics, it was DF's honor to sit down for a bit of a chat with Serge Lehman, well known as creator of The Chimera Brigade.
Dynamic Forces: Serge, tell readers a little about this new mini-series and the world you and artist Jean-Marie Michaud are creating.
Serge Lehman: It's pure science fiction. The action unfolds in one place only: Intersection 55. But this place is a cosmic hub where travelers from various parts of the universe have to stop for about 30 hours before they can resume their journey (because of quantum physics laws). And what they think and feel affects the place, too… So I guess you could call Season an "inner space opera".
DF: What can you tell us about your protagonists in Season of the Snake?
Serge Lehman: They're of two kinds. First come the Mohais who once built the Intersections but forgot all about it after they've been almost exterminated in a cosmic war. In the story, we focus on two of them: Derec Finn, who's having his first day as a "functionnary" in Intersection 55, and his new friend Rhea Davenham. On the other hand, we follow some interesting space travelers stuck into the hub: Diane Bendix, the Star Sentinel (who's pregnant); the Canopians (sentient trees searching for a planet to terraform); a giant human ant called Mediator Jarmil, who just discovered his self-awareness. And there are also two mysterious, godlike entities, playing some kind of philosophical game behind the scene: the Pict and the Snake.
DF: Connecting solar systems together through a series of cosmic tunnels is quite the interesting concept, very different than hyperdrive and worm holes. Was there an inspiration in literature or elsewhere for this? Can you expand on the concept a bit here?
Serge Lehman: I borrowed the concept from Lloyd Biggle Jr.'s Jan Darzek serie, which I read when I was a teenager and struck me as pure fun. I expanded it in my own novels and short stories during the nineties. In Season of the Snake, the galactic network has been shattered, forgotten and re-discovered, like a lost world full of monsters and mysteries.
DF: Serge, tell us a little about how you got into the career of writing. Has science fiction always been your favored genre?
Serge Lehman: Oh yes. I fell in love with science fiction when I was ten. I already knew Jules Verne and H. G. Wells, of course, but nobody told me there was a whole genre devoted to those kind of stories. I discovered it in a public library. The woman in charge opened for me a cabinet packed with the first 500 volumes of Fleuve Noir Anticipation, the great French imprint of popular science fiction, created in 1951. All the books had a little rocket on the back, rising to the stars… I saw the titles, the rockets, the flames, and I immediately knew what I was going to do with my life. And I did.
DF: What did writing The Chimera Brigade mean to you and your career? It was certainly a benchmark.
Serge Lehman: Indeed it was. And it'll probably continue to be since we should see a Chimera movie in the years to come. In that story, with the precious help of my friends Fabrice Colin and Gess, I tackled for the first time the topic of continental fantasy and science fiction: what happened to them? Why did they (apparently) vanish and disappear after WW2? Where are our superheroes? Do we still need them today or are they nothing more than dead relics from a colonial and fascist past we don't want to remember anymore? Those questions resonated in France and initiated discussions and research, even in the academic world. So, yes, in every way, it was a landmark for me.
DF: Talk a little bit about the art of Jean-Marie Michaud, tell us about the collaboration.
Serge Lehman: Jean-Marie is a quiet, adorable man with extraordinary skills, especially in architecture. And he was kind enough to let me improvise the first half of the story. I had no master plan, so I wrote a chapter, let him draw it, and then re-start from what he did. I was blessed to work with such an open mind.
DF: Serge, what new projects might you have upcoming you can tell readers about?
Serge Lehman: I just published a huge black-and-white graphic novel, L'homme gribouillé, with Swiss artist Frederik Peeters. And Gess and I are currently working to expand the Chimera world in today's world. Our dead superheroes: What if they suddenly came back in 2018 Paris? Everybody wants to know. So we are going to find out.
Dynamic Forces would like to thank Serge Lehman for taking time out of his busy schedule to answer our questions. Season of the Snake #1 from Titan Comics hits stores April 11th!
For more news and up-to-date announcements, join us here at Dynamic Forces, www.dynamicforces.com/htmlfiles/, "LIKE" us on Facebook, www.facebook.com/dynamicforcesinc, and follow us on Twitter, www.twitter.com/dynamicforces.
---
NEW! 1. 11/25/2020 - STEVE SKROCE
4. 11/16/2020 - RYAN O'SULLIVAN
5. 11/16/2020 - RYAN O'SULLIVAN