JEFF LEMIRE

SEND THIS TO A FRIEND!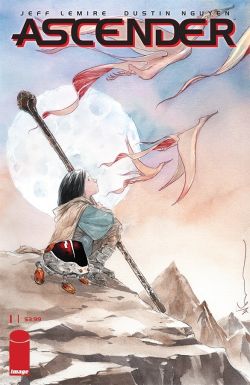 DF Interview: Jeff Lemire continues 'Descender' journey with sequel 'Ascender'
By Byron Brewer
Set ten years after the conclusion of Descender's storyline, magic has taken the place of machinery and the rules are very different indeed... Mila, the daughter of Andy and Effie from Descender, spends her days exploring the lonely wilds of the planet Sampson and trying to stay out of the clutches of the evil disciples of the all-powerful vampire witch known only as Mother. But, like her parents, Mila doesn't like to play by the rules, and when a certain robot pal of her dad's shows up, nothing will ever be the same!
Powerhouse creative team Jeff Lemire and Dustin Nguyen launch an all-new sequel series to Descender with Ascender, from Image Comics. Curious about the continuation of a favorite journey, DF sat down and chatted up the coming sequel with Jeff Lemire.
Dynamic Forces: Jeff, if I am not mistaken, your critically-acclaimed Descender series was meant to be a standalone space opera, correct? How did the decision come for you and artist Dustin Nguyen to do a sequel, which will be Ascender?
Jeff Lemire: It developed something around issue 24 or 25 of Descender. At that time, I had an ending in mind for Descender, but the closer I actually got to that ending, the less satisfied I felt with it. Around that time we also did a fun one-off issue where Driller lands on a swamp planet and in that story I sort of off-handily introduced vampires and magic into the story. It was just going to be a fun change of pace issue, but it ended up sparking this larger story and showed me a new path of exploring this universe that Dustin and I had put so much into.
DF: For those who have lived under a rock for the last few years, can you summarize (I know, I know…) Descender's run for us please?
Jeff Lemire: Descender is an epic story of a little robot boy, his robot dog, and a galaxy of killers, and bounty hunters that want him, and all robots, destroyed.
DF: Will Ascender be welcoming to new readers or will those who did not follow Descender be lost?
Jeff Lemire: You will absolutely be able to pick up and enjoy Ascender #1 if you have not read Descender. Of course, for those who have read Descender, the story will be much more layered and richer.
DF: Ascender is set 10 years after readers have last seen this universe. How have things changed?
Jeff Lemire: I can't reveal many specifics, as one of the main thrusts of the book will be the mystery of that ten year gap and slowly filling in the puzzle pieces. But, generally speaking, all technology has been banned and strictly prohibited since The Harvesters attacked at the end of the Descender series, and took all the robots away with them to parts unknown. That left a huge vacuum in the galaxy and in that time magic has reclaimed the universe.
The world we enter in Ascender #1 is familiar, yet completely different at the same time.
DF: Tell us about your protagonists.
Jeff Lemire: The main protagonist in this story is a ten-year old girl named Mila, who is the daughter of Andy and Effie, characters familiar to Descender fans. She lives in the mountains with her Dad until Tim'21's robot dog, Bandit, decides to seek her out and set her on an epic adventure across this scary new galaxy.
DF: Talk about reteaming with Dustin for this new, wonderful project.
Jeff Lemire: Dustin and I both felt there was a lot of opportunity to explore new things here. I think we both felt like we did everything we set out to do with Descender (except for providing closure for many of the characters). This felt more like a chance to explore things we couldn't explore in Descender just because the world has changed so much now. I'm sure Dustin feels the same way, in terms of his visual approach. This book has a much more organic/natural feel to it than the tech and robots of Descender.
DF: Jeff, what else is cookin' in the Lemire oven that you can share with readers?
Jeff Lemire: Along with Ascender, Gideon Fall and the various Black Hammer books will continue and I have a new graphic novel out this Fall, which I wrote and drew called Frogcatchers.
Dynamic Forces would like to thank Jeff Lemire for taking time out of his busy schedule to answer our questions. Ascender #1 from Image Comics hits stores April 24th!
For more news and up-to-date announcements, join us here at Dynamic Forces, www.dynamicforces.com/htmlfiles/, "LIKE" us on Facebook, www.facebook.com/dynamicforcesinc, and follow us on Twitter, www.twitter.com/dynamicforces.
---
NEW! 1. 11/25/2020 - STEVE SKROCE
4. 11/16/2020 - RYAN O'SULLIVAN
5. 11/16/2020 - RYAN O'SULLIVAN