ANDREW MACLEAN

SEND THIS TO A FRIEND!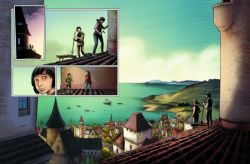 DF Interview: More adventure and derring-do from Andrew MacLean in Head Lopper
By Byron Brewer
An exciting new adventure awaits as the quarterly series from Image Comics, Head Lopper, returns with issue #5 and a brand new arc from writer/artist Andrew MacLean. With old friends and new, our heroes Norgal and Agatha boldly enter the bloodied pinnacle of the ominous Crimson Tower with bare steel and steady hearts.
To get you all the 411, DF sat down with the creative team: the aforementioned Andrew MacLean. Here is what he said.
Dynamic Forces: Andrew, before we discuss the exciting new arc that starts in Head Lopper #5, what can you tell us about the concept behind this universe you are creating?
Andrew MacLean: Head Lopper is a fantasy world in the vein of Conan or Fafhrd and The Grey Mouser – but with maybe a touch of a Monty Python tongue-in-cheek.
DF: For the uninitiated, who are Norgal and Agatha? What can you tell us about these protagonists?
Andrew MacLean: Norgal is a bearded broadsword swinging, head-lopping, nomadic warrior who carries the head of a Blue Witch named Agatha. Agatha has some ability in magic but mostly she is unskilled or unwilling to aid Norgal. They hate each other and bicker endlessly.
DF: Tell us about Ulrich the Twice Damned.
Andrew MacLean: Ulrich The Twice Damned is the Master of The Crimson Tower which he himself once won by force. He also fancies himself a collector of powerful objects and people and a bit of an artist. His body is composed of bits and pieces he's collected over time. Some of it is metal, some flesh. It's a hodge-podge but each piece holds some kind of significance to Ulrich.
DF: What can you tell us about the dread Crimson Tower?
Andrew MacLean: The Crimson Tower is a building that seems to hold its own sort of power, which is why it would have been so intriguing to Ulrich at one point. Everything within the tower (and outside to a lesser degree) is within the power of its "master." Throughout the series we will see how the tower is an extension of the Master, and so Ulrich, himself.
DF: What other new characters might we be looking for in #5? If there are any, can you introduce them to us please?
Andrew MacLean: Back in issue #3 we met Zhaania Kota Ka, who we again saw in the epilogue of Head Lopper Vol. 1 when she saved 5 girls from the clutches of the Monks of Barra. Zhaania and one of those girls, Xho, return in Head Lopper #5. We also meet a race of creatures (remember the Map Maker?) called The Fonga. This race lives near the base of the Tower but we mostly follow three brothers named Harpo, Twerpal and Bik. And last but not least, Ulrich the Twice Damned has a spike-clad sinister assistant named Berserkr.
DF: I am sure many fans enjoyed the previous arc, "The Island or A Plague of Beasts." Does the coming four-parter, "In the Shadow of the Tower," have continuity from that first adventure? Shared threads that reward loyal fans of the previous arc? Why is this a good jump-on point for new readers?
Andrew MacLean: This story is linked to the last chronologically and we didn't miss a whole lot from the last panel of the Vol. 1 epilogue to the first panel of #5. And back in #3 Zhaania mentioned she was on her own adventure – here Norgal and Agatha join her in that quest. Norgal feels in debt to her since she saved him back in #3.
That said, apart from a few of those connecting threads, this new story stands alone pretty comfortably.
I try to make it reminiscent of the old pulp fantasies where each story stands alone while never disregarding its past.
DF: You letter your own comics! Does this give you any advantages as far as scripting goes?
Andrew MacLean: It does. It gives me one last chance to edit my writing. I get to really fine-tune things from dialogue to which panels bubbles appear in. And as the artist, it assures I'm not covering any art I felt was essential.
DF: Wow, you do both story and art.! Do you more enjoy being a one-man-band for a book such as Head Lopper or working as a collaborator? Why?
Andrew MacLean: I prefer drawing from my own scripts. Mostly because I feel like I do a better job. When I draw from another person's script, I find myself figuring out that universe panel by panel and it feels thin and incomplete to me. But when I draw my own script, I can visualize everything, even the things that we won't see in a panel. I just feel working this way I'm able to create a more convincing and hopefully richer reading experience.
DF: Andrew, do you have any other projects current or near-future you'd like to share with us?
Andrew MacLean: As far as comics go, Head Lopper has really taken up the majority of my time lately, but I've been doing a lot of covers and that's been fun and rewarding so you can keep an eye out for those.
But outside comics, I've started a company with my wife called Laser Wolf Attack – where we sell t-shirts, sweat shirts, pins, patches, accessories. I've designed everything thus far and we'd like to branch out and do some other products too but we're only just about to get this thing up and going so I'm not about to stretch myself too thin.
Dynamic Forces would like to thank Andrew MacLean for taking time out of his busy schedule to answer our questions. Head Lopper #5 from Image Comics hits stores March 15th!
For more news and up-to-date announcements, join us here at Dynamic Forces, www.dynamicforces.com/htmlfiles/, "LIKE" us on Facebook, www.facebook.com/dynamicforcesinc, and follow us on Twitter, www.twitter.com/dynamicforces
BAD KARMA VOL. 1 HARDCOVER Art by Andrew MacLean and more!
---
NEW! 1. 01/21/2021 - RORY MCCONVILLE
5. 01/07/2021 - DARICK ROBERTSON