ZACK KAPLAN

SEND THIS TO A FRIEND!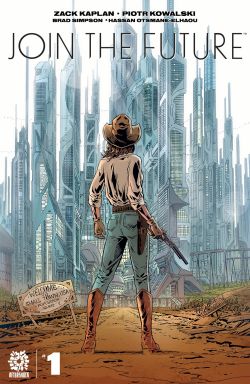 DF Interview: Zack Kaplan invites us to gallop into a dark tomorrow in his new sci-fi Western, 'Join the Future'
By Byron Brewer
The Future. Ultra-modern megacities reward millions of their citizens with a completely funded life, with every need met, from food to housing and healthcare, in order to com-pete in an economic power struggle in which population is key.
But a few rural residents still cling to their independence in what last American small towns are left. When a nearby megacity pressures the people of a small town to join up or else, a young teenage girl named Clem will learn how far she'll go to defend her prin-ciples.
From AfterShock Comics and written by Zack Kaplan (Lost City Explorers) with art from Piotr Kowalski (Port of Earth, Eclipse, Sex, Marvel Knights: Hulk, The Dark Tower), Join the Future is a sci-fi Western that examines a future where everyone must ask what your values are truly worth.
DF wanted to get the full 411 for you, so we chatted up this new series with scribe Zack Kaplan.
Dynamic Forces: Zack, tell us about the genesis of Join the Future. Is this something that has been on the Kaplan back burner for awhile?
Zack Kaplan: The idea of a futuristic sci-fi Western has been something I played with for a long time, and it always grew out of the very real and ongoing trend over time of people moving from rural America towards cities. I couldn't help but wonder with vertical farming and increased advancement, how would this country vs. city play out in the future, and I couldn't help but think – it might not go well for Small Town USA. And what would be lost? I grew up in a small town in Iowa for part of my childhood, and politics aside, just the general comparison, small towns offer a lot of benefits. It's a complex choice between the mass of society vs. a select few, the advancement of technology and the simplicity of self-sufficiency, and I thought these ideas really would make a great world for a story.
DF: Can you describe for readers the world you and artist Piotr Kowalski are building here?
Zack Kaplan: Fifty years in the future, a handful, perhaps fifty to a hundred megacities, exist in America, and they are battling in an economic war where population is power. They can offer citizens free healthcare, universal income, a good home and education, entertainment, everything you could want, all you have to do is come and be a part of that megacity. And for those few holdouts who don't want to live that lifestyle, they are trying to survive in small towns in rural America, which becomes increasingly harder and harder with limited food and tougher conditions. It's all exacerbated by the constant pressure the megacity's agents put on the small-town citizens to give up their hard life and come join the future. It's a tense situation between two very strong-willed groups.
DF: What is the general storyline of the series?
Zack Kaplan: I don't want to spoil too much, but the story follows Clementine Libbey, the daughter of the mayor of Franklin, a small town of less than 300. Agents have come to urge the town to sell, but her father refuses, holding onto the hope that the community can continue to survive in their way of life, and believing that any compromise or shift will force them to eventually abandon their town. But the pressure is great, the town is struggling and on Thanksgiving night, the conflict to sell is too great, facing both pressure from within the town, and pressure from outside.
DF: Introduce us to Clem.
Zack Kaplan: Clementine Libbey is almost out of her teens, and she's trying to learn to hunt and take care of herself, trying to find her place in the world. She's been raised in a community that refuses to use technology and draws strict lines in the sand, and she understands that world view, but she has yet to make it her own, and she can't help but wonder what else the future and the megacities hold. She's strong-willed and tenacious, but tender and kind. I like to think of her as a Katniss Everdeen or a Mattie Ross from True Grit, and I think readers will instantly fall in love with her.
DF: Any other characters we might need to know about going into the book? If so, can you introduce some of them here?
Zack Kaplan: There's Clementine's very principled and wise father. Also, Clementine has a more rebellious and curious brother, Owen, who seems more intrigued by the megacities and future technology. There's the megacity's "Agent" who delivers the city's seductive sales pitch to the people of Franklin. But perhaps the best character only glimpsed in the first issue is a mysterious Trader who lives in the hills, deals in lots of futuristic technology and ends up playing a real pivotal role in the story. But it's a Western, so I don't want to ruin the surprises about who rides into town.
DF: What is the key that population itself holds for megacities to reward fully funded lives? Are the American small towns isolated from each other, or united in some manner?
Zack Kaplan: It's something I've noticed rather regularly in the world, related to trade negotiations. The bigger China and India got in population, not just people but people who buy, their middle class, the more powerful they got. And in turn, countries that have shrinking populations have often suffered to produce goods and have sustained GDPs. So in the future, our American megacities are competing in trade deals and economy battles against each other. And while it might seem costly for the city to afford its citizens certain benefits, that increase in population in turn allows it to better compete nationally and globally against other megacities. And yes, the small towns are completely isolated from each other, and they are competing against each other for resources, so they are not in the best of position.
DF: Talk about the eye-popping art of Piotr.
Zack Kaplan: We can't really talk about Piotr alone. Piotr Kowalski, the penciler/inker, and Brad Simpson, the colorist, are an unbelievable art team and the work they do in Join the Future is some of their best yet. The futuristic cities are spectacular and alluring, and the rural countryside is dynamic and inviting, and the dichotomy is impressive. The characters are heartfelt. The action is killer. It's just amazing artwork. Amazing story-telling. And Hassan Otsmane-Elhaou transforms letters into artwork and perfectly synergizes it with the story. I am so lucky and proud to be working with this team.
DF: Zack, what other projects can you tell readers about?
Zack Kaplan: Hey, guys, there's an amazing dish in front of you with Join the Future, so enjoy it, and I'll get back into the kitchen and get to work on the next course.
Dynamic Forces would like to thank Zack Kaplan for taking time out of his busy schedule to answer our questions. Join the Future #1 from AfterShock Comics is in stores now!
---
NEW! 1. 12/04/2020 - JOSH BLAYLOCK
3. 11/30/2020 - SKYLAR PATRIDGE