HIROMI GOTO

SEND THIS TO A FRIEND!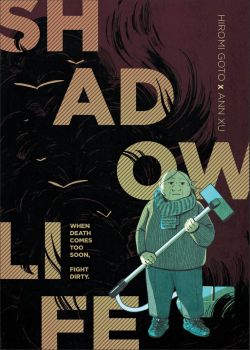 DF Interview: Hiromi Goto shows how a tough older woman can battle death in the 'Shadow Life' OGN
By Byron Brewer
Heroes come in all shapes and sizes. Kumiko is a seventy-six-year-old bisexual widow and up for anything—even a smackdown with Death. When Kumiko's well-meaning adult daughters place her in an assisted living home, she gives it a try, but it just doesn't feel right. She goes on the lam, setting up a cozy bachelor apartment, keeping the location secret even while communicating online with her eldest. Kumiko revels in the small, daily pleasures: decorating as she pleases, eating what she wants, and swimming in the community pool. But something has followed her from her former residence…
Kumiko's sweet life is shattered when Death's shadow swoops in to take her. With her quick mind and sense of humor, Kumiko, with the help of friends new and old, is prepared for the fight of her life. But how long can an old woman thwart fate?
From First Second Books comes Shadow Life, a graphic novel that effortlessly blends wry, slice-of-life literary fiction with magical Miyazaki-esque elements by Japanese Canadian author Hiromi Goto (Chorus of Mushrooms, The Kappa Child, Half World), with art from celebrated Ignatz-nominated cartoonist and illustrator Ann Xu (Measuring Up).
DF tracked down Hiromi Goto to learn more about this coming graphic novel.
Dynamic Forces: Hiromi, tell readers about your passion for writing tales such as Shadow Life – seemingly slice of life storytelling but containing moral and magical elements that are hard to explain but are intertwined throughout the work.
Hiromi Goto: I have loved folk tales, mukashibanashi, legends, myths ever since I first started reading. In these old stories the every day and the magical, as well as the moral, twine together in a beautiful braid. I see many of my stories echoing these traditions but within a contemporary context. In a long long ago a peach floats down a river and a baby is found inside it, a girl weeps jewels instead of tears, foxes turn into beautiful poets, and seals into women…. The merging of the mundane with the magical lights me up. Transports me.
DF: How did this particular story come about? What was your inspiration for Shadow Life?
Hiromi Goto: My obaachan, my grandmother, was and is an important force in my life. She was one of the adults who raised me and my sisters. Because I only knew her as my grandmother, I always thought of her as elderly. But when she first came to join our family in Canada, she was only sixty-one years old. Not elderly at all…. Because of my great love and admiration for her, older women have often played important roles in my stories. In Shadow Life I very much wanted to write a narrative that centres an older woman's life as interesting, unique, fantastic. Popular culture often does not treat elder characters respectfully. It is my hope that this graphic novel disrupts some of the embedded ageism that seems to settle too easily in our imagination. Health and good luck aligning I will one day grow to become an old woman. This is a journey I want to celebrate.
DF: Introduce us to Kumiko.
Hiromi Goto: Kumiko is a seventy-six-year-old bisexual Japanese Canadian woman living in Vancouver, British Columbia. Just a bit up north from Seattle, Washington. For the record, let it be said that Kumiko is not based on my own mother in any way (laughs). If Kumiko is like anyone, then maybe she is me in an alternate timeline...
When her adult daughters set her up in an assisted living unit, Kumiko is grateful. But she's never felt comfortable there, so she goes on the lam. Adventure ensues because Death's Shadow is after her. Kumiko loves life, has a rich imagination and sense of humor that sees her through challenges and missteps. She has opinions and a strong personality—maybe not as forthright as Fran Lebowitz…but if they were to bump into each other in an imaginary city they might amuse each other, argue, then maybe go on a date.
DF: What other characters are important to your story that readers may need to know. Can you introduce a few here for us?
Hiromi Goto: I wanted to create this sense of a racially diverse inclusive queer neighborhood—it's loosely modelled on an area of Vancouver I used to live in called East Van. When Kumiko sets up her bachelor suite, the building caretakers are a gay couple, Yusef and Mark. The need for a vacuum cleaner has Kumiko meeting Meena, a queer nonbinary person in a neighborhood shop. And there's also someone from Kumiko's past… They all become a part of Kumiko's circle of friends and acquaintances that enrich her life and create community.
DF: Talk about the relationship between Kumiko and her adult daughters. Does the reader ever get to perceive the relationship from the daughters' perspective?
Hiromi Goto: Shadow Life is Kumiko's story so her daughters' takes aren't expanded upon the page. Kumiko has a special relationship with her eldest daughter, Mitsuko, which plays out in slightly combative ways. However, this story is all about Kumiko, and the focus remains with her throughout.
DF: Death is a very important character in your graphic novel. Give us your take on the aspect of Death in Shadow Life. How did this particular idea come about?
Hiromi Goto: Death rituals reflect a culture's ideas about and relationship to death. Is it feared? Hidden? Euphemized? Death is in our future, but many of us split ourselves from thinking about it. I'm mostly agnostic. But symbolism, ritual—these are very human things and I believe they can be/are an important part of a culture's health. Personifying an aspect of death in Shadow Life is a way to familiarize or de-mystify something that feels frightening. Death will come for us all. Death need not be the monster that we all fear. Maybe it will be a cat that leads us home.
In this story, Death's shadow who comes to steal Kumiko away before her time is a being who has lost their perspective and grown disgruntled with their role in the greater design of the patterns of life and death. I think about how most of the living have a powerful drive to stay alive. It must exist on a cellular level. Kumiko's fight for life is very human. But our mortality is also very human. I wanted to speak about death and dying but to do it in such a way so that readers might leave the story feeling a little more hopeful about it.
DF: Talk about the art of Ann Xu. How is her artwork such a good creative counterpart to your story?
Hiromi Goto: Oh my gosh! It's been a dream to work with Ann on this book! She has this way of capturing emotions, fleeting thoughts, personality, so vividly in such beautiful ways. I loved her handling of the city and night. The ways she captures movement and flow. When I wrote the story I had a visual impression of what it looked like, but Ann's rendering brought the entire world alive in a fresh way. I got to experience my story as newly born. It was amazing! It was also so important to me that I work with an artist of Asian background. There are proportional differences of body types, particular to specific regions and generations, for instance. Graphic novels are literally representations. Growing up in North America in the early 70s I've been accosted with some despicable renderings of cartoon or caricatures of "Oriental" people. Working with Ann I knew that I could trust her to do this important work of depicting older Asian North American women with accuracy and respect. Love.
DF: Hiromi, what would you like readers to take away from this story?
Hiromi Goto: I don't want to tell people how to read this story—the reading of a narrative is a creative act and I wouldn't want to be directive. That said, I really hope that people will laugh and enjoy—feel good reading about Kumiko and her fantastic adventures. There is so much that is fraught and troubling in this, the second year of COVID-19. Everyone needs space to forget one's troubles and be transported, even if it's only for a few hours. I hope Shadow Life offers this to you.
Dynamic Forces would like to thank Hiromi Goto for taking time out of her busy schedule to answer our questions. The Shadow Life OGN from First Second Books is slated for release on March 30th!
For more news and up-to-date announcements, join us here at Dynamic Forces, www.dynamicforces.com/htmlfiles/, "LIKE" us on Facebook, www.facebook.com/dynamicforcesinc, and follow us on Twitter, www.twitter.com/dynamicforces.
---
NEW! 1. 12/05/2023 - JASON LOO
5. 11/08/2023 - OLIVIA CUARTERO-BRIGGS