STEPH MIDED

SEND THIS TO A FRIEND!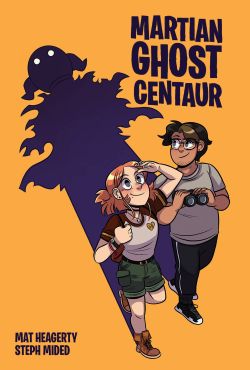 DF Interview: Steph Mided uses big reactions, subtle angle variations to bring life to the 'Martian Ghost Centaur' OGN
By Byron Brewer
The town of Southborough used to be a major tourism destination, drawing folks from all over the country in the hopes they'd spot the famous Sasquatch, reportedly seen in the town many times over the years.
But it's been ages since anyone's spotted the 'squatch, and tourism is starting to dry up. A tech company called Start-up.com (a start-up that helps people start their own start-ups) decides to begin buying up places all over town in order to build their techie headquarters, driving out all the local townspeople.
Luckily, Southborough is also home to Louie O'Connor, firm believer in the Sasquatch's existence and all-around mega 'squatch fan. When Louie's dad's restaurant, Squatch Burger, starts to go under and fall prey to the techie start-up, Louie and her best friend Felix decide they'll do whatever it takes to save the town from losing all the people and places that make it special.
From Oni Press comes a tale like no other, written by Mat Heagerty and illustrated by Steph Mided. Full of humor, heart and hilarious hijinks, Martian Ghost Centaur offers a touching story about protecting the things you love and following your passion. DF sat down with artist Steph Mided to discuss her vision of Southborough and its denizens.
Dynamic Forces: Steph, before we go to Martian Ghost Centaur – all of 'em, LOL – let's talk a little about Stephanie Mided. Tell us about the development of your interest in art, and in comic book art.
Steph Mided: I luckily grew up in a household where art and artistic expression were very much encouraged. I was always the quiet kid doodling during class and my parents recognized that pretty early on and were really instrumental in getting me to art classes so I could explore with drawing more. My main introduction to the comic realm was through manga, specifically Sailor Moon and Shonen Jump. Any bit of money that ever came my way was devoted to buying manga. I absolutely loved comics and have always been making my own for fun, but I decided to devote my life to making them when I started tabling at comic conventions. It felt like there was a growing scene to support it and it was really exciting to jump into the mix.
DF: Thus far as an artist, what has been the big moment that has brought you to your current career point? Was it your web comic Jet Black, or something else?
Steph Mided: I always refer to Jet Black as the best business card I had ever made. Jet Black, like many web comics, didn't have a super long or complete run, but it was the first time I had made a comic using more formal, planned out methods like writing scripts beforehand and thumbnailing out pages. It essentially showed the world that I could make a really fleshed out, professional looking comic and not just draw one-off illustrations. Luckily all that hard work had a great payoff because it did relatively well on Tapas and got my work seen by a ton of people including publishers! I'm pretty sure I wouldn't have been noticed by my editor and writer at Oni if I hadn't released Jet Black. (So aspiring comic artists: whatever level you're at, release that passion project! You never know where it'll lead you!)
DF: What artists – comics or non, today or yesterday – do you look upon as your muses, your influences? Who is your Mount Rushmore of comic book art?
Steph Mided: For me Rumiko Takahashi and Naoko Takeuchi will always be my biggest inspirations. Honestly, a lot of the shoujo artists I grew up with (Arina Tanemura also comes to mind!). I grew up primarily reading shonen comics at the start because they were much more widely available, but I think seeing women artists write and illustrate stories that were both romantic and action packed was super cool to me growing up. I'm also a big fan of Bryan Lee O' Malley, which I feel is pretty obvious looking at some of my art. I actually love a lot of artists outside of the comic realm too because I was a big art history buff in my late teens, but I guess it's more admiring from afar rather than their style influencing me. Francisco Goya, though? Big big fan.
DF: Did you get to design the characters for Martian Ghost Centaur? Is that something you enjoy?
Steph Mided: I did! And I very much do! I was super lucky that my writer Mat and my editor Grace gave me almost complete control of their visual designs. I would sketch a few versions of each of the characters, run it by them, and go with whatever we all mutually agreed on. Actually, the easiest of them all to design was the Martian Ghost Centaur itself! I think he had maybe two tiny adjustments from his original design but we all liked it so much from the get-go it didn't take long to finalize him! Louie and Para Norma probably went through the most changes, but were also some of my favorites to draw throughout.
DF: Was there a character or set piece that proved really difficult on the graphic novel? Or conversely, was there a character/situation you really enjoyed rendering?
Steph Mided: The biggest technical learning curve of the book for me was drawing trees and bikes honestly. A lot of the characters became second nature to draw, but getting used to having almost every panel filled with forests and the occasional crowd scene was definitely a challenge! My favorite character to draw though was probably Felix, followed by Para Norma. I guess I just have something for people with two-tone colored hair, haha!
DF: Talk about using your artist's toolbox to display mood, emotion, all the little nuances readers may not notice but are part and parcel of storytelling. The artist is the actor of the book.
Steph Mided: Louie was a really great lead character to draw because when she emotes, she emotes 10000%. I remember my editor telling me when I was designing her to always go big with her reactions so I really took that to heart and made sure that her poses were dynamic and exciting. A really great tool for posing is to just use your own body/face as reference! Or even a still from a movie or show you like! Also playing around with angles of the characters and panels really help add mood in subtle but effective ways!
DF: Tell us about your collaboration with writer Mat Heagerty on this OGN.
Steph Mided: Mat was honestly a dream to work with. Like, I wish every first time graphic novel creator has a writing partner as supportive and wonderful as Mat. He was always easy to reach if I had questions or concerns about certain story aspects, and he understood that the book was truly a collaboration and not just his story with a bunch of nameless, faceless people working on it. At the end of the day, I feel like we made something together that feels super true to both of us as artists and that's so amazing and special. Definitely a friend for life.
DF: Steph, are there any other projects, in or out of comics, in which you are involved that you can tell readers about?
Steph Mided: Actually, I just had my new middle grade graphic novel series from Harper Alley announced last week! It's called Club Kick Out and it'll be totally written and drawn by me! It's about a group of creative outcasts who get together and form a pro wrestling club after their middle school bans all non sports related activities! It's the very definition of a passion project for me and I can't wait for everyone to read it! (First one should launch around 2023!)
Dynamic Forces would like to thank Steph Mided for taking time out of her busy schedule to answer our questions. The Martian Ghost Centaur OGN from Oni Press is slated to be on sale March 17th!
For more news and up-to-date announcements, join us here at Dynamic Forces, www.dynamicforces.com/htmlfiles/, "LIKE" us on Facebook, www.facebook.com/dynamicforcesinc, and follow us on Twitter, www.twitter.com/dynamicforces.
---
NEW! 1. 04/20/2021 - JUSTIN JORDAN
2. 04/15/2021 - BRIAN HABERLIN