BRIAN SCHIRMER

SEND THIS TO A FRIEND!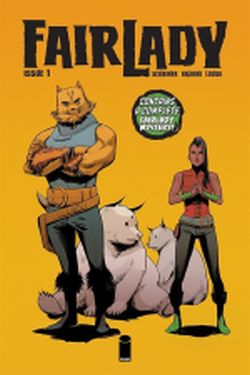 DF Interview: Brian Schirmer begins a new case-solving fantasy series with 'Fairlady'
By Byron Brewer
Every fantasy epic ends with a war. But what happens when the war is over?
After posing as a man to join the army, Jenner Faulds returns home to The Feld for a new start as a "Fairman," a specially-licensed private investigator. But sexism didn't end on the battlefield, and as the only "Fairlady," Jenner gets stuck with the cases nobody else wants. Hitting the streets to solve The Feld's overlooked mysteries, Jenner finds that the smallest cases hide the biggest secrets.
Writer Brian Schirmer, artist Claudia Balboni (Star Trek), and colorist Marissa Louise team up for Fairlady, an all-new ongoing series with the procedural case-solving of Magnum, P.I. and Fables, but set in a vibrant Rat Queens-like high fantasy world.
DF wanted to know more, so we covertly met with scribe Brian Schirmer in a shadowy dive outside the profit hub of an uncharted domain. Here is what he told us.
Dynamic Forces: Brian, whatever inspired your notion of a noir female gumshoe working in a high-fantasy setting, that which is Fairlady?
Brian Schirmer: At first it was just the realization that I'd never encountered a high fantasy story whose protagonist was a private investigator. I knew almost immediately that this was a story I needed to tell because I wanted to read it. There are certainly other comic book P.I.'s who are women – Jessica Jones, Dex Parios of Stumptown – but I'd never read a comic or seen a film or series that starred a female detective in a fantasy realm. That just sounded so cool. And thus, Jenner Faulds was born.
DF: Tell readers first about this fantastic world that you and artists Claudia Balboni and Marissa Louise are creating here.
Brian Schirmer: Most of Jenner's cases take place in and around The Feld, the wreckage of giant mecha from a long-forgotten age that's now home to 10,000 residents. As with so many fantasy tales, this is a world with its own epic war between good and evil. However, our stories take place a few years after the conflict has ended. Basically, if Peter Jackson had decided to make a fourth Lord of the Rings film and it was about those societies recovering, moving forward, taking stock of themselves in the wake of a massive war.
DF: Introduce us, as best (and non-spoilery) as you can, to your protagonist, Jenner Faulds. Who is she as a character, a woman, a detective, a reflection of her creator(s)?
Brian Schirmer: Jenner has a rich past, but she's certainly someone who doesn't like to talk about it. We'll reveal bits and pieces throughout the series, and that will be part of the reward for readers who are in it for the long haul. We do know that she fought in the War disguised as a man, and I hope that it's clear – based on her occasional evasiveness – that she experienced some traumatizing events. I don't want to give too much away, but I will definitively say that her past does NOT include any kind of sexual assault.
Sexism is very real in the world of Fairlady. As the only female private investigator, Jenner repeatedly endures ignorant citizens ("They have LADY Fairmen now?!"), spiteful constables, and aggressively bitter Fairmen. All of that said, she has staunch allies – friends Oanu and Dram, a constabulary supervisor, even Nejla, the majordomo priestess who oversees the tower where they live. There are plenty of strong, complex women in Fairlady, and we'll meet many of them in this first arc.
DF: Brian, I have only seen a few pages of the first issue, but I think you have the next Rocket Raccoon here. Who (what) is Oanu?
Brian Schirmer: (laughs) That is the first time anyone has compared anything I've done to the work of Bill Mantlo, and that genuinely means the world to me. Oanu is a Jessu, a race of cat-like creatures who inhabit this world. He met Jenner during the War, and their friendship continued thereafter. He's witty, packs a ridiculously over-sized sword, and is good in a fight – though, more often than not, Jenner can take care of herself. More than anything, he's Jenner's friend.
DF: Can you give readers an extended elevator pitch please for Fairlady?
Brian Schirmer: A female-driven detective story set in a fantasy world, Fairlady is a gender-swappedMagnum, P.I., set in a realm whose own War-of-the-Ring equivalent has come and gone. After posing as a man to join the army, Jenner Faulds returns home to The Feld for a new start as a "Fairman," a specially-licensed private investigator. But sexism didn't end on the battlefield, and as the only "Fairlady", Jenner gets stuck with the cases nobody else wants. Hitting the streets to solve The Feld's overlooked mysteries, Jenner finds that the smallest cases hide the biggest secrets.
Plus, every issue contains a complete, standalone story. So that means not only can you pick up any issue at any time and not be lost or confused, but also you're not waiting a month to resolve a cliffhanger.
DF: Wait! Each issue of Fairlady will be a self-contained, standalone tale? I'm loving that and scratching my head at the same time, especially for a new series. As they used to say in the old Mike Hammer stories … spillane! (laughs)
Brian Schirmer: Standalone issues are terrific. It frees you to tell a different type of story each month, not only introducing readers to new characters and situations, but also different conflicts, different tones, different themes.
Part of this choice came from the pitch. When I name-checked Magnum, P.I., (Image Comics Publisher) Eric Stephenson asked if each issue would be standalone. We talked a bit about the nature of episodic television in the age before everything was just one long arc, and quickly concluded that this would be the way to go for Fairlady. Warren Ellis has played with this format off-and-on for years -- Planetary, Fell, GlobalFrequency, Moon Knight, Secret Avengers. I re-read all of those while plotting Fairlady.
There's also a practical consideration. I wanted to cater to readers who wanted more bang for their buck. Your average comic is $3.99 these days, and that can get frustrating with some titles, where you might get as little as 20 pages of story that you can blow through in ten minutes. With Fairlady, we resolved to put out a book that not only has a complete 30-page story each issue, but also has a good chunk of backmatter and not just a bunch of ads.
DF: How does it feel to reunite with your ol' Black Jack Ketchum cohort, Claudia? Talk a little about her and Marissa's early work on this new series.
Brian Schirmer: Reuniting with Claudia has been great. We learned a lot about working with each other on Ketchum, to the degree where I can now look back at it as a warm-up for making Fairlady. We know each other better. I know how to write for her. That's part of the challenge of writing comics -- tailoring your scripts to the needs of each specific artist. Most importantly, I trust Claudia. I trust her choices. As such, the vast majority of the designs in Fairlady are pure Claudia. The look of this book wouldn't exist without her.
Likewise, Marissa's colors have truly brought this world to life. Most notably, she cast Jenner as a woman of color. That wasn't in the script. What was in the script was my advocacy for a diverse cast of characters. The last thing I wanted was for us to churn out yet another fantasy realm where everyone looked like they were born in Scandinavia. Marissa has taken that ball and run with it, and I couldn't be happier with her choices.
DF: Brian, what other projects current or near-future that you may be involved with can you tell readers about?
Brian Schirmer: Nothing I can talk about at the moment. Isn't that so often the case? (laughs) I'm working on a couple of projects that are very different from both Fairlady and Ketchum that will hopefully be announced sometime this summer. In the meantime, I'm just keen for Fairlady to connect with readers so that Claudia, Marissa and I can keep telling these stories for years to come.
Dynamic Forces would like to thank Brian Schirmerfor taking time out of his busy schedule to answer our questions. Fairlady #1 from Image Comics hits stores April 10th!
For more news and up-to-date announcements, join us here at Dynamic Forces, www.dynamicforces.com/htmlfiles/, "LIKE" us on Facebook, www.facebook.com/dynamicforcesinc, and follow us on Twitter, www.twitter.com/dynamicforces.
---
NEW! 1. 11/25/2020 - STEVE SKROCE
4. 11/16/2020 - RYAN O'SULLIVAN
5. 11/16/2020 - RYAN O'SULLIVAN