STEPHANIE PHILLIPS

SEND THIS TO A FRIEND!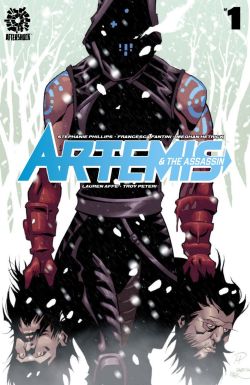 .
DF Interview: Stephanie Phillips sends an assassin back in time to target a WWII superspy in 'Artemis and the Assassin'
By Byron Brewer
What happens when a time-traveling assassin and a spy from 1944 try to kill each other?

For a price, a top-secret assassination organization will travel through time and interfere with watershed moments. Trained as the agency's top assassin, Maya is sent to kill Virginia Hall, the deadliest spy of WWII. Charged with carrying important plans about the invasion of Normandy to the Allied troops, Virginia's death would have a cataclysmic effect on WWII as we know it.

Written by Stephanie Phillips (Butcher of Paris, Descendent) with art by Meghan Hetrick and Francesca Fantini, colors by Lauren Affe, and letters by Troy Peteri, Artemis and the Assassin from AfterShock Comics is a pulpy adventure story about the cost of changing history. While there was still time (LOL), DF chatted about this pulp fiction with scribe Stephanie Phillips.
Dynamic Forces: Stephanie, I am always fascinated by your use of time as an element in some form or fashion in your stories. What is it that intrigues you about the fourth dimension?
Stephanie Phillips: I'm really interested in different time periods. I've always gravitated towards studying history, and I was given the opportunity to be very creative with that at a young age. Can I just thank my middle school history teacher who literally dressed as a Civil War soldier and took on an entirely new persona to teach us about the Civil War? Or that time he had us reenact the Salem witch trials? My dad is also a huge history buff and a book collector, so I've just always had constant access to books about topics spanning time and place. It's really exciting for me to carve out my own kind of niche with this material and (hopefully) do something unexpected with it.
DF: Everything about this story reminds me of the pulps. Are you a fan of adventurers like the Shadow, Doc Savage, et al, and how do you work to convey that type of "feel" into stories?
Stephanie Phillips: Absolutely! One of the original inspirations for the story was actually some of the old team-ups between Doc Savage and the Shadow. I love both characters and I love how fun pulps are. The cliffhangers, the action, the adventure… all items I really wanted to ramp up in this story. There's definitely a LOT of action in Artemis!
DF: So what can you tell readers about the overall storyline of Artemis and the Assassin.
Stephanie Phillips: Maya is a time-traveling assassin sent on a mission to kill Virginia Hall in order to stop Virginia from assisting the Allied Forces leading up to the events of D-Day. When Virginia Hall and Maya meet, however, things get a bit crazy as both women are pitched head-long through time. In order to defeat other assassins and obstacles the two women face along the way, they have to find a way to work together (and stop trying to kill each other for like two minutes). This is a story about two fiercely bad-ass women with a whole lot of pulpy adventure.
DF: Introduce us to Maya and tell us what you can about her. What can you say about her group of time-traveling assassins?
Stephanie Phillips: Maya is my favorite moody, bad-ass assassin. She's got a huge chip on her shoulder and some pretty cool, mystical powers. Finding out about Maya's past is part of the fun and mystery of the story. Maya actually doesn't know too much about herself or her origin, but exploring that side of her identity will help her to open up a little more to someone like Virginia. Maya will also have to come to terms with the fact that she hasn't always been the "good guy." Taking out targets for pay doesn't always put her on the right side of history, but there will hopefully be a chance for her to find redemption.
DF: Give us the lowdown on Virginia Hall. Talk about the chemistry between these two very distinct women as they are thrown together.
Stephanie Phillips: Virginia Hall is literally one of the most decorated spies in U.S. history. She was an SOE operative during WWII and became infamous for helping the Allies by hiding Nazi secrets in her wooden leg. The Nazis gave her the nickname Artemis, which I just loved. She's such an interesting historical figure working to overcome so many obstacles – gender, physical disability, wartime trauma – that putting her in connection with someone as dynamic and different as Maya opens up a world of possibilities for their storyline and character developments. Just given their strong personalities, these two characters getting along is going to be difficult. Add into the mix that Maya is trying to kill Virginia… it makes for a fun time!
DF: Can you hint at all about what challenges Maya and Virginia face on their trip through time?
Stephanie Phillips: I think one of the fun aspects of playing with time travel like this is that the problems are endless (and timeless?). When Virginia and Maya jump through time, they incur the wrath of Maya's assassination organization, which recruits all kinds of members – snipers, ninjas, immortal beings, etc. Along with the obvious foes, they will meet many along the way as they traverse the Wild West, ancient Egypt, and more. Of course, Maya and Virginia are a challenge to each other. They are completely different people and their first meeting ends with them trying to kill one another.
DF: Talk about the eye-popping artwork of Meghan Hetrick and Francesca Fantini.
Stephanie Phillips: I love working with both of these incredibly talented artists. I honestly think my favorite thing is their portrayal of Maya. She's a really dynamic character in terms of style and attitude, and everything about how Meghan and Francesca bring her to life just adds that drama to her appearance. They are both excellent storytellers as well, which was key for a book with a lot of action like this. It's a very good-looking story, for sure.
DF: Stephanie, what other projects, inside or outside comics, are you involved in that you can tell readers about?
Stephanie Phillips: Butcher of Paris from Dark Horse is currently in stores, with issue #4 dropping in March. I'll also be announcing a new project this month with artist Craig Cermak. We teased a pirate-themed comic at SDCC last year, and the official release announcement is happening very soon from Top Cow/Image. That's all I can talk about at the moment, but there will definitely be some more announcements throughout the year!
Dynamic Forces would like to thank Stephanie Phillips for taking time out of her busy schedule to answer our questions. Artemis and the Assassin #1 from AfterShock Comics hits stores March 18th!
For more news and up-to-date announcements, join us here at Dynamic Forces, www.dynamicforces.com/htmlfiles/, "LIKE" us on Facebook, www.facebook.com/dynamicforcesinc, and follow us on Twitter, www.twitter.com/dynamicforces.
---
NEW! 1. 12/04/2020 - JOSH BLAYLOCK
3. 11/30/2020 - SKYLAR PATRIDGE