KARL KESEL

SEND THIS TO A FRIEND!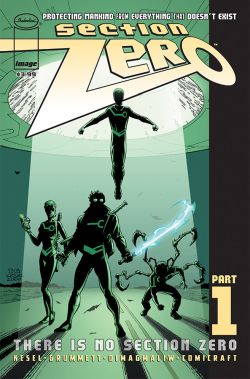 DF Interview: Karl Kesel returns to 'Section Zero'
By Byron Brewer
A team of fearless adventurers uncovers the secrets behind UFOs, monsters and lost civilizations. It's "Jack Kirby does The X-Files" in Section Zero, an Image Comics miniseries by one of comics' classic creative teams, writer Karl Kesel (Harley Quinn, Superboy) and artist Tom Grummett (The Death of Superman, Superboy), and – AND – some of the greatest variant cover artists you've ever seen!
DF, of course, wanted to learn more, so we sat down with scribe Karl Kesel.
Dynamic Forces: Karl, it's been almost 20 years, a generation, since you and co-creator/artist Tom Grummett released the comic Section Zero upon a waiting readership in Gorilla Comics (an imprint of Image). Why is now the RIGHT time for its return (AND to Image Comics, where it all began)?
Karl Kesel: Quite frankly— when ISN'T the right time for Section Zero? Tom and I have been trying to find a way to bring it back almost since the day we suspended its original run. The reason we stopped working on it in 2000 was— at its core— the same reason it didn't last as a web comic in 2012 (yes, we tried to make it into a web comic— true fact!): generally speaking creator-owned comics don't pay enough up-front to pay the bills. And no matter how much we love Section Zero— and it's a passion project for us, believe me— we have to pay our bills! Kickstarter changed all that— it gave us a way to get the money we needed up front. Not a lot of money, but enough. In 2017 we Kickstarted an oversized, limited edition hardcover of Section Zero, and that allowed us to finish our first arc. But very few readers have seen that book, so we asked Image if they'd like to publish that same book as a mini-series— and they agreed! (I'll admit I stacked the deck by approaching Jim Valentino— one of Section Zero's biggest fans from back in the day!) I have to say: it's good to be home!
DF: What is it like to reunite on this creator-owned with Tom? Same ol' chemistry still there?
Karl Kesel: If you're lucky you meet a few people in your life that you instantly "click" with, are instantly at ease with, and who always bring out the best in you. I am very lucky, because Tom is one of those people. We hit it off from day one, and even when we haven't worked together for years, the instant we do it's as if no time has passed. On his worse day, Tom still gives me exactly what I was hoping and looking for— and far, far more often he gives me so much more. He's doing the best work of his career on Section Zero— and if I have any say in it, we're going to keep working together on Section Zero for a long, long time.
DF: Some may not remember what Section Zero was, and that is fine. Tell readers what Section Zero is now! Give us an extended elevator pitch please.
Karl Kesel: In a nutshell: Jack Kirby does The X-Files. So all those cool, weird creatures and monsters and aliens— but with lots more fights and explosions!
In a little more detail: Section Zero is a secret section of the United Nation's charter that perpetually funds a team of experts and adventurers to investigate the fantastic and unknown. They've been around since the 50s, with an always-changing cast of characters. The original team was very Challengers of the Unknown-like— not a shock to anyone who knows me and how much I love the Challengers— but over the years some of the high weirdness they've met has kinda rubbed off on them. So in addition to their brilliant leader— Doctor Titania Challenger; definitely related to Conan Doyle's Professor Challenger in my mind— they also have a brooding sea creature named Sargasso on the team; Tesla, a classic gray alien; and a guy with a cursed tattoo that changes him into an insectoid monster for exactly one day— the 24 Hour Bug! (I still love that name!)
DF: So … Are Sam, Titania, Tesla, et al still on board as protagonists? Are there any newbies?
Karl Kesel: Yes— Doc Challenger, Sam Wildman (a sort of make-it-up-as-you-go-along Indiana Jones sort of character), Sargasso, Tesla, and the Bug are all still there. But here's the thing: since the team's history stretches back to the 50's, we decided from the outset to age the characters in real time. That means the first half of the book (and mini-series) is still set in 2000 and the second half is set… 18 years later! So things have changed. And there are a few new faces: Reagan Atomic, a sort of sci-fi punk gunslinger; Carlos Irons, a man with a demon hand, and the mysterious Munro— a very unreliable woman the team is forced to rely on— and who spends most of the story running around wearing a fur coat and (presumably) nothing else!
DF: And the big-bads …?
Karl Kesel: Your typical assortment of things that go bump in the night. The Loch Ness Monster. A secret civilization deep in the sewers under New York City. Changelings. Some Zombies. A few other creatures on the loose. But the biggest Big Bad are the Ghost Soldiers— an extremely deadly group of immortal mercenaries Our Heroes find themselves facing off against. I enjoy tweaking existing legends, folklore and Fortean phenomena in Section Zero, but the Ghost Soldiers are a case of Tom and I actually creating a piece of new folklore which adds so much to the book's personal mythology and universe. There's a chilling ambiguity to the Ghost Soldiers that I love— and once readers put the pieces together, I think they'll love it, too.
DF: Although it was never released (to my knowledge, at least), issue #4 of Section Zero's original run had a brief plot teaser in #3's letters page. ["Doc Challenger fights alone in a foreign land on monsters, myths and legend – uncovering an important clue to the unexplained phenomena that haunts our world. But will she live to use it? Also: Is she friend or foe? Introducing the fiery femme fatale known as – Lava!"] Will this plot thread be part of the new book? Will we meet Lava?!
Karl Kesel: Yes— Lava will make her dramatic debut! She might be a little less of a femme fatale— Munro fills that role nicely— but she's still every bit as fiery! Plus, adding an 18-year gap made the story play out a bit differently than originally planned. But I honestly believe what we ended up with is far better than what we would have published had we continued on Section Zero back in 2000.
DF: Talk a little more about the art of your co-creator, Tom Grummett.
Karl Kesel: Here's the thing about Tom: he delivers miracles on a daily basis (or at least on a page-by-page basis). His storytelling is crystal-clear; it's always engaging, exciting, and dynamic. No matter what I throw at him, he makes it work, and work wonderfully. The last chapter of this Section Zero story is 31 pages long, and a lot happens— but thanks to Tom it never looks rushed or forced, cramped or confusing. And here's another thing about Tom: his work is fun. You can see an energy and life to his work, even when he's drawing the most serious and somber stuff. You can tell he loves doing this— and that comes through in every single panel.
DF: Speaking of artists, the ones doing alternate covers for this iteration of Section Zero sound like a who's-who of comicdom legends: Walter Simonson, George Perez, Adam Hughes, Dave Gibbons, more. Thoughts?
Karl Kesel: I pulled in a lot of favors! I figured: if this was our one shot at Section Zero, might as well go for broke. They're giants in the field, no doubt about it, and Tom and I will never be able to thank them enough. We're humbled and honored— and I don't use those words lightly— that they found time to help our little comic.
DF: Karl, what else are you up to today?
Karl Kesel: Well, more Section Zero! Tom and I will be launching our second Section Zero Kickstarter around mid-February! Section Zero 1959 is another hardcover, limited-edition book that will focus on the original team in the late 50's and their adventures challenging things like the unstoppable creature called TUNNTA! Invaders from the UNKNOWN DIMENSION! And lots more. It's our love letter to Kirby's wonderful early Marvel monster stories (which definitely left their mark on me, for better or worse) as well as his Challengers of the Unknown (surprise!). As it happens, 1959 is the year Tom and I were both born, so this is also a sort of birthday present to ourselves. And, we'd like to think, something very special for our readers, too. Watch the skies— or at least sectionzerocomic.com — for more information!
Dynamic Forces would like to thank Karl Keselfor taking time out of his busy schedule to answer our questions. Section Zero #1 from Image Comics hits stores April 3rd!
For more news and up-to-date announcements, join us here at Dynamic Forces, www.dynamicforces.com/htmlfiles/, "LIKE" us on Facebook, www.facebook.com/dynamicforcesinc, and follow us on Twitter, www.twitter.com/dynamicforces.
BATTLESTAR GALACTICA: GODS & MONSTERS TRADE PAPERBACK
BATTLESTAR GALACTICA: GODS & MONSTERS #1
BATMAN 66 MEETS WONDER WOMAN 77 #1 GOLD SIGNATURE SERIES SIGNED BY JEFF PARKER!
---
NEW! 1. 11/30/2020 - SKYLAR PATRIDGE
5. 11/16/2020 - RYAN O'SULLIVAN