DANIEL WARREN JOHNSON

SEND THIS TO A FRIEND!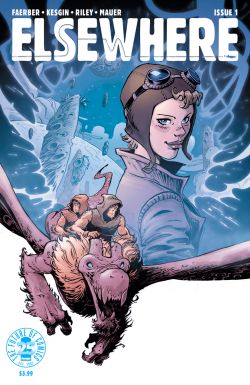 DF Interview: Daniel Warren Johnson delivers a ton of death and damage in Extremity
By Byron Brewer
Thea dreams. Not of a better life, but of revenge on the clan that ruined her family. With ferocious battles between man, machines and monsters ahead, who knows where her quest for vengeance will take her?
Creator Daniel Warren Johnson (Space Mullet) and colorist Mike Spicer present a bold new vision, where the beauty and imagination of Studio Ghibli meet the intensity of Mad Max, in this all-new Skybound original series.
And to get you the full 411, DF sat down with the creator/writer/artist: Daniel Warren Johnson.
Dynamic Forces: Daniel, congratulations on your new series Extremity from Skybound. What can you tell us about how it came to be, and any inspiration for it?
Daniel Warren Johnson: The idea first came to me when my wife told me about a famous Jewish woman named Eva Kor, who declared to the world that she decided to forgive the Nazis that harmed her in the concentration camps. It struck me in a big way. What kind of journey does a person have to go through in order to come to that place? What was even more interesting was how almost the entire global Jewish community ostracized her. They declared that she didn't have the right to forgive these people. I was trying to put myself in her shoes, imagining that she must have felt very alone. So it was this story that first propelled the initial ideas for Extremity, but it was just a jumping-off point. The story has had many iterations and it's taken a long time for the final vision to come about.
DF: Tell us a little bit about the world you are building here.
Daniel Warren Johnson: To be honest, once I came up with the emotional "backbone" of the story, I then wanted to figure out what would be the most fun to draw! I love the idea of floating islands and continents, and what that would look like. Of course, there's a ton of pop culture that has those kind of visuals, but I hadn't seen them done in American comics yet in a way that satisfied me. So sometimes thinking about what gets me most excited to draw is the burst of energy I need to start world-building, which takes a lot of time and work. Going forward, I imagined what kind of caste system floating worlds would create, and how they got there, and what religious ideals might stem from their existence.
As far as the story goes, we have two main clans. The Roto clan is one of the lower islands and scavenges from the old futuristic world, one that's been dead for a long time. The Roto are the main cast, and they pledge to fight the Paznina, who come from the higher islands, with their own source of fresh water, and have separated themselves from the old tattered world below. Because of their power and attitude, it causes strife between the two clans and that's where our story in Extremity picks up.
DF: What more can you tell us about your protagonist Thea and what challenges she faces in Extremity?
Daniel Warren Johnson: While I was writing this book, trying to conceptualize more of it out, I was struggling to make everything work. Something wasn't clicking. The cool action was there, the fun designs, the monsters, but I was still frustrated with a missing piece. Up until then, I hadn't really brought myself into the story, I hadn't made it mine. Because the story rests so heavily on being wronged, I finally had to ask myself, "What is something about me that would question who I am as a person if that thing was taken away?" And for me, that is my right hand. I play guitar with it, I draw with it, I create with it. If it's gone, what's left? This is where Thea is at the start of the story. She is an artist who has the one thing taken away that she defines herself by, and she's searching for a way to make herself whole again. The story asks if violence can fill that hole.
DF: Can you tell us more about the Paznina ?
Daniel Warren Johnson: The Paznina are the opposing clan in the story, and they were a lot of fun to create. Because they've separated themselves from the old technological world, and because they have access to their own industry, they look a little more like a middle age society, while the Roto scavenge old futuristic tools and use them as best they can. The Paznina look down on the Roto (no pun intended) as a lowly people who don't have the discipline or wherewithal to cleanse themselves from the nuclear wasteland below.
There's also some secondary characters that I'm really excited about. There's Hobbie, a fellow Roto soldier with a pet Peregrine Falcon, and Asmund, an overweight Paznina warrior who plays the violin and carries a cleaver with him everywhere.
DF: You are working as both artist and writer on this book. Can you tell us a bit about the process and any advantages/disadvantages? Do you prefer working solo to collaboration?
Daniel Warren Johnson: I do love collaborating with a writer, especially when we click and have fun together. I must say, though, the experience of having a vision and putting in the work to write and draw is a special thing. I write my scripts about three or four months before I draw them, so going back to an issue and getting to draw it out is really cool. Also, because I'm writing the book, I can sometimes change things in the art on the fly that bring a freshness to things that I think is difficult to do when working with a collaborator. That being said, the act of creating a story and characters from nothing is incredibly difficult. I respect writers in that they have to rub their hands together and make a script for a person to draw. When I receive that script, much of the foundation is already there, and I can begin building. But overall, even though it's way more work, I like doing both myself a lot more.
DF: For the world you are building, you want to create a certain mood; often the locale becomes a character in itself. How are you achieving this as artist, and tell us about working with colorist Mike Spicer in developing the right palette.
Daniel Warren Johnson: I've found that the longer I draw comics professionally, the more I enjoy drawing backgrounds. I love the challenge of trying to bring character to a place as well as making interesting character designs. One of the ways that I approach my locations is that if it's not fun to draw, it's no good. I have at least 10 sketchbooks filled with me trying out different ideas for Thea's bedroom, or a field where a battle takes place. I feel confident enough in my technical drawing skills that I know when something isn't clicking, it's not because it's difficult, but rather that the design of said location is not as good as it could be. All this being said, I can only fit in so much information on a comic page, so I do my best to establish the place where my characters are acting, and try not to force things too much. Mike Spicer helps tremendously with this, as his palette brings a wonderful mood that a lot of my black and white work lacks. There have been pages where, without any direction at all, he has colored things EXACTLY the way I pictured it. It's a special thing to find a creator who clicks so well, and I'm super thankful for his hard work and his dedication to this book. I honestly think his artistry is elevating Extremity to new heights.
DF: Many writers will listen to certain music as they create. With it having a described Mad Max intensity, does Extremity have a soundtrack in your mind?
Daniel Warren Johnson: Oh man. I listen to (and play) a ton of music. I listen to a lot of doom metal when thinking up different battle scenes, or letting my mind wander as to where I want the story to go next. When I'm actually writing, I listen to epic movie soundtracks and John Carpenter's Lost Themes albums, or anything without lyrics. I'm listening to a wonderful instrumental metal band right now, Russian Circles, who just came out with a new record, Guidance; it's fantastic. I should also mention that if I'm REALLY stuck on a story beat, I take a break from my work and play guitar for an hour, and try and come up with a musical piece that reflects how I'm feeling about said scene. It really helps free up my mind, as I'm forced to not JUST think about my comic, but focus mostly on my playing and let things come naturally.
DF: Daniel, any present or near-future projects you'd like to share with us?
Daniel Warren Johnson: I'm still doing my best to update my webcomic, Space Mullet regularly, and I have another fan comic I'm working on in the vein of my Green Leader and Martok stories. Keep an eye out and I'm sure I'll have more news soon!
Dynamic Forces would like to thank Daniel Warren Johnson for taking time out of his busy schedule to answer our questions. Extremity #1 from Skybound hits stores this Wednesday, March 1st!
For more news and up-to-date announcements, join us here at Dynamic Forces, www.dynamicforces.com/htmlfiles/, "LIKE" us on Facebook, www.facebook.com/dynamicforcesinc, and follow us on Twitter, www.twitter.com/dynamicforces
---
NEW! 1. 11/25/2020 - STEVE SKROCE
4. 11/16/2020 - RYAN O'SULLIVAN
5. 11/16/2020 - RYAN O'SULLIVAN