PEDRO ANDREO

SEND THIS TO A FRIEND!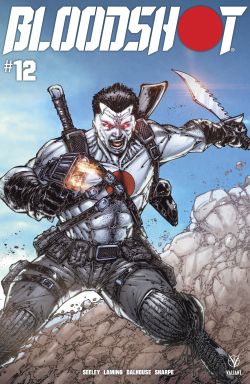 DF Interview: Pedro Andreo breaks into U.S. comics as he renders final issues of Bloodshot
By Byron Brewer
A final epic battle of the ages!
Will Bloodshot and his team be able to stop one of his greatest villains from obtaining Project Rising Spirit's most insidious weapon?
It's the thrilling conclusion to the Bloodshot series by writer Tim Seeley and artist Pedro Andreo. DF not only wanted to talk about this cataclysmic finale, but also the recent magical sojourn for its artist and what this series has meant to him. So we sat down with Pedro Andreo.
Dynamic Forces: Pedro, what has you excited about the climactic conclusion to "One Last Shot" with issue #12?
Pedro Andreo: Definitely the consequences and the future of Bloodshot and his place in the Valiant Universe! Bloodshot ends this run with a solid team of friends and new powers that could very well make him the best hero or the worst villain in the world! I'm so excited to see where he goes next!
DF: Before we get to this finale, I would like you to reflect a bit on what the book has meant to you as an artist. As I recall, it all started at an international show when now-Valiant senior editor Heather Antos reviewed your portfolio?
Pedro Andreo: Yes! Back in 2019 in Madrid! Although I've been working as a comic artist for almost ten years now, I never worked in the U.S. comic scene, which was a dream of mine. Getting into U.S. comics with Valiant has been a blast and an honor. For them to trust a "newcomer" like me with such an important and central character of their universe as is Bloodshot is something that I will treasure forever.
DF: If memory serves, you came to Bloodshot as a fill-in artist on #8 and by #10 you were on-board as the MAIN illustrator? Wow! And am I correct that your Bloodshot work is your first published superhero work?
Pedro Andreo: Correct! I started as a fill-in on issue 8 and my work was well received by Valiant so they trusted me for the rest of the run, even after the craziness that has been 2020! Bloodshot is my first published superhero work, yes. Before that, I had been working mainly in Italy and Spain, focused on fantasy comics and such, so it's been a new beginning for me almost.
DF: Okay, for those living under a rock (and who could blame them these days?), can you bring readers up to speed briefly on what has occurred and where we find Bloodshot at the start of issue #12?
Pedro Andreo: Rocks are super comfy these days! Nothing to blame there, for sure! After getting back to Earth from the dimension where the HQ of the Burned exists, he teamed up with Wiggans to take down a pirate ship full of chainsaw soldiers. Rescued by KT, he returns to the U.S. After a series of flashbacks and a tense conversation about the Day of Blood, the team goes to the national mall to blend in a protest only to then go to a nearby location so they can dive into the Potomac River to a secret PRS base underwater. They're ambushed there by Zealot, a cyborg soldier from Black Bar, whom they beat only to be welcomed by a heavily-enhanced Rampage who now calls himself Harmony. Harmony uses his new powers to control Wiggans and KT, forcing them to leap onto Bloodshot and tear him apart!
DF: What has been the most exciting scene or set piece to draw for this climactic issue? How would you say your art – or maybe your approach to this book – has changed from issue #8 to the coming #12?
Pedro Andreo: I don't really know! I've reviewed all the pages from this issue and I cannot pick one page or a scene above the others. This is a very, very strong issue with great scenes and reveals, I really cannot choose one single scene or page. Sorry!
My art has evolved a lot in these past four issues, I think. I've given it my all in this last issue since it's so big and pivotal for the character and the series. I think I focused on delivering solid storytelling and a sense of action and scale that matched the script that [Tim] Seeley wrote.
DF: I don't often ask this of a series' artist, but the Bloodshot mag has and will in future certainly be identified as a major part of your young career. What is your take on our hero? Who is Bloodshot to you?
Pedro Andreo: For me, Bloodshot is a really cool antihero. He doesn't always act like a hero, doing shiny deeds of valor and hope, but he always tries to do his best for the people around him and for the whole world. He cares, he suffers and he gets back up and tries again after a failure. For me, Bloodshot is not about a buff dude with big guns. It's about a man who tries to do his best, help the world and use his powers for good.
DF: Talk about working on this book with my old buddy, writer Tim Seeley.
Pedro Andreo: It's been great! Seeley is a very intuitive writer and he knows how much information to give you on any description so you can get the idea but input your own creativity and vision to his story. That's really valuable on my side. He's super witty and his dialogues are pure gold. I would love to work with him again!
DF: Pedro, as Bloodshot's current series comes to its conclusion, what projects current or near-future in which you are involved can you tell readers about?
Pedro Andreo: Well, I can tell you that I'm working on a personal project right now, a slice-of-life kind of web-comic, with a Spanish publisher, and I hope that it will see the light in a couple months or so. Aside from that, I'm always doing commission work and looking for the next gig in the U.S.
Dynamic Forces would like to thank Pedro Andreo for taking time out of his busy schedule to answer our questions. The series finale of Bloodshot, issue #12, from Valiant is slated to be on sale March 10th!
For more news and up-to-date announcements, join us here at Dynamic Forces, www.dynamicforces.com/htmlfiles/, "LIKE" us on Facebook, www.facebook.com/dynamicforcesinc, and follow us on Twitter, www.twitter.com/dynamicforces.
---
NEW! 1. 04/20/2021 - JUSTIN JORDAN
2. 04/15/2021 - BRIAN HABERLIN