JESSE HAMM

SEND THIS TO A FRIEND!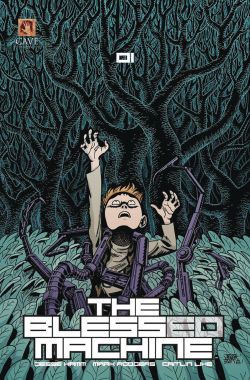 DF Interview: Jesse Hamm brings subterranean secrets and one aimless boy's dream in 'The Blessed Machine'
By Byron Brewer
Jacob, son of Administrator Anna A3644, is revisited by the recurring dreams that plagued his youth. He believes the dreams indicate that the Earth's surface, once rendered uninhabitable by a horrific malfunction of the Large Hadron Collider, is now safe. But can he convince those who live underground with him? And at what cost?
From Cave Pictures Publishing comes The Blessed Machine, co-written by Jesse Hamm and Mark Rodgers and drawn by Hamm. DF was intrigued by the title and sat down with double-duty man Jesse Hamm to discuss the series.
Dynamic Forces: Jesse, talk about doing work for Cave Pictures Publishing. It's a relatively new publisher which has as one of its priorities "content that is excellently crafted, deeply questioning, and spiritually meaningful." So what does that mean for a comics storyteller?
Jesse Hamm: For me, that means bringing my own spiritual beliefs to the table and letting them inform my story choices.
A lot of popular fiction functions on a sort of "small-talk" level, where you avoid raising questions that your listener may find uncomfortable. Meanwhile, the more meaningful stories -- stories that might challenge the reader -- are relegated to the "art house" genre, where the main point is to grapple with Big Ideas. But I disagree with that bifurcation. I think the best fiction of any kind -- including popular fiction, genre fiction -- grows out of the author's deepest convictions. At Cave, I have the freedom to work that way: from the ground up. I'm not limited to ideas everyone already agrees on, like, "Isn't it nice to help people?," or "Perseverance pays in the end!" But we're still telling a thrilling tale that everyone can enjoy.
DF: Give us the elevator pitch for The Blessed Machine.
Jesse Hamm: A global disaster has forced humankind to take refuge in subterranean cities. But after a century of life deep underground, some people begin to dream that the surface is habitable -- despite all digital evidence to the contrary. Among these dreamers is Jacob, a jobless loser whose mother sits on the governing council. If Jacob can gather his own evidence of a habitable surface, he could convince her and the council to chance a formal expedition, maybe grant citizens access to the world above. However, his task is dangerous…and there are some who would make it fatal.
DF: What can you tell us about Jacob and his mother?
Jesse Hamm: Jacob is good-natured but aimless. He feels out of place in the underground city, and he's tormented by dreams of a world above that is far out of reach.
His mother, Anna, cares about him, but she has other concerns -- chiefly, helping to run the government -- and she's frustrated by Jacob's inability to bloom where he was planted.
They clash over questions of knowledge: Jacob thinks his dreams of the surface are a clue that it may be habitable, while Anna thinks the contrary evidence provided by the city's computer sensors is conclusive.
DF: Any other protagonists important to the series as we start out?
Jesse Hamm: None I can reveal as yet, but we'll meet a few other key characters as the series progresses.
DF: Tell us more about the world which you and co-writer Mark Rodgers are building here.
Jesse Hamm: Our setting is basically Everytown, U.S.A., but 130 years in the future, and a mile underground. An eco-disaster has left the Earth's atmosphere too hot for most life forms to survive on the surface. Down below, we've carved out vast cities, with civil authorities, train travel, help-bots who serve us and make repairs, and an artificially intelligent computer to regulate life-support systems.
However, the city is also beginning to run down. Labor-saving devices are poorly maintained, food and water supplies are unreliable. There are also signs of intentional sabotage by anarchist gangs. Life there is better than burning to death on the surface, but the future is uncertain.
DF: Are you enjoying being on both ends of the storytelling here, writing and art? Beneficial for producing the book or a pain in the keister?
Jesse Hamm: It's been a great fit. I didn't plot the story; it began life as a screenplay by Mark Rodgers. My role on the writing end was to adapt the story Mark had created into a comics-friendly format, which has made the process of drawing it much easier.
Usually, when one person writes a comic and another draws it, there are areas of disconnect, where maybe the writer envisioned something differently than the artist would have, and the artist has to work around that. But the opportunity to adapt Mark's screenplay at the script stage ensured that I'd have a script that fits my drawing process like a glove. And thankfully, Mark did the heavy lifting of creating the story in the first place. He invented the world, and I get to play in it.
DF: So what kind of stories will readers be seeing in The Blessed Machine going forward?
Jesse Hamm: In this six-issue series, we'll be telling one complete story, about Jacob's efforts to solve the mystery of the surface. There are surely more stories that could be told about the people of his world, and their struggle for survival…but for now we'll content ourselves with Jacob's adventures, which include killer robots, political intrigue, tunnel-crawling, back-stabbing, chases, escapes, assassinations, and even a little taxidermy.
DF: Jesse, what other projects can you tell readers about?
Jesse Hamm: Currently, it's all about The Blessed Machine!
Dynamic Forces would like to thank Jesse Hamm for taking time out of his busy schedule to answer our questions. The Blessed Machine #1 from Cave Pictures Publishing hits stores March 27th!
For more news and up-to-date announcements, join us here at Dynamic Forces, www.dynamicforces.com/htmlfiles/, "LIKE" us on Facebook, www.facebook.com/dynamicforcesinc, and follow us on Twitter, www.twitter.com/dynamicforces.
FLASH GORDON: KINGS CROSS #1 (OF 5)
FLASH GORDON: KINGS CROSS TRADE PAPERBACK
---
NEW! 1. 01/14/2021 - MARIA LIOVET
3. 01/07/2021 - DARICK ROBERTSON
4. 01/04/2021 - CONOR MCCREERY
5. 12/31/2020 - BRANDON GRAHAM