CHRISTOPHER FARNSWORTH

SEND THIS TO A FRIEND!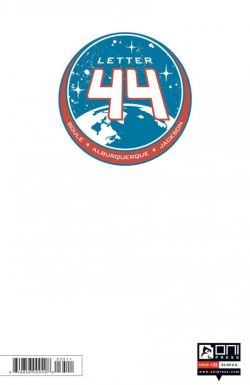 DF Interview: The clock resets (only earlier) with Christopher Farnsworth's 24: Legacy - Rules of Engagement miniseries
By Byron Brewer
The clock has been reset with 24: Legacy, and this limited series will explore the past of its new leading character, Eric Carter, who led the elite squad responsible for killing an infamous terrorist leader and, consequently, forced into hiding. But before he was a national hero and a wanted man, Carter learned the Rules of Engagement in the streets of Iraq and the Washington D.C. hoods.
Based on the new iteration of the TV series, this new miniseries from IDW will be executive produced by Manny Coto and Evan Katz, writers of the show. The book will be written by Christopher Farnsworth, journalist, screenwriter and the author of The President's Vampire series, with art from Antonio Fuso (Drive).
To learn more about this exciting series, DF talked with scribe Christopher Farnsworth.
Dynamic Forces: Christopher, let's get to it right out of the gate: Were you a fan of the previous incarnation of the TV series 24? How does it feel to be adding to the legacy (hah!) of that franchise?
Christopher Farnsworth: I've dressed as Jack Bauer for Halloween several years in a row, so it's safe to say I'm a fan. It's a real privilege to be able to contribute a little bit to the mythology. 24 has become a real part of American culture in a very short time — it's our own take-no-prisoners version of the super-spy concept. And it provides a really clear answer to a world where everything is shadowy and dangerous. I think we all want to believe in a hero who will find the truth, who has a moral core, despite all the questionable things going on around him. That's what made Jack Bauer so popular, and I think it's what viewers and readers will get to see in Eric Carter as well. Like Jack, and the rest of us, he lives in a world with a lot of shades of gray, but when it comes down to the last seconds of the ticking clock, he will always do the right thing.
DF: I understand that this five-part miniseries from IDW, 24: Legacy - Rules of Engagement, is being overseen by 24: Legacy executive producers Manny Coto and Evan Katz. Has that at all put any limitations on your creativity for this project, and might viewers of the new FOX TV series actually see references to happenings from the comic?
Christopher Farnsworth: This is a separate story that takes place several years before the events of the show, so they're very distinct. I was actually relieved that I had some very clear guidelines to the story. I can't give away any plot twists — I always hated when something got spoiled when I was watching the show — and I won't accidentally kill any characters who turn out to be necessary later. It's sort of a load off my mind.
What I can say is the show is going to rock. I hope the comic lives up to it.
DF: Your prequel will be looking at the back-story of Eric Carter, the lead of the new TV series. Without spoilers, can you tell us how you see Eric as a character?
Christopher Farnsworth: Eric Carter is, first and foremost, a survivor. He grew up in some of the roughest parts of Washington D.C., and had to fend for himself from a very early age. But he's also, almost instinctively, a protector. He wants to save the people closest to him, and he chose to become an Army Ranger because he saw a chance to fight for something bigger than himself. I look at Carter and I see someone who's been a soldier almost his entire life — even before he wore a uniform.
DF: How closely did you work with artist Antonio Fuso on the book? What in your opinion does he bring to the table here?
Christopher Farnsworth: Antonio is a fantastic artist, and I was very lucky to have him there to make me look good. He took what I put on the page and turned it into something dynamic and alive. The art has a real cinematic quality to it — it's like watching an action movie come together. We also have Lee Loughridge doing colors. They're both veterans, and they've made the book look brilliant.
DF: I understand this is your first comic book. How does the process compare to writing novels or screenplays?
Christopher Farnsworth: I learned to read from comics and I love them to a degree that's probably not healthy, but this is the first one I've gotten to write. So this is lifetime-dream territory for me. Beau Smith — the creator of Wynonna Earp — reached out after I wrote my first novel, Blood Oath, and introduced me to Ted Adams and Chris Ryall at IDW. I owe him a big debt of gratitude for this.
As for the process, it's much more like screenwriting than working on a novel. In a novel, if I don't write it down, it's not there. I'm solely in charge.
With a script, the page is only the starting point. There are a lot of people who contribute after that to make it all real. The process is collaborative. And like a TV or movie script, it's really fascinating to see what these other people add once it's out of my hands. Everything — from the art to the colors to the design of the lettering — adds to the bare bones of the story, and creates the final experience for the audience. As a writer, what's most interesting to me is how different it is to work with a static set of images — one panel at a time — as opposed to describing action as it happens. I've also been lucky to have Denton Tipton at IDW there to make sure I don't make too many rookie mistakes. It's a learning curve, but I've enjoyed the hell out of it.
DF: Christopher, do you have any other projects – in or outside comics – in the present or near-future you can tell us about?
Christopher Farnsworth: I'm working on a few different projects, but my next novel, Flashmob, will be out June 27th from William Morrow. It's about John Smith, a former spy who can read minds. He's hired to track down a criminal genius who's figured out a way to weaponize social media. It's the second John Smith book after Killfile, which came out last year.
And I hope that 24: Legacy is the first of many more comics to come. It's great to finally be adding to a medium that I love so much.
Dynamic Forces would like to thank Christopher Farnsworth for taking time out of his busy schedule to answer our questions. 24: Legacy - Rules of Engagement #1 from IDW hits stores April 26th!
For more news and up-to-date announcements, join us here at Dynamic Forces, www.dynamicforces.com/htmlfiles/, "LIKE" us on Facebook, www.facebook.com/dynamicforcesinc, and follow us on Twitter, www.twitter.com/dynamicforces
---
NEW! 1. 11/30/2020 - SKYLAR PATRIDGE
5. 11/16/2020 - RYAN O'SULLIVAN