KIERON GILLEN

SEND THIS TO A FRIEND!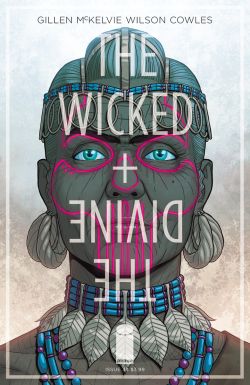 DF Interview: Kieron Gillen talks The Wicked + The Divine penultimate arc, the ending of the series, more
By Byron Brewer
Kieron Gillen and Jamie McKelvie are back at it with an all-new mind-blowing story arc of the bestselling series The Wicked + The Divine which kicks off in March's issue #34.

This penultimate story arc will answer long-asked questions about the gods and will unveil key events from Ananke's history.
Without further adieu, here is DF's chat with co-creator/writer Kieron Gillen.
Dynamic Forces: Kieron, in this age of re-brands, re-boots and re-numbering, you are in pretty rarified air with The Wicked + The Divine approaching #34 in March. What has that felt like, and why have you and co-creator/artist Jamie McKelvie decided to bring it all to an end soon? With issue #45, right?
Kieron Gillen: Yeah, we're the grand old men of comic book numbering now. Thirty-eight issues, including the four specials. We are offered seats on the bus by younger, respectful comic books and everything.
We're bringing it to the end because we've reached the end. WicDiv was always in the Vertigo-model serialized novel approach. Unless something went wrong, it was always going to be four "years" of work. We may do one or two specials before we wrap up, which will bring the final issue fount to either fifty or fifty one. The temptation is to only do one special, to make it fifty issues total, as we like that kind of structural clarity.

The whole thing will be nine trade collections, with the trade collecting the specials being released between the seventh and ninth trade.
And then we can sleep.
DF: For those who have been under a rock (and who could blame them these days? laughs), tell us generally a little about this nigh-historic Image series.
Kieron Gillen: Every ninety years twelve gods incarnate as young people. They are loved. They are hated. In two years, they are all dead. It's happening now. It's happening again.
It's turned out to be more complicated than that.
It's primarily a fantasy about about gods as pop stars, and pop stars as gods. It's about mortality and art, and sends those questions spinning through all human history. It's kind of about everything.
DF: Can you briefly introduce your protagonists and tell readers where we find them as a new arc begins with #34?
Kieron Gillen: As where we left the story was one of those Everything You Know Is Wrong-esque beats that we've been building towards since the start, it's a little difficult to talk about things explicitly. Our gods, thinking themselves free of their oppressive overlord/manager figure, basically went on a sex and drugs and rock and roll and divinity rampage, and it's all come crashing down. This arc sees the hangover kicking in, and seeing if they can do anything about the regrets.

Oh – and Laura is trapped in a cave by the biggest bastard in the Pantheon.
There's a flip of it as well – the things we've revealed in the last issue have to be explained, which means the other half of the arc goes tumbling through all human history.
DF: What can you reveal about this penultimate arc? Some long-awaited answers are coming, yes?
Kieron Gillen: Each year had its own character, or at least general thrust. The third year – Imperial Phase I and Imperial Phase II – was about decadence and excess. The fourth year is about tying it all together. The story was always a mystery. It started off as a simple murder mystery, but as we've progressed the real question has become "What on Earth is going on with these gods?" So the last year is about that, and answering all the questions we've posed.
This does mean that we get to dance back in history, and do sections in previous recurrences. This is an arc where I got to give Jamie the direction of "Catwalk Bronze-age" for clothes.
Also, as it's our last chance to stand on this stage, we get to really have some fun. There's some big formalist comics showcases we want to do. Some playful, some audacious. This is not a book that slows down in the final year.
DF: If you don't mind telling the story, I know there is a personal muse for you with the series involving your father …?
Kieron Gillen: The core idea of the story – gods recurring through time, dying in two years – was an idea I had in the days following my Dad being diagnosed with terminal cancer. It was part of my immediate response to grief. It is to some degree about those feelings. "If life is short, why do anything? In your case, why be an artist?" The two years just makes the questions more acute.
It's about a lot more things than that. WicDiv is a funeral pyre for everything I've ever loved – and Jamie too. Whatever comes next will be different.
DF: The It's-Never-Too-Late Dept: What do curious and interested NEW readers need to know approaching #34? Is it a good jumping-on place?
Kieron Gillen: We try and make every issue a possible jumping on spot. It's hard, when it's a book as complicated as it is, but we do re-cap pages, including short bios of all the primary cast. So it will be enigmatic as all hell, one can read it. But we don't primarily do it for jumping on reasons – we figure there's a lot of comics out there, and it's always useful to remind people about the book before diving back in.
Really, I'd suggest grabbing the first trade and starting there. It's an Image trade. It's cheap! Alternatively, we do the WicDiv specials, almost all of which are single stories and could give you a taste. The exception would be the Annual, but the 1831, 455 and 1923 specials are all their own thing. The latest (1923) has gone down worryingly well.
DF: How is it working with the very talented Mr. McKelvie for such a length of time? Does it get where you can finish each other's sentences, like an old married couple? (laughs)
Kieron Gillen: We get to finish each other's sentences, but mainly by saying SHUT UP half way through them so the other one stops prattling on.
It's fascinating we've ended up together as long as we have. The industry has a tendency of pulling people apart. At least part of the reason is a key reason for most relationships working – the shared goals aspect. Jamie and I have an idea of the comics we want to make, they're aligned, so we end up doing it together. In the case of WicDiv, we both wanted to do a big statement series. The 50 issues THING which basically goes on your gravestone. It's highly unlikely either of us will do anything as big as this again, at least together.
Jamie's actually planning to write for himself after WicDiv, which I'm looking forward to intensely. He hasn't done a series for himself since the excellent Suburban Glamour, and I've been urging him to do it forever. Of course, I've also been burying him alive in scripts, so I'm both the angel and devil on his shoulder.
Though we always talk about doing other things together, even outside of comics. You never know.
DF: This is not a fair question, but since we've discussed the penultimate arc can you say anything at all about the following, final final arc of The Wicked + The Divine?
Kieron Gillen: It's the final year. The coming [penultimate] arc is called "Mothering Invention" and goes from #34 - #39. The final arc – whose title we've yet to share – is still to come. We won't be wrapping up until mid-2019.
Oh, I don't know. The light at the end of the tunnel ending up being a nuclear explosion? That sounds like the sort of thing people expect from me by now.
Hopefully the correct mixture of the expected and the unexpected. We've known how this would end up since the start of the comic, so we're finally getting to share all the payoffs we've known for the last four years. We said after issue #33 that it was a good time to re-read the whole series, and I suspect they'll be more moments that'll have everyone flicking back to see minor details which are now seen in a whole new light.
DF: Kieron, tell us about any other projects you can, current or near-future.
Kieron Gillen: I'm still writing Star Wars and Doctor Aphra for Marvel. I'm also in the final year of Uber: Invasion for Avatar – I should write the final issue around October, so I suspect that'll wrap up publication at a similar time to WicDiv. I'm also writing the last few episodes of my Modded series for Alan Moore's Cinema Purgatorio, which has been a giggle.
I'm also editor-in-chief for the Grenfell-inspired Trauma charity comics anthology 24 Panels (https://24panelsblog.wordpress.com/) which I'm honored to be helping out in. We're trying to bring a mix of new and established talent together.
There's also two new big books. The previously announced Ludocrats (with David Lafuente) is finally coming out. It should be either the end of this year, or the start of 2019. There's also the book I've code-named SPANGLY NEW THING, which is a horror/fantasy ongoing. I hint around it a bunch in my newsletter (tinyletter.com/kierongillen) and will hopefully be announcing it (er) soon-ish? Not this month. Not next month. Maybe after that? We'll see.
I'm excited, though. It's enormous, ludicrously over-researched and different. It's the first entirely new book I'll have launched since The Wicked + The Divine, so obviously I can't wait to share it.
Dynamic Forces would like to thank Kieron Gillen for taking time out of his busy schedule to answer our questions. The Wicked + The Divine #34 from Image Comics hits stores March 7th!
For more news and up-to-date announcements, join us here at Dynamic Forces, www.dynamicforces.com/htmlfiles/, "LIKE" us on Facebook, www.facebook.com/dynamicforcesinc, and follow us on Twitter, www.twitter.com/dynamicforces.
DOCTOR APHRA #1 RARE BLACK KRRSANTAN ACTION FIGURE VARIANT!
DARTH VADER #25 APHRA ACTION FIGURE VARIANT!
DARTH VADER #1 ACTION FIGURE VARIANT!
ANGELA ASGARDS ASSASSIN #1 SKOTTIE YOUNG VARIANT!
ORIGIN II #1 SIGNED BY STAN "THE MAN" LEE
IRON MAN #9 DF EXCLUSIVE GOLD SIGNATURE SERIES SIGNED BY STAN LEE
THOR #607 - SIGNED BY BILLY TAN!
X-MEN #10 - SIGNED BY COVER ARTIST TERRY DODSON
UNCANNY X-MEN #535 - SIGNED BY TERRY DODSON!
---
NEW! 1. 11/25/2020 - STEVE SKROCE
4. 11/16/2020 - RYAN O'SULLIVAN
5. 11/16/2020 - RYAN O'SULLIVAN